TOURING
AT A GLANCE...
Pandora - The World of AVATAR
Construction Underway
-- 2017 Opening
Flight of Passage E-Ticket Attraction

Na'vi River Journey Family Canoe Ride
ENTERTAINMENT
IN-DEPTH BLOGS
Special Reports
OTHER WALT DISNEY WORLD
THEME PARKS
OTHER DISNEY THEME
PARKS
Rivers of Light
Animal Kingdom
UPDATE: April 2016 - The announced opening date for Rivers of Life has been postponed due to technical issues.
A temporary show, Jungle Book Alive with Magic, is being shown on Discovery River starting Memorial Day Weekend.
As part of the Spring Media Event, we were shown 4 minutes of the show on Discovery River.
These 4 minutes occur in the middle of the show.

Spring, 2016 Mickey Monitor Annual Passholder Newsletter UPDATE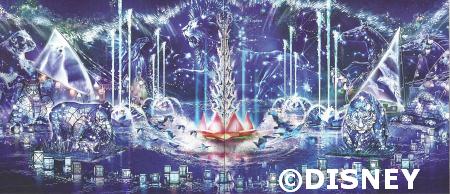 "Rivers of Light pays homage to traditional Asian lantern festivals and this beautiful myth about the aurora borealis. There's an ancient belief that when animals passed from one world to another they danced in the sky and became beautiful rivers of light.
Taking place on Discover River, the show employs state-of-the-art projection effects, water screens, magical floating lanterns, live performance, music and shadow puppetry. It begins with two pairs of mystical hosts making their way to the river offering gifts of light.
Lotus lanterns open to transform into beautiful fountains. Four huge, amazing animal figures - an owl, tiger, turtle and elephant - appear and morph as their animal spirits awaken and come to life on the water screens. The hosts, the embodiment of fire and water, return and the dramatic finish includes the animals flying out and literally painting the aurora all around you in an almost dreamlike panorama.
The welfare of the animals and the integrity of the Park itself were always top of mind, including not allowing any light projections or special effects to impact the animals or their environments and not installing technical infrastructure into the lagoon area." (Spring, 2016 Mickey Monitor Annual Passholder Newsletter)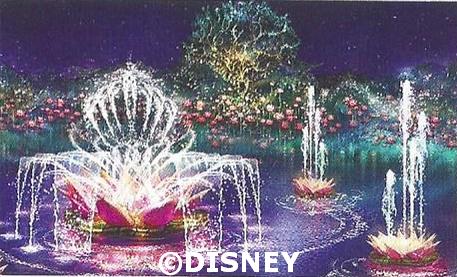 November 20, 2015: More Rivers of Light details have been released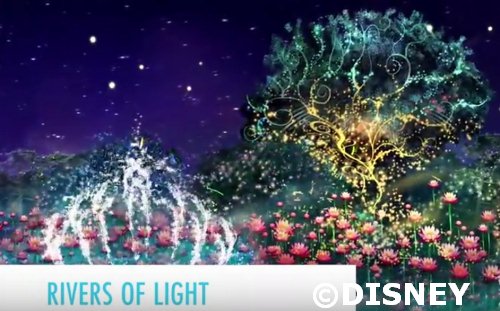 The show will take place on Discovery River between Discovery Island and Expedition Everest – take a close look and you can you see the Tree of Life in the background. In "Rivers of Light," a pair of mystical hosts come to the river bearing gifts of light. During the show, the hosts set out from the shore on elaborate lantern vessels for a dramatic dance of water and light to summon animal spirits. With the storytellers as your guides, the wonders of "Rivers of Light" builds to a stunning crescendo.
Joe Rohde shares:
In addition to the show, you'll also notice the park's iconic Tree of Life will undergo an amazing awakening as the animal spirits of the tree are brought to "light" by magical fireflies, revealing moments of wonder and enchantment.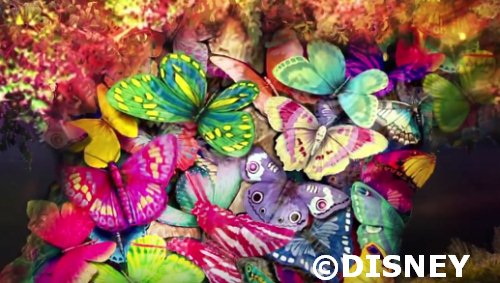 To create "Rivers of Light," Imagineers and Creative Entertainment partnered with the talents of master puppet designer Michael Curry, composer Mark Mancina and the filmmakers at Disneynature. According to Imagineer Joe Rohde, the addition of "Rivers of Light" to the park's offerings will serve as that huge "wow" moment that ends a guest's visit to the park.
Transforming Animal Kingdom into a Night Time Park
Includes River of Light
Joe Rohde - D23 Expo Presentation

Rivers of Light will be a ceremonial event that takes the idea of the very special nature of animals in this park and turns it into a celebration of life itself. It starts out very simply and then it unfolds and glows and gets bigger and bigger. The show combines music, floating lanterns, water screens and animal imagery. Located on the Discovery River between Discovery Island and Expedition Everest.
Opening 2016