September 2018 Walt Disney World Bits and Bites
Feature Article
This article appeared in the August 28, 2018 Issue #988 of ALL EARS® (ISSN: 1533-0753)
Editor's Note: This story/information was accurate when it was published. Please be sure to confirm all current rates, information and other details before planning your trip.
= = = = = = = = = = = = = = = = =



STEP BACK IN TIME
= = = = = = = = = = = = = = = = =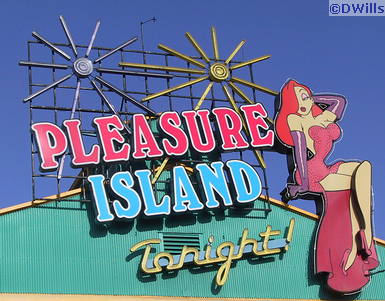 by Joan L. Feder
AllEars® Staff Writer
Join us on our monthly journey into the past as we step back in time and explore the history of Walt Disney World and the Walt Disney Company. This time we travel to September 2008 when the night club lights of Pleasure Island went out for the last time.
Pleasure Island opened on May 1, 1989, in the area that is now The Landing at Disney Springs. According to Disney legend, Pleasure Island was developed by 19th century shipping magnate Merriweather Adam Pleasure, and included factories, warehouses and lofts. Pleasure was lost at sea in 1939, and his lazy sons soon ran the island into the ground. Imagineers repurposed these empty buildings into a nighttime entertainment area aimed mostly at adults.
Pleasure Island was initially a ticketed attraction with shops, movie theaters and night clubs. The area went through many changes over the nearly two decades it was open. Over the years, several of the night clubs' themes were revamped. By 2004, an admission ticket was no longer necessary, guests could wander the Island, paying to get into each individual club instead. In 2005, Pleasure Island's renowned nightly "New Year's Eve" fireworks, which began in 1990, came to an end. Finally, on June 27, 2008, Disney announced that Pleasure Island would be reimagined.
The night clubs at that time included Motion, which featured music videos, the BET Soundstage Club, an R&B/hip-hop dance club, and 8TRAX, which had a 1970s and '80s theme. Three of the original clubs also remained: The Mannequin Dance Palace, with its revolving dance floor and human "mannequins"; The Comedy Warehouse, home to the satirical musical, Forbidden Disney ("SuperConcientiousFriendlyDisneyWorldEmployees" anyone?); and finally, a 1930s British explorers' society, the beloved Adventurers Club. Packed with artifacts from its members' journeys, it featured live performers, audience participation and audio-animatronics. Guests were greeted with an exuberant cry of "kungaloosh," a multi-purpose word that was also the club's signature drink.
Despite an online petition that garnered 2,750 signatures in 72 hours, the Adventurers Club closed, along with the others, on September 27, 2008. That evening, a capacity crowd enjoyed live entertainment and one last "New Year's Eve" fireworks show. By morning many of the clubs' signs were painted over or removed. The area was slated to become "Hyperion Wharf," a warehouse district with an early 20th century nautical theme, set to open in 2013. Instead, it became the central area of Disney Springs and reopened in April 2015.
Pleasure Island is gone, but the Adventurers Club lives on in several locations. Its tribal masks are at the Explorers Club at Hong Kong Disneyland. References to the Adventurers Club can be found at both Aulani in Hawaii and the Polynesian Village Resort. The Skipper Canteen at Magic Kingdom has a display case of fezzes worn by the Society of Explorers and Adventurers (a topic for another day) including the one owned by Merriweather Pleasure. They also give you a chance to sound like a member of the Adventurers Club once more — just order their signature dessert, which goes by the name of Kungaloosh!
RELATED LINKS
The Society of Explorers and Adventurers
= = = = = = = = = = = = = = = = =



HIDDEN MICKEYS ALERT
= = = = = = = = = = = = = = = = =
Steve Barrett, author of the Hidden Mickeys Field Guide books and webmaster of HiddenMickeyGuy.com, describes a few more awesome Hidden Mickeys at Walt Disney World.
1. Disney's Hollywood Studios, Star Wars Launch Bay. Model spaceships are displayed in a large room to the left of the Meet and Greet areas. Find the Tantive IV ship and stare into the front window. A tiny Star Wars poster with Mickey and Minnie is on the left side of the wall you can see through the window. You may have to shine a light or take a flash photo through the window to spot this great image. (Thanks to Bret Sohl.)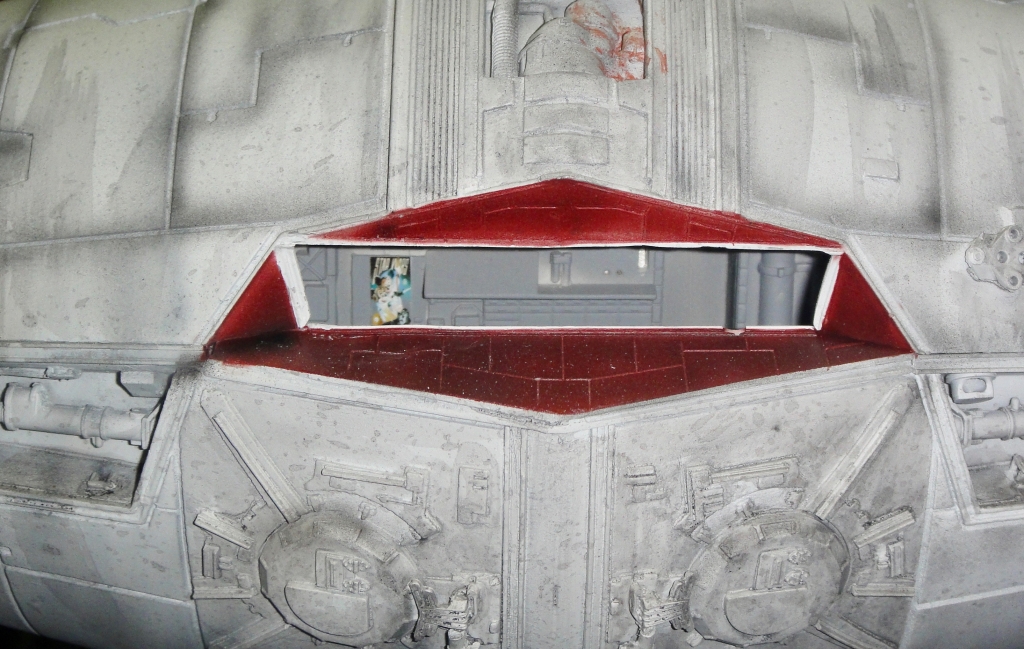 2. Disney's Hollywood Studios, Walt Disney Presents. About halfway down the hallway of exhibits is a 1954 model of Disneyland's Adventureland. At the left side of the exhibit, study the fence around a small gazebo perched on a roof at the Jungle Cruise loading dock. A classic Mickey-shaped hole is at the right side of the front of the fence. (Thanks to Cole Gershkovich.)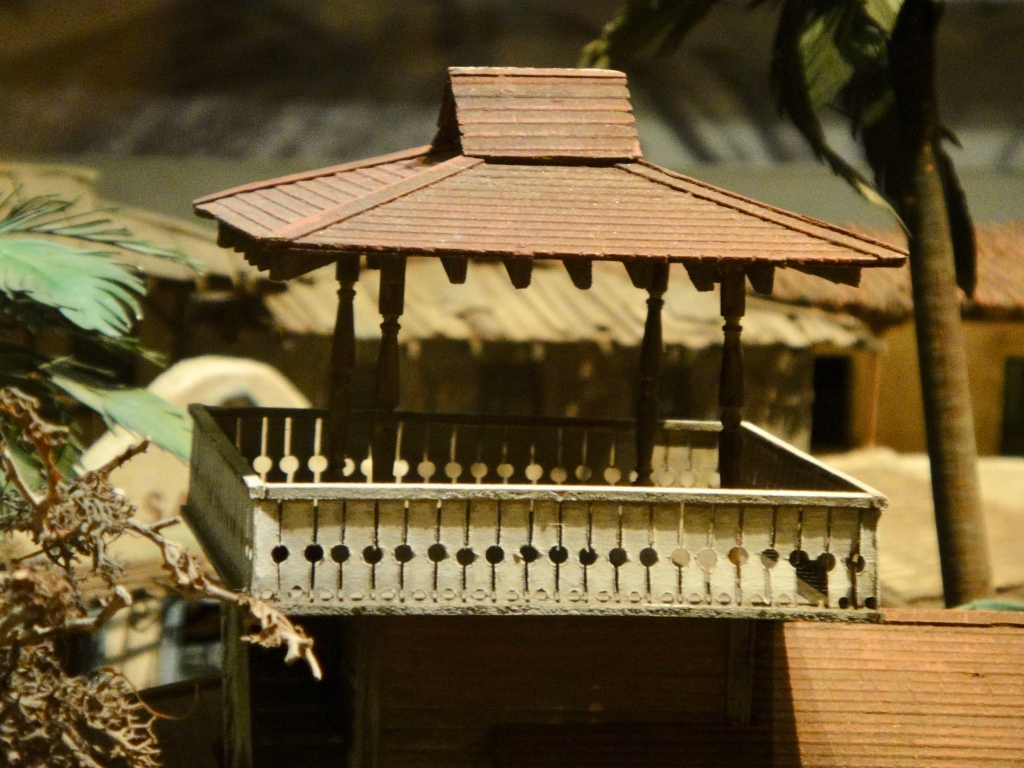 3. Martha's Vineyard lounge, Beach Club Resort. Two dark classic Mickeys appear on the ground at the left lower section of a framed painting on the wall to the immediate left of the bar. One image is at the left and the other is at the middle right of the photo. (Thanks to Bill and Kari Middeke.)
=-=-=-=-=-=-=-=-=-=-=-=-=-=-=-=
You can find an archive of past Hidden Mickey Alerts HERE.

And check out our latest Searching Disney with Steve blog.
= = = = = = = = = = = = = = = = =



MONTHLY REMIND-EARS
= = = = = = = = = = = = = = = = =
Through Sept. 3: Incredible Tomorrowland Expo at Walt Disney World.
Through Nov. 12: Epcot's International Food and Wine Festival! This culinary extravaganza includes the nightly Eat to the Beat concerts.
Check our Events page for a full schedule of upcoming events.
-=-=-=-=-=-=-=-=-=-=-=-=-=-=-=-=-=-=-
Resort-Wide
Disney Skyliner construction: Walt Disney World is in the process of creating a new transportation system, Disney Skyliner, which will give you a bird's-eye view of the resort while traveling via gondolas. During this time, construction noise will be seen or heard throughout the resort, but noise should not be heard from Disney hotel rooms between dusk and 9 a.m.

EDITOR'S NOTE: Check out our blog on the impact the Skyliner construction is having on the walkway between Epcot and Disney's Hollywood Studios.

The Walt Disney World Monorail system is undergoing ongoing refurbishment. As a result, normal service and/or routes may be modified. Alternative transportation options will be available during this time.
Star Wars: Galaxy's Edge — Work is underway on the 14-acre Star Wars-themed land at Disney's Hollywood Studios that was announced during the 2015 D23 EXPO. It was recently announced that Galaxy's Edge will open at Walt Disney World in Late Fall 2019.
Liberty Square Riverboat closed for refurbishment on January 8, 2018. No reopening date has been announced.

Ferrytale Fireworks: A Sparkling Dessert Cruise is not operating through October 20, 2018.
Kringla Bakeri og Kafe in the Norway Pavilion closed February 26, so that seating and overall shop space can be enlarged. While it's closed, a temporary kiosk called Midnattssol is open to sell the spot's most popular items (including School Bread). No reopening date for the bakery has been announced.
The entire resort is undergoing a major room refurbishment that will continue until late 2018.
Art of Animation Resort is currently undergoing some general refurbishment projects. During this time, the resort will be in full operation with all amenities available, including dining, merchandise and recreation locations. It is possible that construction may be seen or heard, but noise should not be heard from guest rooms between dusk and 9 a.m. No end date for these projects has been announced as yet.
A small portion of Stormalong Bay Pool is closed now through Fall 2018 to make way for new cabanas. The remainder of the area will remain in full operation.
Through Fall 2018, Old Port Royale Food Court, Shutters at Old Port Royale, Cabana Pool Bar and Calypso Trading Post will be undergoing refurbishment. A variety of dining options will be available for all meals. Centertown will serve breakfast and dinner. Grab 'n' Go options will be available in three island markets: Aruba, Jamaica, and Martinique.

In addition, buildings in Barbados and Martinique islands have been demolished to make way for the new Disney Riviera Resort.
The resort room "hard goods refurbishment" at Coronado Springs has been extended to continue throughout summer 2019.

Pepper Market is undergoing minor refurbishments now through Summer 2019, but will remain in operation during this time.

The Dig Site, home to The Lost City of Cibola Pool, volleyball court, playground, Iguana Arcade and Siestas Cantina, is being refurbished now through mid-December 2018. While this work takes place, the resort's three leisure pools, dining and merchandise locations, and other amenities are available.

A new on-the-water bar and grill called Villa del Lago will open at Disney's Coronado Springs resort in 2019, along with the previously announced new 15-story tower that is currently under construction.
Disney's Old Key West Resort is undergoing a wholesale refurbishment, which is expected to be completed in 2019. You can see some photos of refurbished rooms HERE.
Tambu Lounge is closed for expansion and refurbishment work now through early November 2018.
Pop Century resort rooms are currently undergoing refurbishment, with work expected to be completed by Summer 2018. In addition, there are a number of other refurbishment projects going on around the resort, but all amenities are available.
Rooms at the resort are undergoing refurbishment, including a soft goods refurbishment, through Summer 2018.
The leisure pools at Alligator Bayou will be undergoing refurbishment through Fall 2018. During this time, while one pool is closed, the feature pool, Ol' Man Island, and four other leisure pools will be available.

Also, the rooms at Port Orleans Riverside are being refurbished now through early 2019.
The Yacht and Beach Club Convention Center is undergoing expansion and renovation throughout 2018. No end date has been specified.
World of Disney at Disney Springs Marketplace is being "reimagined" this year. Work is being completed in phases so guests can continue shopping during construction. Shops in Town Center at Disney Springs, such as Ever After Jewelry Co. or The Disney Corner carry select merchandise during renovations.
-=-=-=-=-=-=-=-=-=-
A complete list of known rehabs can be found HERE.
= = = = = = = = = = = = = = = = =



MAGICAL MOMENTS
= = = = = = = = = = = = = = = = =
Each month, we like to share a few heart-warming Magical Moments brought to us by the amazing Disney cast members!
Tina: Our family had a multi-generational Disney trip in June. Our ages ranged from 19 to 76, and we had a great time. On day four of our eight-day vacation, we had advanced dining reservations at one of our favorite restaurants, 50's Prime Time Cafe. We had reservations for 2 p.m., but weren't seated until 2:30. The manager came over and gave us two free baskets of onion rings and offered an apology. No problem, we were a party of 10 and understood with that large of a party there were bound to be some delays. The manager then returned with 10 Fastpasses for us to use at any park (with a few ride restrictions) any time during our stay. Needless to say we were extremely happy with our treatment at the most Magical Place on Earth!
James T.: On a recent trip to the World, our group had reservations at Teppan Edo. Our extended family was a group of 17 adults and children. The staff at Teppan Edo was incredible. Our group consisted of adults, teens, pre-teens, and five children under the age of 6. They managed to seat us at the same time with tables facing each other. I feel the task of taking drink orders, fielding a hundred questions, and keeping the young ones occupied and happy was beyond what I expected. Smiles never left the faces of the staff. Kudos to the manager, Kimi, who orchestrated all of this without missing a beat. This was at the beginning of our stay, and made a positive impression for the rest of our family vacation.
-=-=-=-=-=–=-=-=-=-=-=-=-=-=-=
EDITOR'S NOTE: Did you know that you can turn the tables and create a Magical Moment for your favorite cast member on Twitter? Simply send a tweet to @WDWToday with the hashtag #castcompliment and they'll make sure your cast member gets some special recognition for making your day Magical!
We just bet you have a story to tell about an unforgettable moment during your Disney vacation! Please send your favorite memory for inclusion in a future AllEars® via our Contact Us page. Thank you all for sharing!
-o-o-o-o-o-o-o-o-o-o-o-
Editor's Note: This story/information was accurate when it was published. Please be sure to confirm all current rates, information and other details before planning your trip.