The Festive Food Marketplaces at the 2018 Disney California Adventure Festival of Holidays offer more diet-friendly food items than ever this year.  Vegan, vegetarian, gluten-friendly and milk-friendly offerings are available.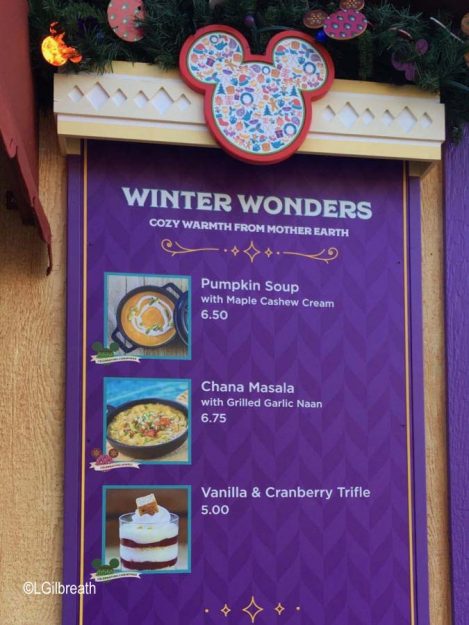 I haven't had the opportunity to try all of the options yet, but I tried a representative sample of those that are available.
All of the food items at the Winter Wonders marketplace are vegan and milk-friendly.  I have tried two of them.  The Pumpkin Soup with Maple Cashew Cream  is also gluten-friendly.  It's quite flavorful – not sweet, but it has the warm spices I expect without overdoing them.  I didn't taste the maple flavor in the cashew cream at all.  This was good, my only negative is that it was very thick, and not very soup-like.
Chana Masala with Garlic Naan is another vegan and milk-friendly option.  The masala had lots of garbanzo beans and chunks of tomato.  Though not burn-your-mouth hot, it was a little spicy for my taste.  And it would have been nice if the naan had been served warm.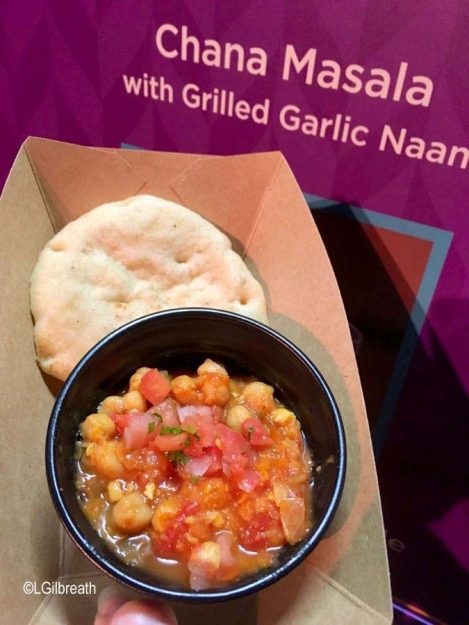 The other vegan/milk-friendly option there is a Vanilla & Cranberry Trifle.
The Holiday Duets Marketplace offers the gluten-friendly Shrimp & Grits with Andouille Sausage.  This was quite good – both Lee and I enjoyed it.  The shrimp was not overcooked and the grits were creamy and flavorful.  It was one of our favorites.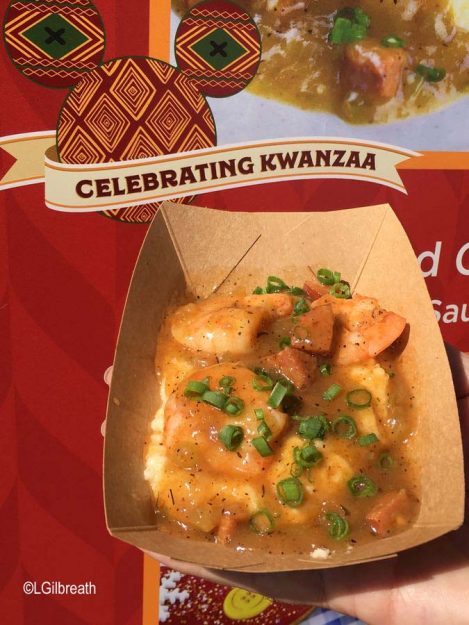 Also available there is the gluten- and milk-friendly Curry Cauliflower Soup.
Braised Pork Belly Adobo, served with garlic fried rice, is a milk-friendly offering from Blissfully Braised.  Pork belly seems to be one of those things you either like or don't.  I do, Lee doesn't.  My piece was very tender and not horribly fatty.  The fried rice made it a more filling and complete dish.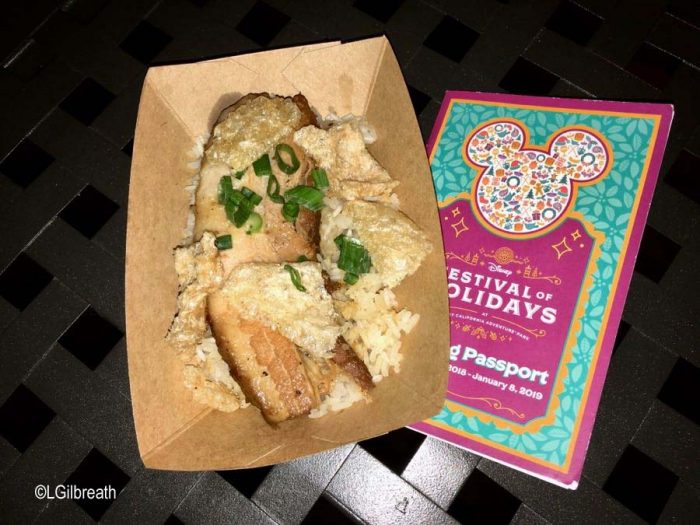 The Candied Yams with Marshmallow Cream and Toasted Pecans from Grandma's Recipes is vegetarian and gluten-friendly.  I really liked the marshmallow – it was warm and gooey and everything that a marshmallow topping should be on candied yams.  I was happy that the yams weren't too sweet, even with the marshmallow.  But mine seemed like they had been sitting under a heat lamp for too long and they were dry and tough on the outside.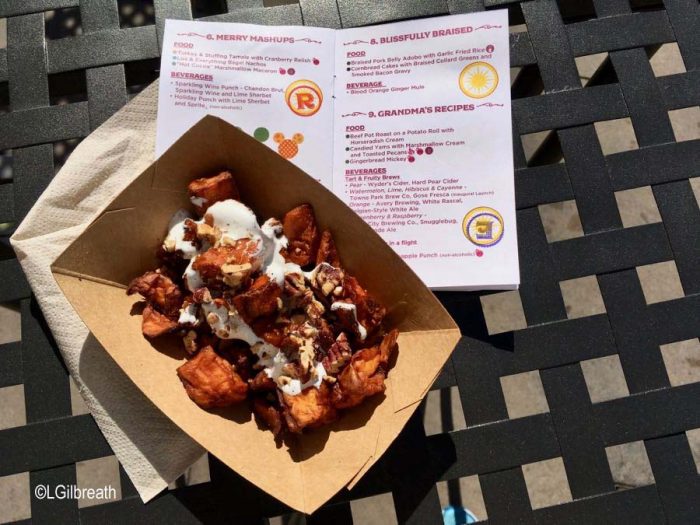 Spicy Celebrations features Jalapeno Latkes with Chipotle Crema, which is vegetarian.  Those are apple chips on top.  Flavorful potato patties with just the right amount of spicy heat for me.  These were good and somewhat filling.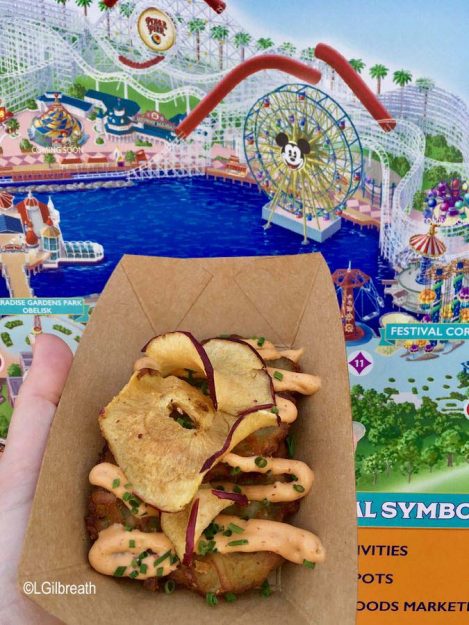 A gluten-friendly dessert, Chocolate Chipotle Pot de Creme, is also offered here.
The final offering that I sampled is the vegetarian Holiday Stuffing Mac & Cheese from Winter Sliderland.  Lee and I were a little concerned about how stuffing was going to be incorporated into mac and cheese, but  it was in the form of crunchy stuffing crumbs on top of deliciously cheesy  macaroni. The crumbs had had those sage and thyme flavors you find in classic turkey stuffing.  It really didn't need that, though – it was yummy mac and cheese by itself.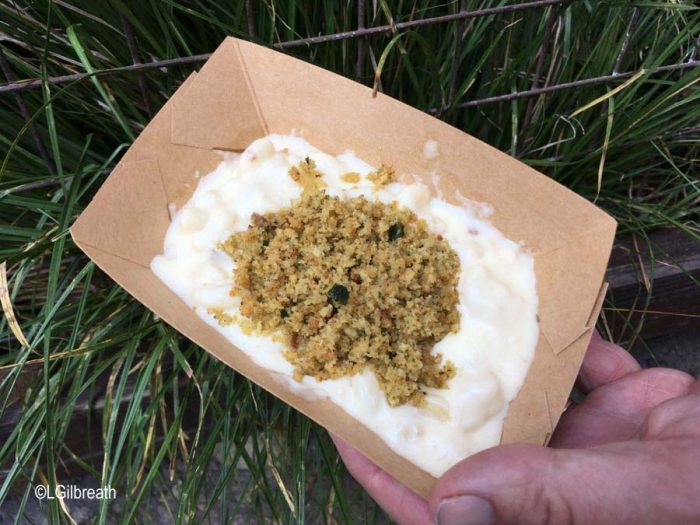 The Milk Chocolate Candy Cane Pot de Creme here is gluten-friendly.
One item that I saw and will have to sample on my next visit:  gluten-friendly "Hot Cocoa" Marshmallow Macaron from Merry Mashups.  It really looks good.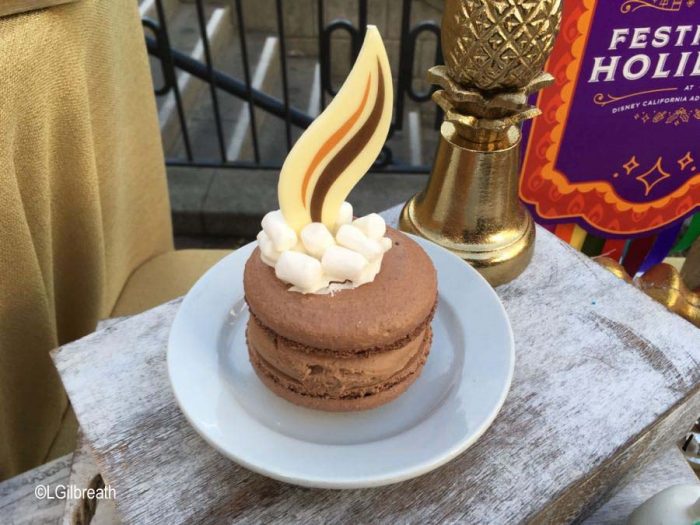 Other offerings:
Favorite Things:
Reuben Potato Tots – milk-friendly
Holiday Ham Shank – milk-friendly
A Twist on Tradition
Pozole Rojo Beef – gluten- and milk-friendly
"Chicken-less" Mole – vegetarian; gluten- and milk-friendly
Have you had a chance to try these or any other Marketplace foods? Let us know what you liked, or what you're most looking forward to trying! Don't forget to check out our complete list of the marketplace menus with prices!
Stay on top of ALL the Disney news — Subscribe to the AllEars® newsletter and get our FREE download now!