TOURING
AT A GLANCE...
--Animation Academy
--Courtyard Gallery
--Sorcerer's Workshop
--Art of Animation Gallery
--Turtle Talk with Crush
Frozen - Live at the Hyperion Theater -
(May 27, 2016)
Mad T Party
For the First Time
in Forever: A Frozen
Sing-Along
Celebration
Disney Junior -
Live on Stage!
Five & Dime
Red Car News Boys
Red Car Trolley
--Francis' Ladybug
Boogie
--Princess Dot Puddle
Park
It's Tough to be a Bug
Wilderness Explorer
Ceremony
ENTERTAINMENT
SPECIAL EVENTS
OTHER THEME PARKS
Hollywood Land
Disney California Adventure
Introduction | Attractions | Touring Tips | Dining | Shopping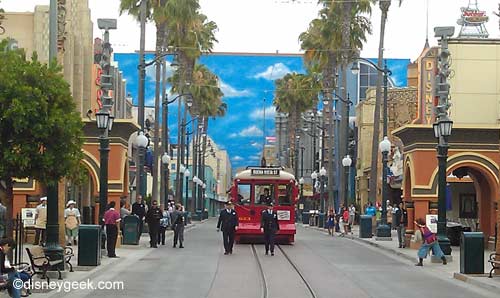 INTRODUCTION
Hooray for Hollywood! Follow the trolley tracks down Hollywood Boulevard into an area that brings back the Golden Age of Hollywood.
Along the boulevard are shops and restaurants, the Disney Theater and the Hyperion Theater, as well as the amazing Disney Animation building. On the back streets you'll find attractions like MuppetVision 3D, Monsters Incd - Mike & Sulley to the Rescue, and the Tower of Terror.

ATTRACTIONS and ENTERTAINMENT
Disney Animation Building - This building contains a number of attractions and exhibits on Disney animation.
Courtyard Gallery - Sit on one of the padded benches and enjoy the sights and sounds as screens all around the room show concept art as well as animated scenes from many classic Disney animated movies
Animation Academy - A Disney animator teaches guests to draw a Disney character. Paper and pencils provided.
Sorcerer's Workshop - Features various interactive exhibits.
Art of Animation Gallery - Walkthrough exhibit featuring original concept artwork (drawings and maquettes) for a variety of characters.
Turtle Talk With Crush - Interactive chat with Crush the sea turtle.
Hyperion Theater - Disney's Aladdin, a spectacular 40-minute Broadway quality show.
Monsters, Inc., Mike and Sulley to the Rescue - Taxi ride through the streets of Monstropolis.
MuppetVision 3D - Kermit and friends star in this 3D Jim Henson classic.
Disney Junior - Live on Stage! - Live show featuring charcters from favorite Disney Junior shows like Mickey Mouse Clubhouse, Doc McStuffins, and Jake and the Never Land Pirates.

Tower of Terror - This is no ordinary elevator - it drops 13 stories to the Twilight Zone!
Mad T Party - Take a trip down the rabbit hole at this nighttime dance party inspired by Tim Burton's Alice in Wonderland
TOURING TIPS
Use Fastpass for the Tower of Terror. When the Aladdin and Disney Junior shows let out, the streets get very crowded, and the lines for other nearby attractions get much longer.
At the end of Hollywood Boulevard is a large "city streets" mural that makes a nice photo op. There's also various props that can be parts of photos, like the Venus de Milo, a London-style phone booth, and a Monstropolis taxi.
PLACES TO EAT
Award Wieners - A variety of hot dogs, sausages, and beverages
Fairfax Market - Bottled soft drinks, fruit, and boxed sandwiches
Schmoozies - Fruit smoothies and specialty coffees


Restaurants At A Glance
Menus From the Disneyland Resort
PLACES TO SHOP
Gone Hollywood - Disney Princess apparel and accessories, t-shirts, and souvenirs
Off the Page - Disney animation cels, books, posters, collectible figures, and artwork
The Studio Store - Monsters, Inc. and Muppet-themed merchandise
Disney California Adventure Shopping at a Glance
If you have comments or tips to share with others about touring Disney California Adventure, please email us. Thank you.