TOURING
Wandering the Land
Photo Essays
AT A GLANCE...
--Animation Academy
--Courtyard Gallery
--Sorcerer's Workshop
--Art of Animation Gallery
--Turtle Talk with Crush
Mad T Party
Disney Junior -
Live on Stage!
Five & Dime
Red Car News Boys
Red Car Trolley
--Francis' Ladybug
Boogie
--Princess Dot Puddle
Park
It's Tough to be a Bug
DJ's Dance 'n' Drive
Luigi's Flying Tires
Mater's Junkyard Jamboree
Radiator Springs Racers
Minnie's Fly Girls Charter Airline
Wilderness Explorer
Ceremony
Boardwalk Games
Goofy's Sky School
Instant Concert!...
Just Add Water
ENTERTAINMENT
Phineas & Ferb's Rockin'
Rollin' Dance Party
SPECIAL EVENTS
OTHER THEME PARKS
Monsters, Inc. Mike and Sulley to the Rescue

Hollywood Pictures Backlot
Disney's California Adventure
Introduction | Attraction | Touring Tips | Kids/Characters | Dining | Shopping | Interesting Facts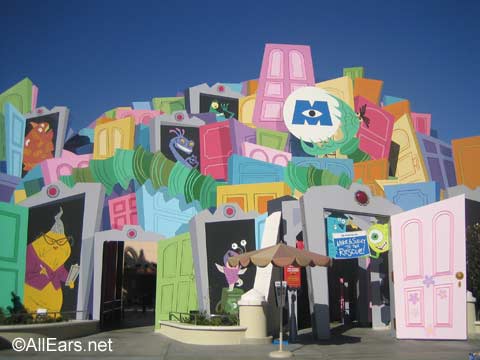 INTRODUCTION
A child is loose in Monstropolis! Can Mike and Sulley find Boo's door and send her home before the Child Detection Agency catches her? Find out on this wild taxi ride through the streets of Monstropolis.
ATTRACTION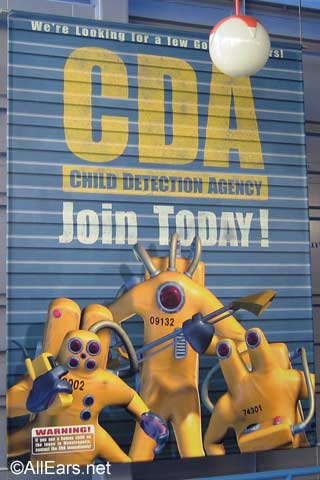 Monsters, Inc Mike and Sulley to the Rescue is located in the Hollywood Pictures Backlot area next to Muppet Vision 3D. The facade of the building is painted as a series of doors, with many favorite monsters from the movie lurking inside the open doors.
Upon entering the queue guests enter the domain of the MTA - the Monstropolis Transportation Authority. Along the sides of the queue there are large poster ads for some of Monstropolis' finest businesses, such as Harryhausen's restaurant, Monsters, Inc., and Monster News, winner of 13 Screamy awards. There's also recruitment posters for that elite squad, the Child Detection Agency (CDA). On the overhead video monitors the Monstropolis Chamber of Commerce presents a series of informational messages on the fine city of Monstropolis. Be sure to check out the special guidelines for "All Monster Passengers", posted on the ticket booth, which includes rules like: "Gooey slime drippers and oozers are required to clean seat after use as a courtesy to the next passenger", and: "If you belch fire you are not allowed to sit directly behind the driver."
On reaching the boarding area, take a seat in one of the yellow and black cabs. Each taxi has three rows, seating two adults or an adult and two small children.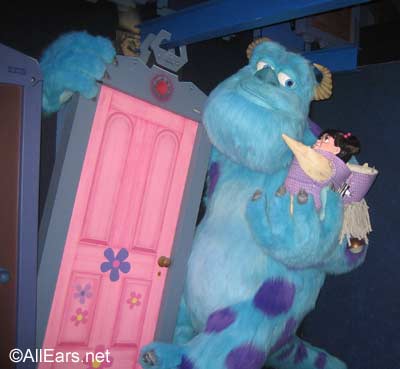 Soon after the taxi leaves the boarding area, a small video monitor on the left side comes to life with a piece of breaking news: "A human child is loose in Monstropolis!".
The taxi winds and turns as it follows the action. There's chaos on the streets of Monstropolis following a child sighting, and Mike's romantic dinner at Harryhausen's is completely disrupted. The Child Detection Agency is out in force and Mike, Sulley, and Boo must avoid them as they make their way to the headquarters of Monsters, Inc. There they must elude Randall and fellow Monsters, Inc. employees as they search for Boo's bedroom door so they can return her to her room. In the "door" room thousands of doors appear to be rotating up, down, and all around, and the nefarious Randall makes a final effort to hide Boo's door forever. Boo herself takes a hand in foiling Randall, and at her door Sulley must say a final goodbye to her.
After decontamination by the Child Detection Agency the taxi returns to the loading area, where an audioanimatronic Roz has a few parting comments - sometimes aimed at specific occupants of the cab.
TOURING TIPS
The cabs take a fairly slow ride through darkened areas inhabited by lots of friendly monsters. There are some bright searchlights. The ride is about three minutes long.
This attraction is designed for guests of all ages, and there is no height requirement. The taxis have no door, though there is a lap bar, and small children should be seated on the inside.
Wheelchair and ECV users should proceed through the regular queue and must transfer to ride.
The closest restrooms are located behind the Hollywood Backlot Stage.
KIDS AND CHARACTERS
The "monsters" are designed to be friendly rather than scary, but some children might be frightened by their unusual appearance.
Characters from Monsters, Inc. make appearances in the Hollywood Backlot area - check the daily Times Guide for times and locations. They also appear in the Block Party Bash parade.
DINING
On Hollywood Blvd, Award Wieners serves hot dogs, sausages, and fries, and Schmoozies offers fruit smoothies and specialty coffees.
Restaurants At A Glance
Menus From the Disneyland Resort
SHOPPING
Studio Store, located between Muppet Vision 3D and Monsters, Inc., sells Muppet and Monsters plush and other souvenirs.
Off the Page, located at the exit of the Animation Building, offers Disney animation cels, books, posters, collectible figures, and artwork.
INTERESTING FACTS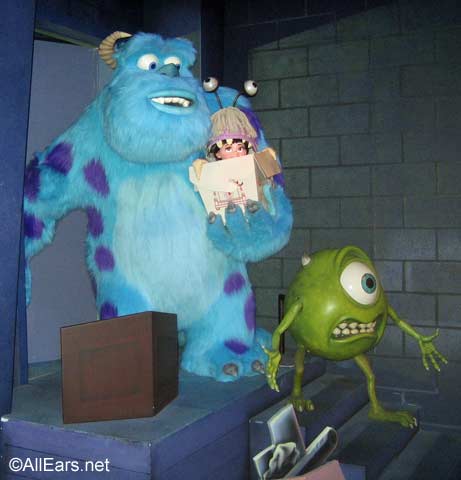 Monsters, Inc. Mike and Sulley to the Rescue, officially opened on January 23, 2006.
The voice actors, including Billy Crystal (Mike) and John Goodman (Sulley) reprise their voice roles for the attraction.
The building was originally the home of the Superstar Limo attraction.
The taxis have different license plates, like "Peekaboo" and "Monstro". The cab company's phone number is 555-FANG.
As the cab enters Harryhausen's restaurant, smell the ginger!
The menu for Harryhausen's restaurant is posted on the wall of the queue, featuring specialties like Swill and Sour soup, Terrible Teriyucki, and Assorted Yukitori.
The name "Harryhausen" is a tribute to Ray Harryhausen, a pioneer in the field of stop-motion animation and special effects.
If you have comments or tips to share with others about touring Disney's California Adventure, please email us. Thank you.