Planning for a Walt Disney World vacation can be daunting. The Fastpasses! The flights! The Advance Dining Reservations! The COST! And one of the most difficult — and costliest — decisions is where to stay. If you've decided to stay on Disney property at a Walt Disney World resort, you already know that the most economical option is a Value Resort.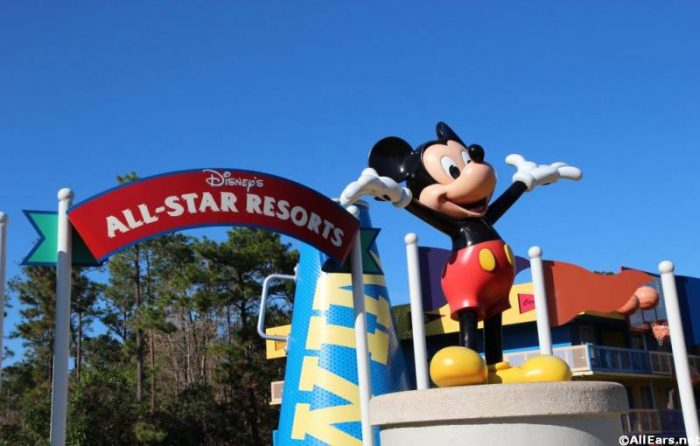 But what makes a Value Resort a financial value sometimes leads to frustrations and surprises for guests, and the pros and cons of these resorts are often in the eye of the beholder. Here we highlight some of the pros and cons of the Value Resorts so that you can decide if they're right for you!
What are the Value Resorts?
The Value Resorts at Walt Disney World include All-Star Sports, All-Star Music, All-Star Movies, Pop Century, and Art of Animation. Two of these resorts offer family suites; All-Star Music has a handful of family suites, while the majority of rooms at Art of Animation can sleep up to 7 (if you've got a kiddo in a crib).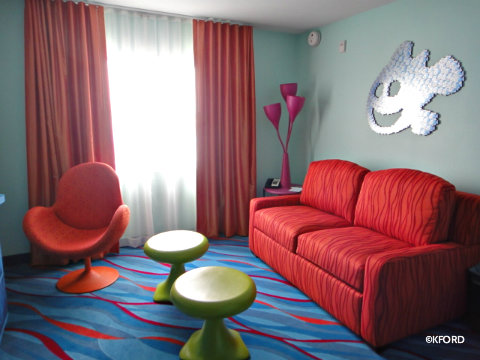 What are the pros of staying at a Value Resort?
Price:  The first pro of staying at a Value Resort is pretty straightforward: they simply cost less than Moderate and Deluxe Resorts. And for an increasing number of families, this savings is the only way they can afford the rest of their vacations — as costs for tickets, food, and drinks are on the rise.
But for others, the drawbacks of a Value don't seem worth the modest nightly savings. Ultimately, the lower price comes with some potential cons… which we will get into in a bit.
Dining Convenience:  While having only one dining locale at the Value Resorts may seem like a disadvantage, for many, the varied offerings in a single location are a great convenience for their families.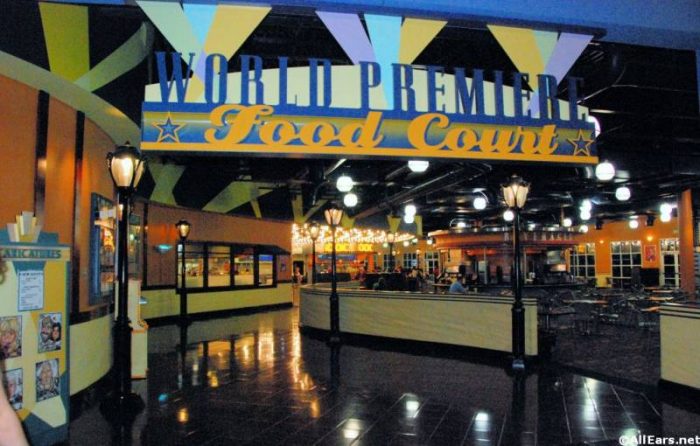 Food courts at the Value Resorts are large, with several counters serving a variety of eats from pizza to chicken nuggets and from Asian noodle bowls to fried chicken dinners. This means everyone in a group can find what he or she wants. And when you're grabbing a late dinner after a long day at the parks, convenience wins!
Want to check out menus from every dining location at Walt Disney World? Click here!
Great Themes:  If you're all about over-the-top theming at the Disney Parks, a Value Resort will tick that box for you every time. Whether it's an oversized Play-Doh container at Pop Century, a three-story-tall Dalmatian at All-Star Movies, or the absolutely fantastic quartet of films represented at Art of Animation, Value Resorts are colorful, classic, and fun.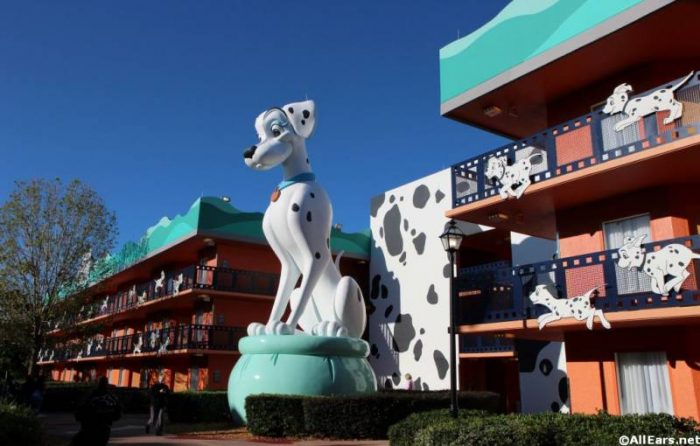 Better still? The pools at the Value Resorts are a blast! Of particular note is the Big Blue Pool at Art of Animation, which is a masterpiece! You can even hear the characters from Finding Nemo when you're underwater. But all of the Value Resort pools are fun and well-themed.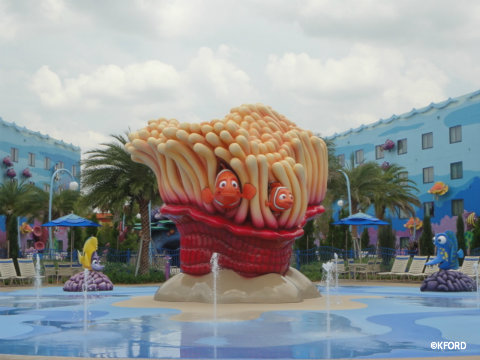 Simplicity:  At a Value Resort, you get what you pay for — and depending on your perspective, that can be a good thing! Many guests treat a Walt Disney World resort as simply a place to lay their heads in between nonstop park fun. For these guests, the Value Resorts will fit the bill without leaving them feeling like they're wasting their vacation dollars on resort amenities they won't even be using.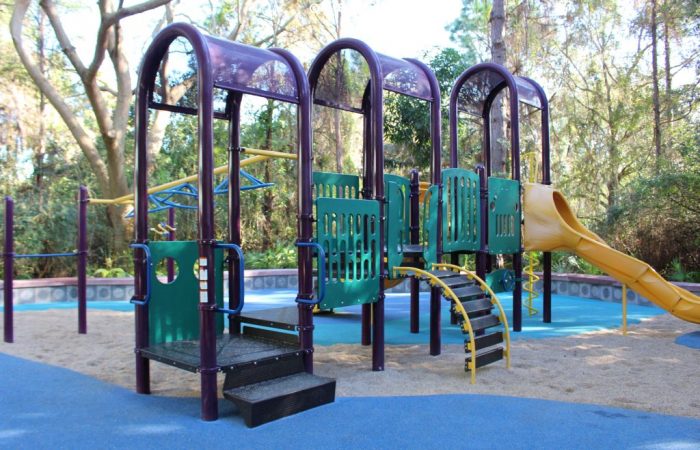 What are the cons of staying at a Value Resort?
Size: One of the largest drawbacks of a Value Resort is the size — and this is of concern for two reasons. One, there are tons of rooms at the Value Resorts. For example, Pop Century has nearly 2900 rooms dispersed through 10 buildings. Even All-Star Sports — the smallest of the Values — has nearly 900 rooms. And with that many rooms come a lot of guests. And with all those guests come noise, longer waits in the food court and bus lines, and crowding at the pools.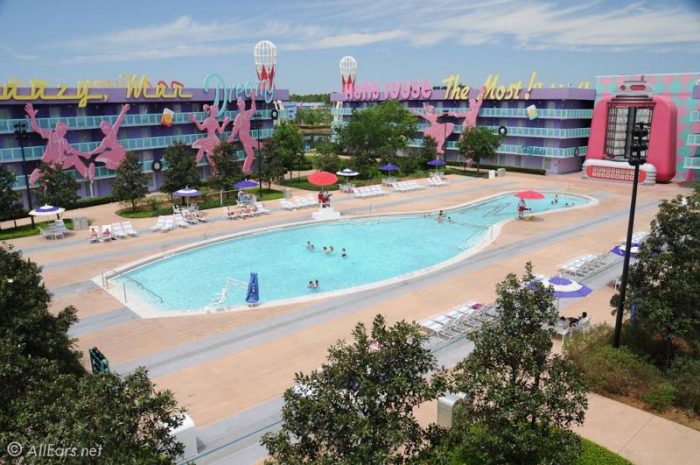 The second reason size is a concern is because the Value Resort rooms are the smallest on property (with the exception of the suites, which are also much pricier than the standard single rooms) at about 260 square feet. For a family of three or more, the small rooms can feel even smaller after several emotional, busy, tiring days. Add to that luggage, a crib, and lots of dripping bathing suits, and you're talking about a possible recipe for disaster.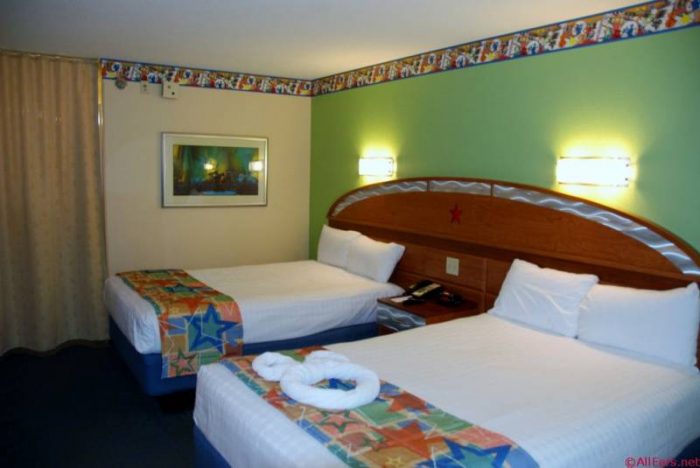 Buses: The bus situation at Value Resorts can also be a big drawback. In addition to those longer lines at the buses at the All-Star Resorts, for example, you may also find that you're sharing a bus with the other sister resorts. If you've ever made the journey to or from a park with guests from three different resorts crammed into one bus, you know how sardines feel in a tin. Not fun. But we have also experienced the All-Stars when each runs its own separate bus, and space was much less of an issue.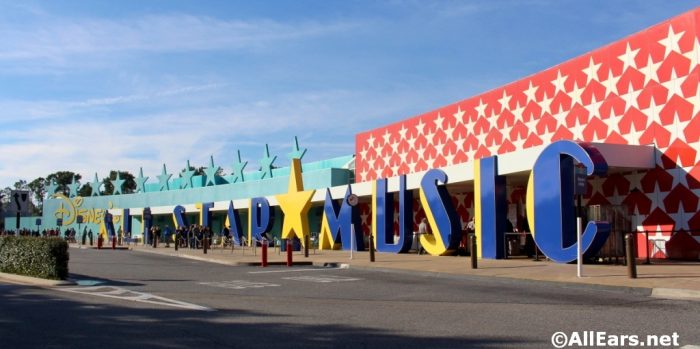 Value Resort bus stops at the parks are also a challenge as they tend to be almost as far as possible from the park entrance. Post-fireworks walks to the bus can be a real drag when you're trucking your entire crew the entire length of the bus depot.
Maintenance: In some cases, guests may find that the Value Resorts are not as pristine as Moderate and Deluxe Resorts. This is likely due to the massive amounts of guest space, which require substantially more maintenance than other resorts due to heavy usage. Of course, maintenance issues are possible at any resort given the constant use they receive, but Values tend to wear out just a bit faster than the other categories.
Amenities: While simplicity may be fine for a lot of guests, there are just as many others who want to enjoy some luxuries and options during their Disney World vacations.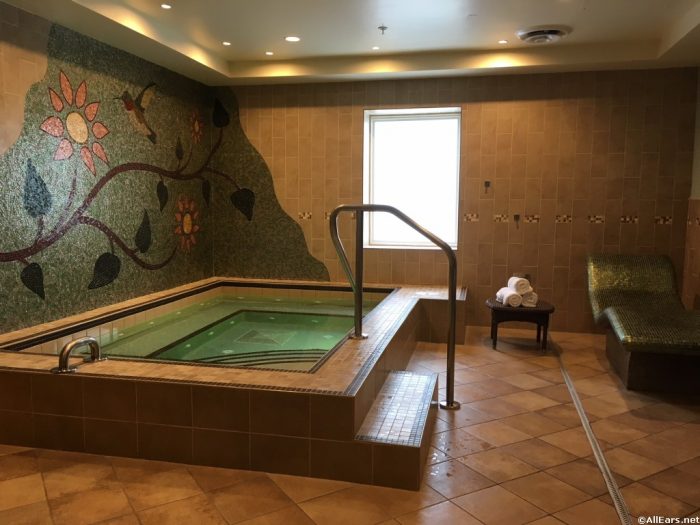 For these guests, the limited dining and shopping options and lack of additional amenities would be a big disadvantage to the Value Resorts. If you're planning to relax at your resort as part of your vacation, you'll want to choose a resort that has more choices. Things like a spa, table service fine dining, and a quiet pool are lacking at a Value Resort, and may prompt you to spend a little more on your accommodations.
Overall
No matter where you stay on-site at Walt Disney World, there is magic to be found and memories to be made. Ultimately, only you can know for sure whether the Value Resorts are for you. But keeping these pros and cons in mind can help to mitigate any potential disappointments and set your vacation up for total success.
Want to read what others think about the Value Resorts at Walt Disney World? Or would you like to leave your own thoughts about a recent stay? Be sure to check out our Rate and Review section!