The 9th Annual Walt Disney World Swan and Dolphin Food and Wine Classic was held this weekend. Want to learn what was new for 2018 and read about some of our year-after-year favorites? You're in the right place!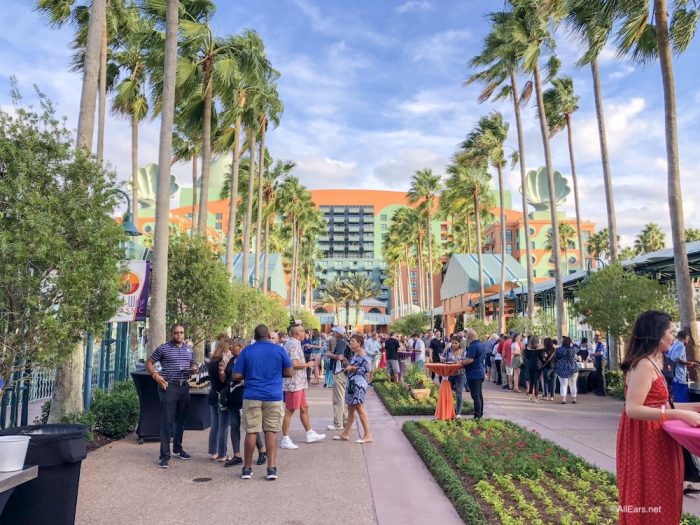 The Walt Disney World Swan and Dolphin Food and Wine Classic is held on a weekend during the Epcot Food & Wine Festival, and it takes place on the causeway between the Swan and Dolphin and the area surrounding the resorts. This year, the Classic ran from October 26 – 28.
With 90 food booths and specialty cuisine ranging from sushi to barbecue – plus wine, beer, and champagne – there was something for everyone.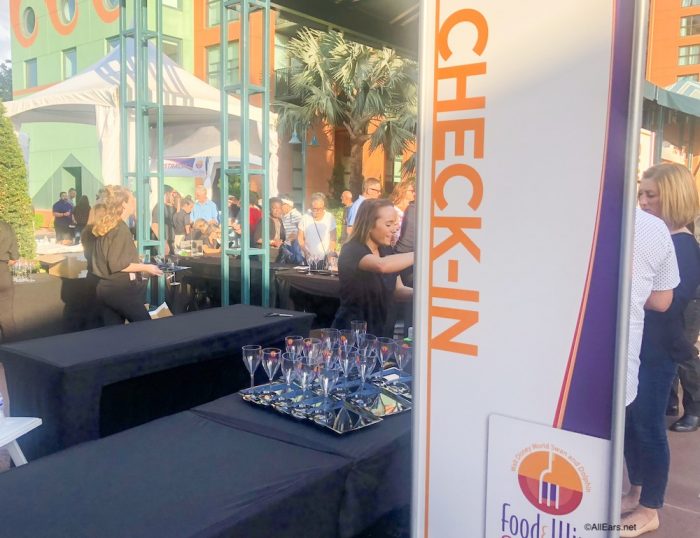 All New for 2018: The Pig & The Poke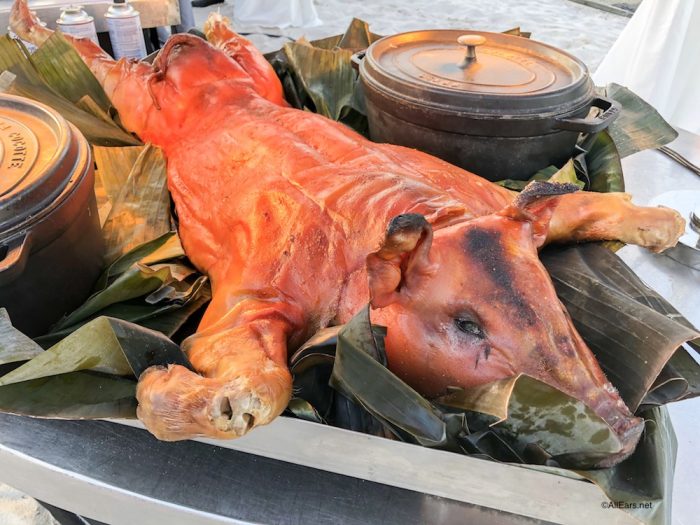 The Pig & The Poke was the Food and Wine Classic's new luau-themed area featuring Hawaiian classics like Kaluha Pork, Tuna Poke, and Shaved Ice.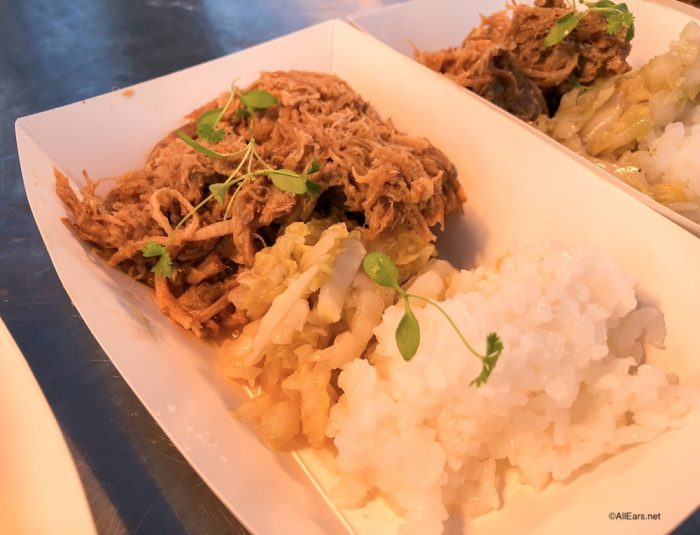 Traditional Earth Baked Kaluha Pork accompanied by Steamed White Rice, Barrel Aged Tamari, and Nappa Cabbage.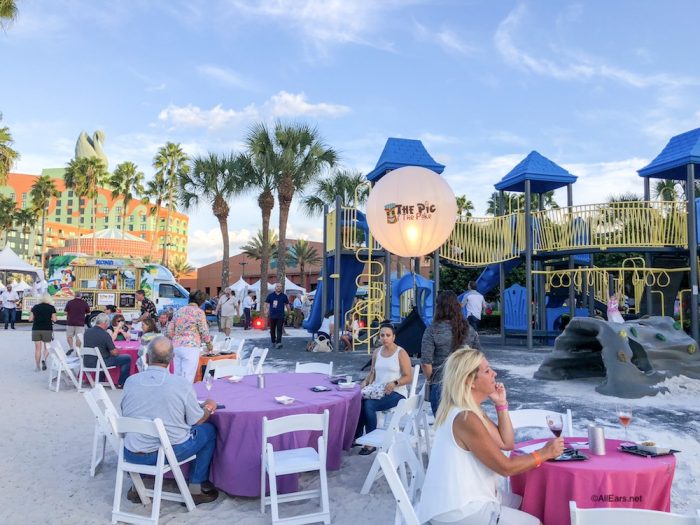 The Pig & The Poke area had a fun, beachy feel.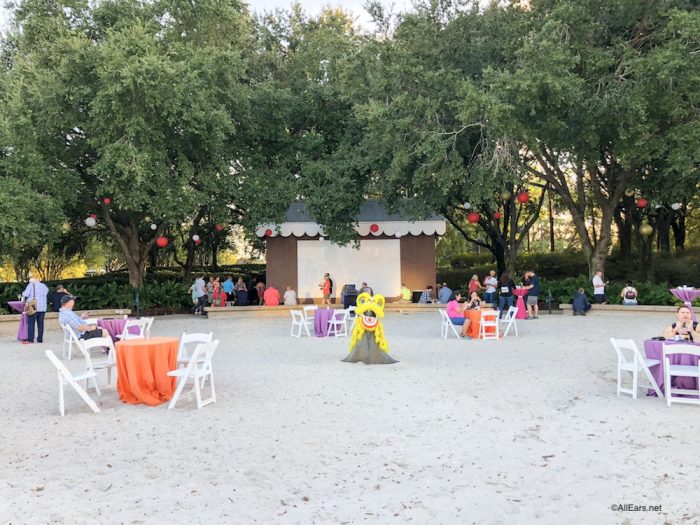 And yes, there was Tuna Poke!
Hawaiian Yellowfin Tuna, Koho Sushi Rice, Avocado Relish, and Crispy Fried Wontons!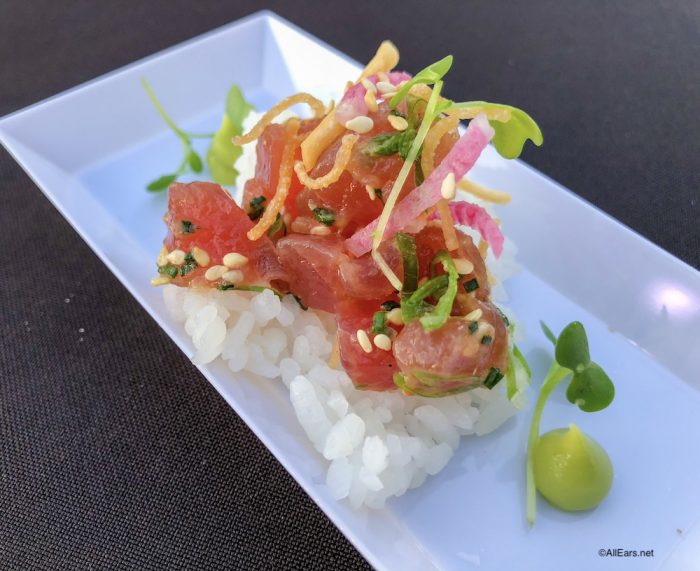 So pretty, right? The chefs at The Pig & The Poke were working hard to make each plate a little masterpiece.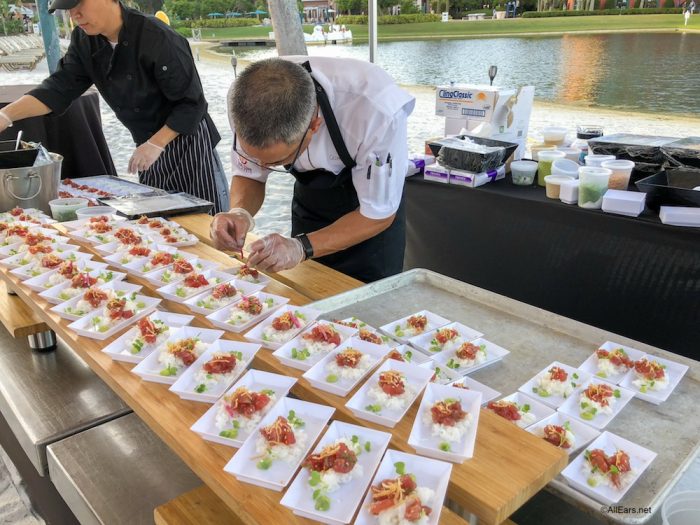 For dessert, what could be better than some authentic Hawaiian Shave Ice?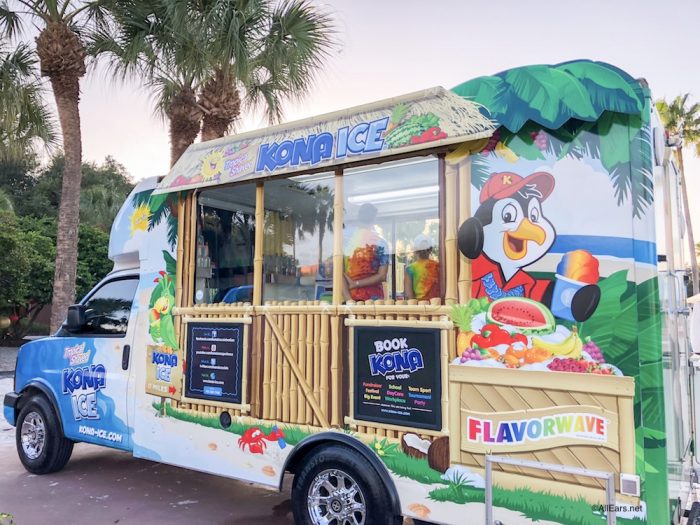 Kona Ice offered a long list of tempting flavors, too. Which one would you choose? They all sound so good!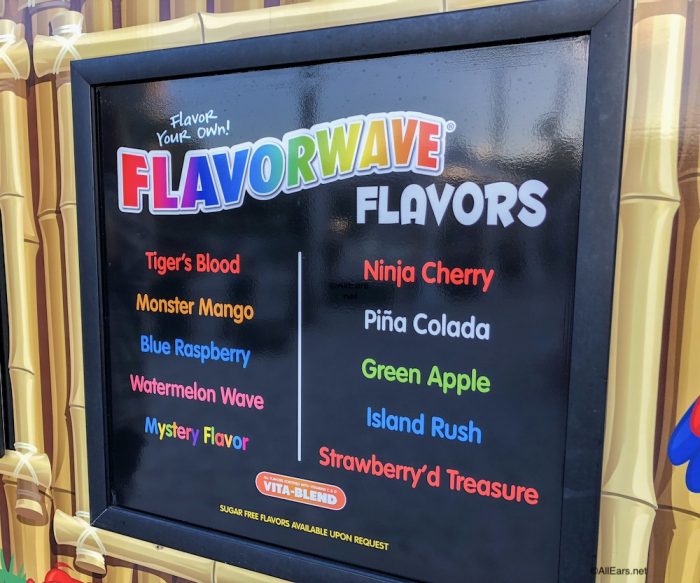 There was even a live band!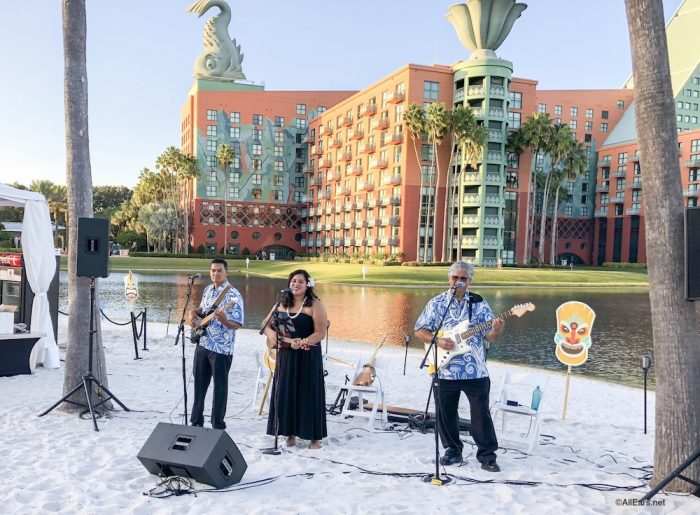 Chinatown: Our Can't-Miss Favorite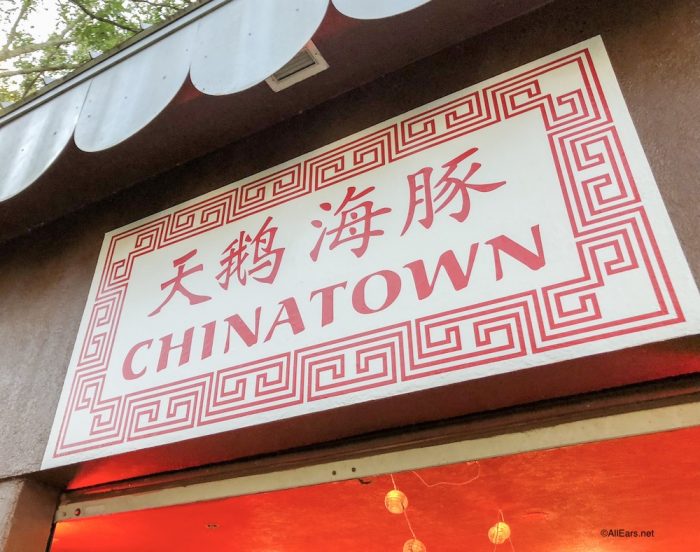 Year after year, Chinatown is one of our top favorites at the Walt Disney World Swan and Dolphin Food and Wine Classic.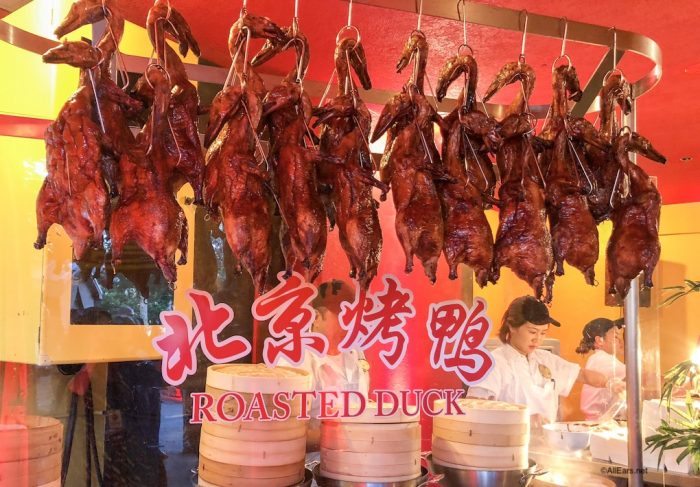 Yu Chen's Crispy Duck was the star of the show!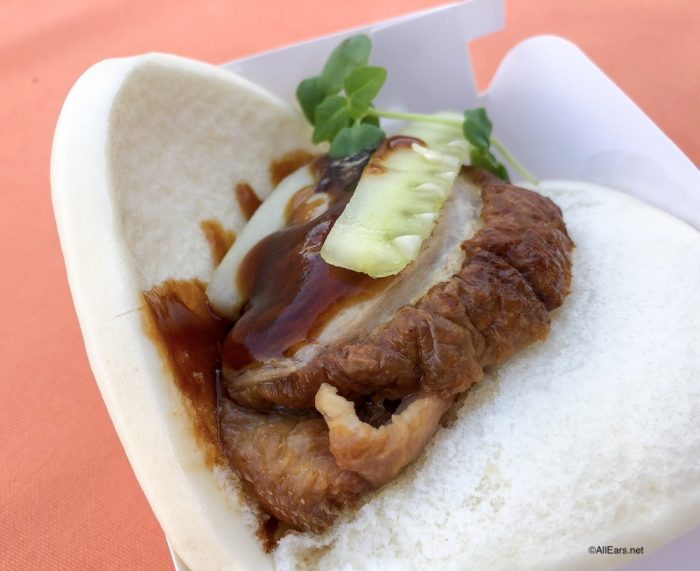 Yu Chen's Crispy Duck on a Steamed Bun with Cucumber and Hoisin.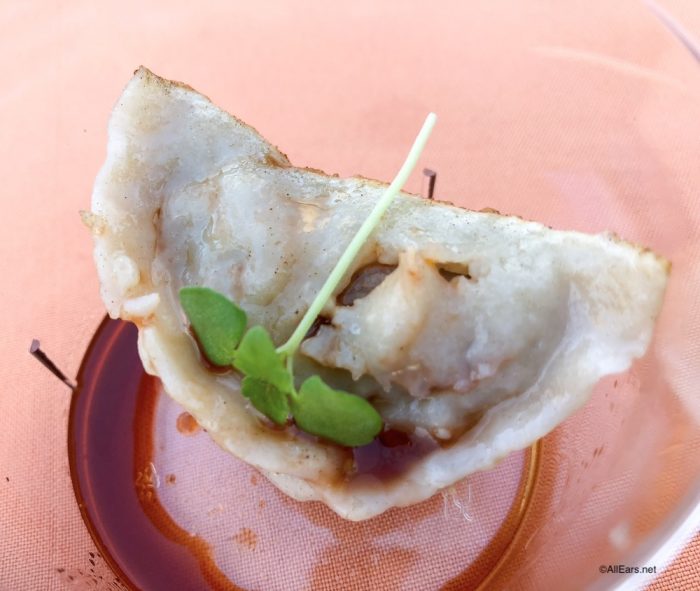 The Shanghai Dumpling was delicious, too! These pan-roasted dumplings were filled with Pork and Spicy Sauce.
Food and Fun at Carnival Corner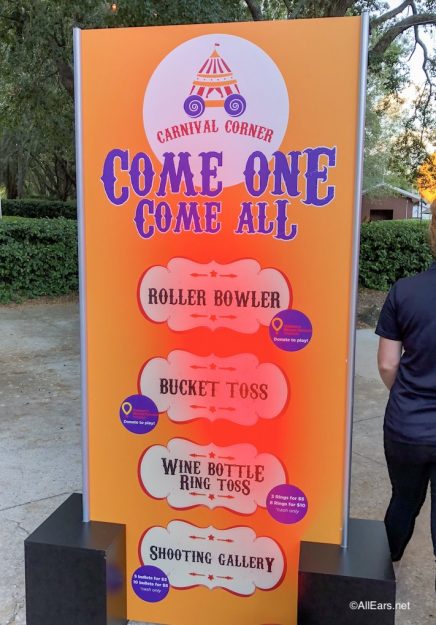 At Carnival Corner, we found food trucks with a focus on fun and whimsy.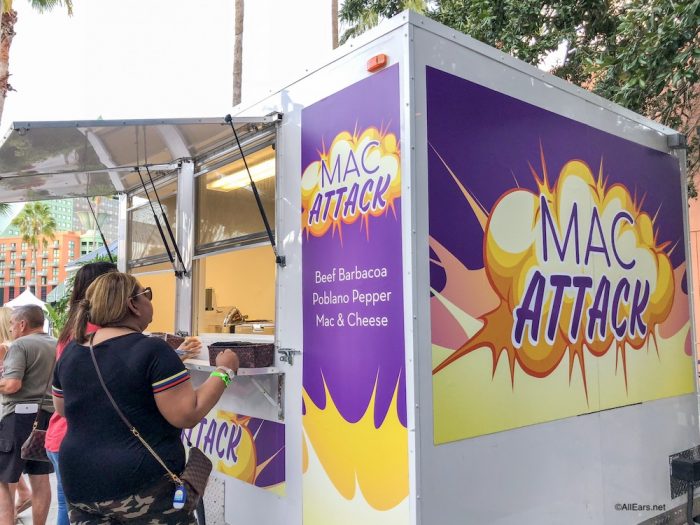 This Beef Barbacoa Poblano Pepper Mac & Cheese from the Mac Attack truck  was super flavorful!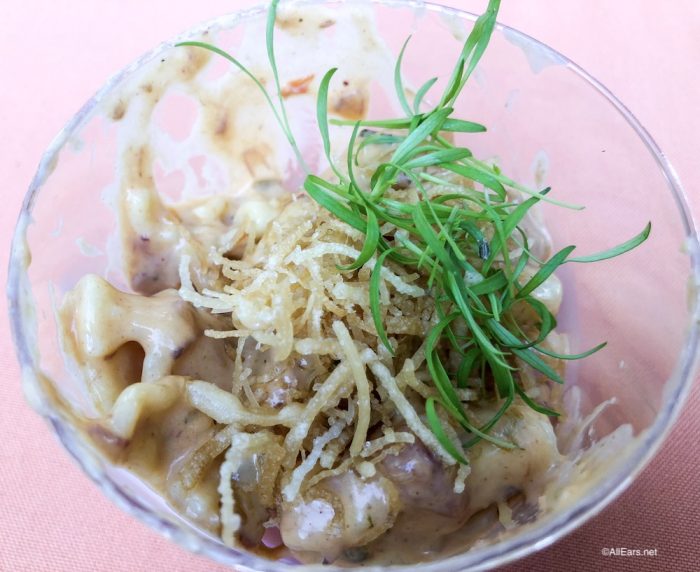 And we had to try the Frito Pie!
Right in the bag – on top of the Fritos, of course – we got house-made chili, pico de gallo, cheddar cheese, and sour cream.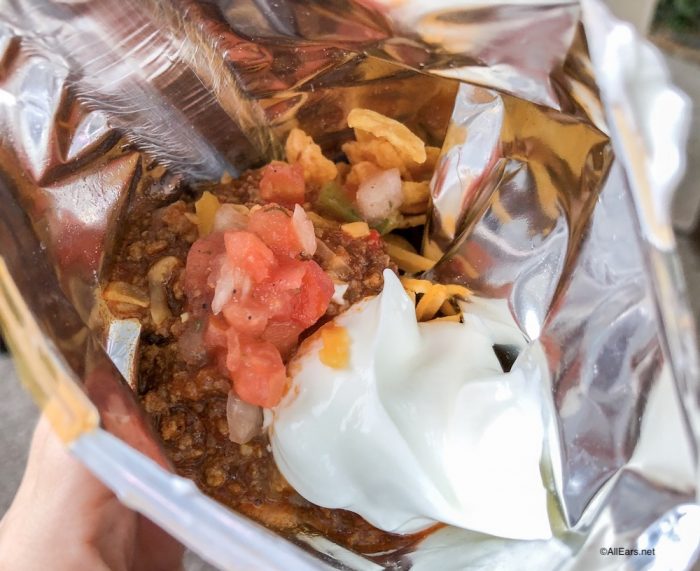 Wine Bottle Ring Toss, anyone!?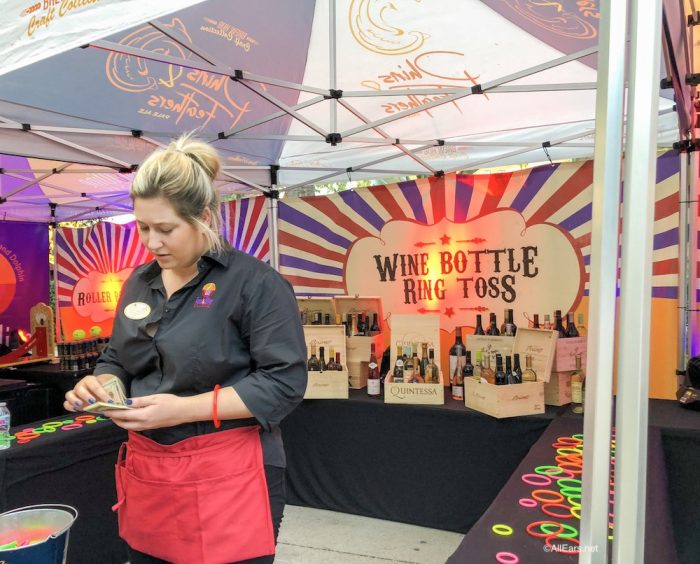 You can't have carnival food without having a fried Oreo, can you?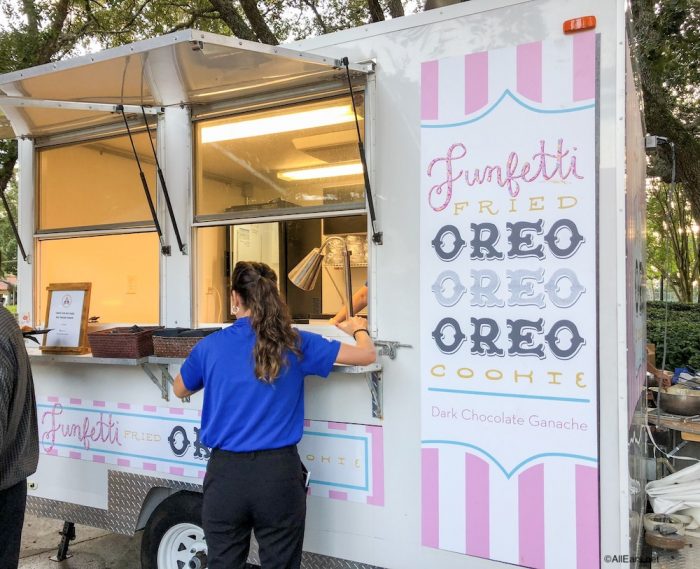 This version of the fried Oreo managed to take things to the next level: it was dipped in Funfetti cake batter before going into the fryer.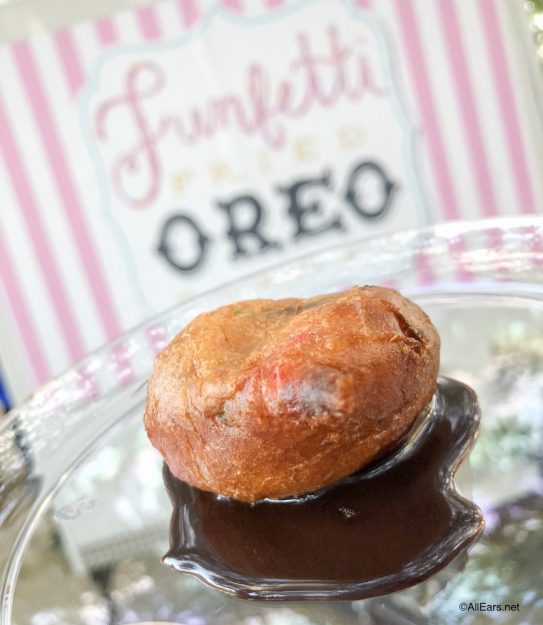 The Funfetti Fried Oreo was served with Dark Chocolate Ganache. YUM.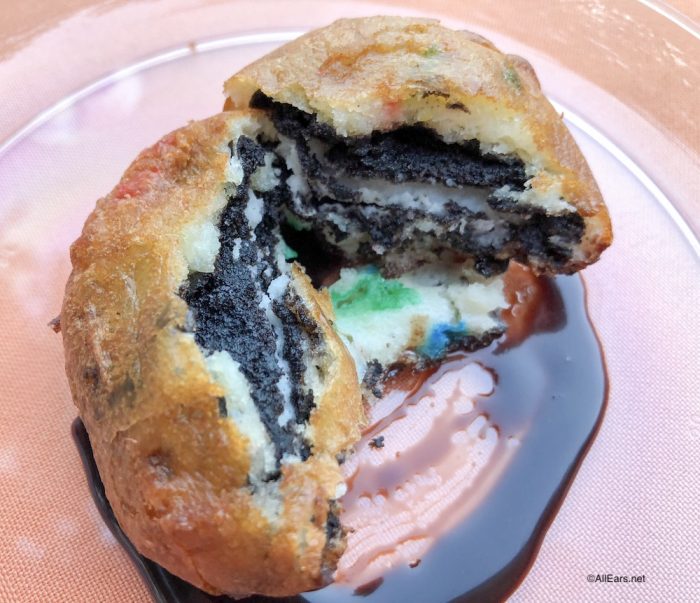 Swan and Dolphin Classics on The Causeway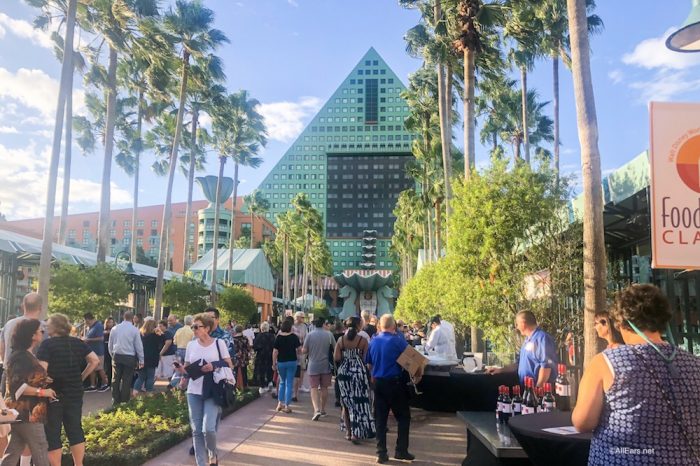 The Causeway between the Swan and the Dolphin was home to offerings from the resort's in-house restaurants and chefs. Il Mulino, bluezoo, Shula's, Garden Grove, Cib's Smokehouse, Cabana, Kimonos, The Fountain, Picabu, Phins, and Fresh were all represented.
Chef Todd English was there, hosting both his own Todd English booth and Todd English's bluezoo stand.
The specialty at Todd English was the Brown Butter Poached Maine Lobster Roll with a Toasted Brioche Bun, Lemon Aioli, and Frisee.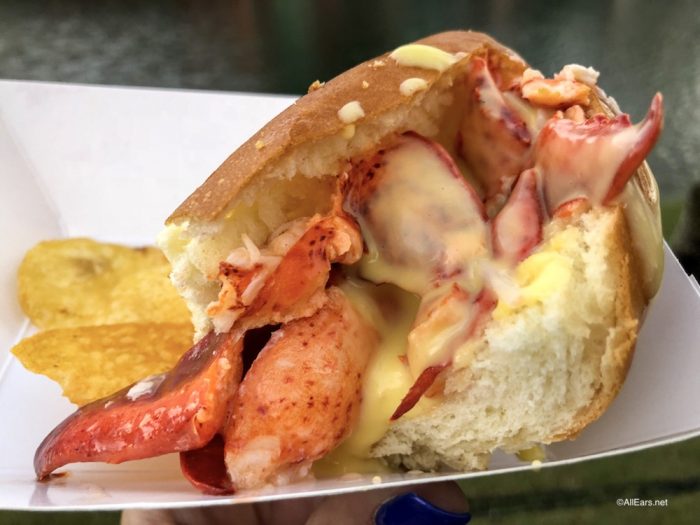 Why are we suddenly feeling so hungry?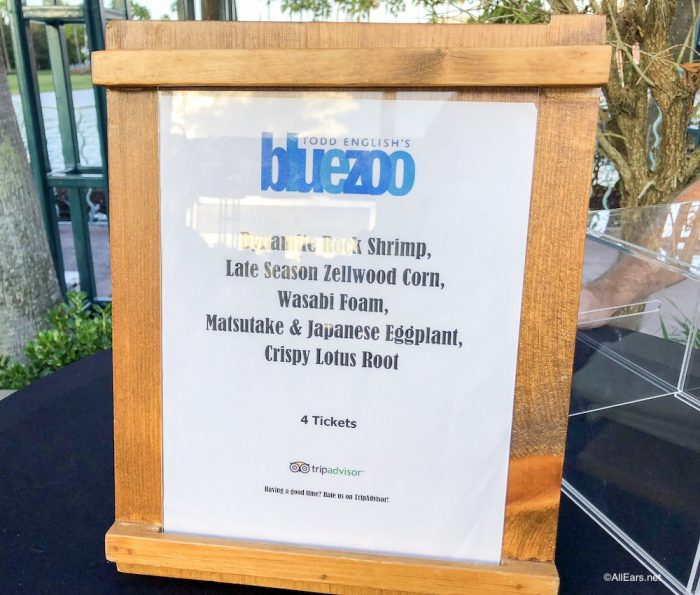 At the booth for Todd English's bluezoo, the specialty was Dynamite Rock Shrimp with Late Season Zellwood Corn, Wasabi Foam, Matsutsake & Japanese Eggplant, and Crispy Lotus Root.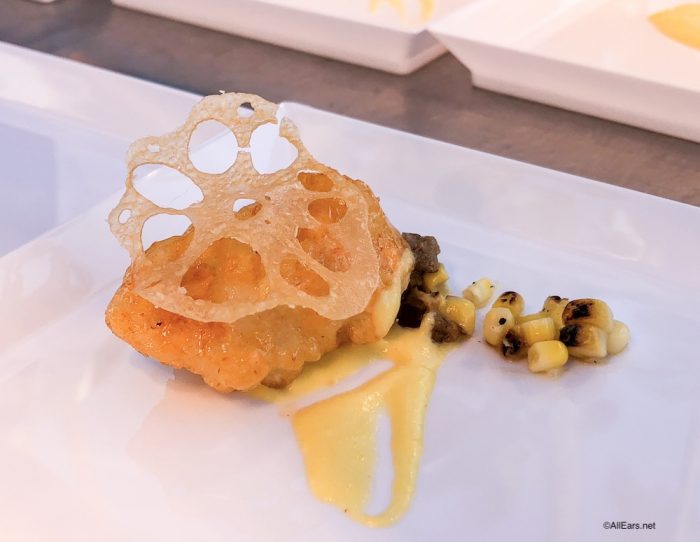 And that brings us to our final dessert of the evening! Walt Disney World Swan and Dolphin's Executive Pastry Chef, Laurent Branlard, crafted this beautiful trio of mini desserts.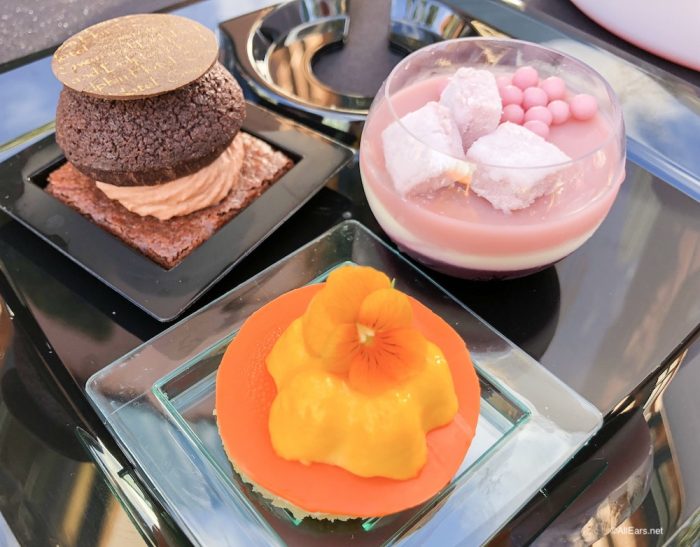 The trio includes All Chocolate Choux, Blackberry Bubble Cup, and Tropical Fruit Charlotte. The desserts were as delicious as they were detailed!
Wine, The Bubble Lounge, and The Beer Garden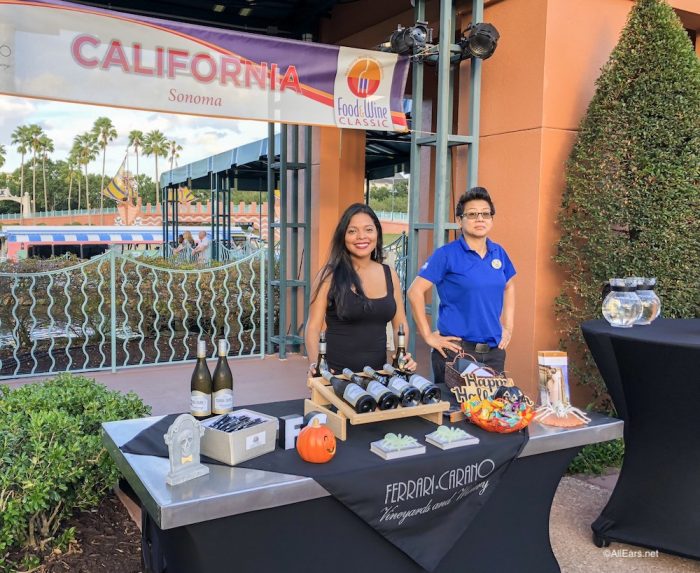 It just wouldn't be the Food and Wine Classic without wine!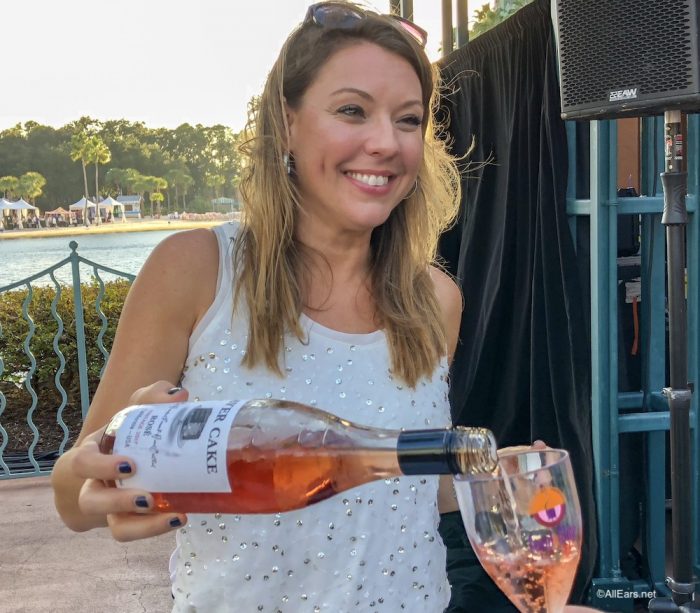 The Beer Garden featured two menu items along with a variety of beers from specialty breweries, including Founders, Barrel of Monks, and MIA. The Bubble Lounge offered small bites and refreshing fizz.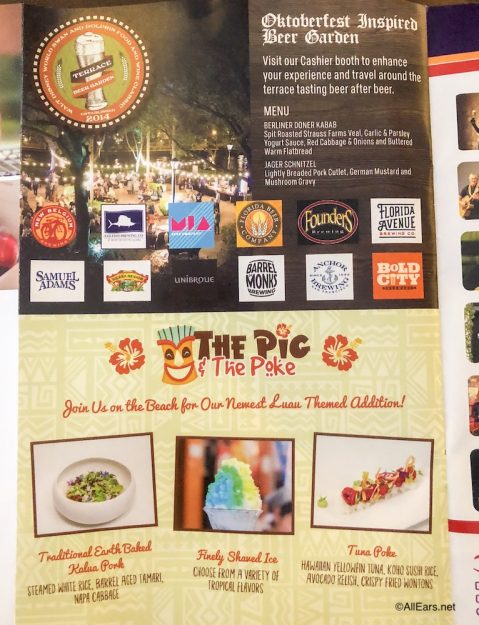 If you're a foodie, the Walt Disney World Swan and Dolphin Food and Wine Classic is an excellent accompaniment to your Walt Disney World fall visit. There's much more than food and wine: you'll get to enjoy educational seminars and fun merch, too.  It's the perfect add-on to your Epcot Food and Wine trip, and we highly recommend it!
Did you attend the Walt Disney World Swan and Dolphin Food and Wine Classic this weekend? Please leave a comment and tell us about the best thing you tried!
Want to be the first to know when details for the 2019 Walt Disney World Swan and Dolphin Food and Wine Classic are released? Sign up for the AllEars® newsletter today!
Disclaimer: AllEars.Net was an invited media guest of the Walt Disney World Swan and Dolphin for this preview, but this did not affect our opinions. Our opinions are our own.