Hi All Ears Readers. My name is Christy Fish and I am a Disney Vacation Club Member, Disney Enthusiast, and avid All Ears Reader. I also happen to have Celiac disease and need to eat gluten free. Below please find my latest information from my last trip my husband Blake and I took to Walt Disney World. Happy Reading!
2014 Gluten Free Dining at Walt Disney World
(on the dining plan)
*Standard Dining Plan we chose includes: 1 counter service meal (Entrée, drink, dessert), 1 table service meal or buffet (entrée, drink, dessert), and 1 snack.
*All of the table service restaurants we have dined at have had the Ener-G Tapioca rolls. Feel free to request them to be served warm and toasted, as they taste much better this way.
*Please take note that if your gluten sensitivity is severe, you may need to be much more careful and ask locations to clean off their grills, and consume only fried items in a dedicated GF fryer. Please discuss your gluten free concerns in depth with any manager or chef at each location you dine.
Animal Kingdom
Counter Service: Flame Tree Barbeque (Discovery Island)
I ordered the Half Rotisserie Chicken, but substituted fries instead of the baked beans/coleslaw combo out of personal preference. Blake ordered the ½ slab of St. Louis Ribs served with baked beans and coleslaw. Both items were GF. This is my favorite counter service location any where in WDW. My husband stated his ribs were amazing, tender, meaty, and perfectly seasoned. The chicken was tender, had a wonderful dry rub that was flavorful but not spicy. The fries were excellent and fresh out of the fryer. I was assured this location has a dedicated GF fryer. For dessert, they had a few selections of pre-packaged GF brownies and cookies. I chose the Enjoy Life pack of Crunchy Chocolate Chip Cookies. This location had a manager out to take my order right away and made all the food fresh.
Table Service: Tusker House (Africa)
What a wonderful buffet experience. I stayed away from buffets since being diagnosed with Celiac disease, but this restaurant had me singing a happy tune. The chef came over within 15 minutes, as they were extremely busy during this breakfast buffet. I informed him that I love Mickey waffles and was wondering if he could make them gluten free. He said of course and then walked with me to the buffet to show me everything I could have. I could eat a lot of buffet items. Eggs, sweet potato hash (so delicious), fruit, cheese, bacon, sausage, ham, pork tenderloin, and the oven roasted potatoes to name a few. After we sat back down from the buffet, he brought me a plate of mickey waffles and a GF muffin. The food was excellent and service very accommodating.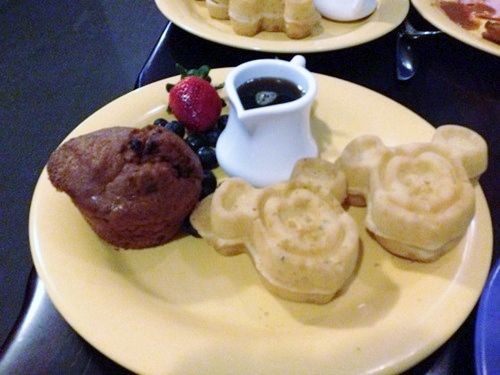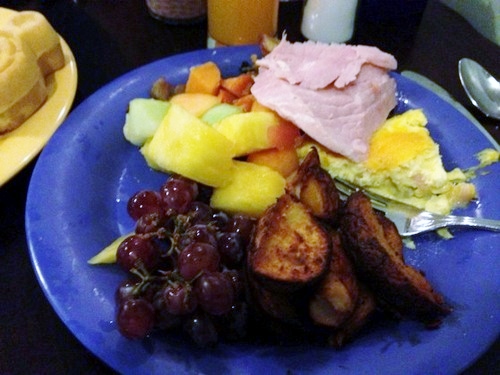 Epcot
Counter Service: Sunshine Seasons at The Land (Future World)
This is my favorite counter service location at this park. There are many different food bays to choose from. I chose the Pork Chop with BBQ Chutney and Mashed potatoes with no gravy. It was a hearty and thick pork chop that was tender and not dry. The BBQ Chutney is also sweet, tangy and delicious. Mashed potatoes were thick and creamy as always.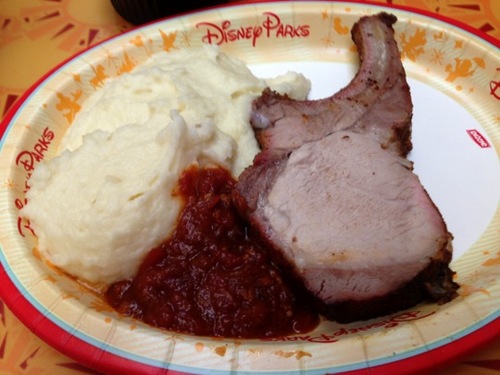 The dessert here for me was a treat: Crème Brulee from the baked goods section.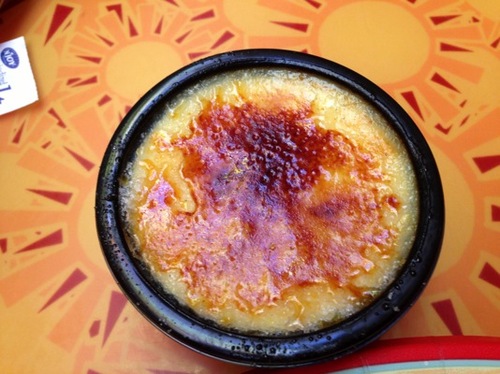 Table Service: Coral Reef (Living Seas-Future World)
I ordered the Grilled NY Strip Steak served with Roasted Potatoes, Mushrooms, Spinach, and Red Wine Sauce. I ordered sans Mushrooms out of personal preference. The Steak here was cooked medium as I requested and it was a good meal. The steak at Le Cellier is far superior in quality and flavor in my opinion. The service at Coral Reef and atmosphere was well done. The dessert I ordered was The Chocolate Wave with fresh Raspberries and Raspberry Gelato. I order this every time I eat here. This dessert is flourless and always GF. It is decadent, rich, and heaven on a plate. I apologize for no pictures on this one as I think I may have been too busy devouring it.
Table Service: La Hacienda de San Angel (Mexico-World Showcase)
I give this restaurant's food, décor, and atmosphere a 10 out of 10. I ordered the Pollo al Pastor which is Achiote marinated chicken served with roasted vegetables, beans and pineapple relish; served fresh with homemade corn tortillas and rice. It was wonderful. One of my new favorite places. The food was fresh and light. The marinade on the chicken was sweet, and the pineapple relish was delicious. The Mexican rice flavored with tomatoes was fantastic. It felt so nice to have a meal that did not feel really heavy. For dessert I chose the Nieves or traditional Mexican sorbets. I had mango and raspberry. It was the best sorbet I have ever had. Two very large scoops with chunks of fresh fruit. This is a meal I will continue to come back for every year at WDW. Oh, and did I mention if you wait a little longer for a table by the window, you can watch Illuminations from this restaurants windows. It sits right on the water.
Hollywood Studios:
Counter Service: Rosie's All American Café (Sunset Blvd)
I ordered the 1/3 lb. Angus Cheeseburger with fries on a GF bun. It took a very long time for a manager to come to take our order at this location. The bun was not very good, but the fries and burger itself were nicely done. The normal run of the mill burger and fries. For Dessert: Enjoy Life Crunchy Chocolate Chip Cookies.
Table Service: Mama Melrose's Ristorante Italiano (near Muppet Vision)
Mama Melrose's is my favorite table service restaurant at Hollywood Studios because I usually have a hard time eating GF at Italian locations. Not here at all. We dine here every trip. The head chef Frank whom my husband and I have seen every year since our honeymoon is absolutely fantastic. The first time we dined here I asked him what I could have that was GF and he responded by saying, "What would you like, I can make you anything on the menu Gluten Free." For people with Celiac disease that is one of the most amazing things to hear at any restaurant.
This trip I ordered the Carne D' Italia Flatbread with pepperoni, house-made sausage, pancetta, and spicy marinara sauce on a GF crust. This crust was delicious. It was on the flat bread side, but still had a doughy texture to it. The sauce, cheese, and toppings all tasted very fresh.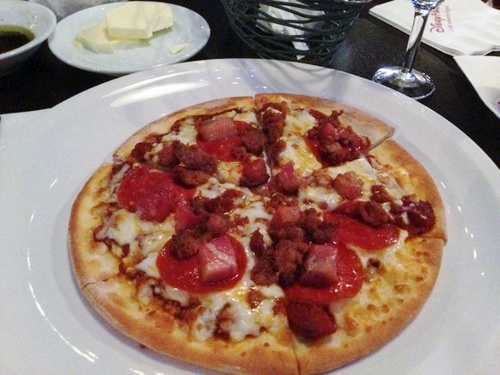 My husband ordered the Penne alla Vodka with GF rice pasta and chicken. I tried it and it was delicious.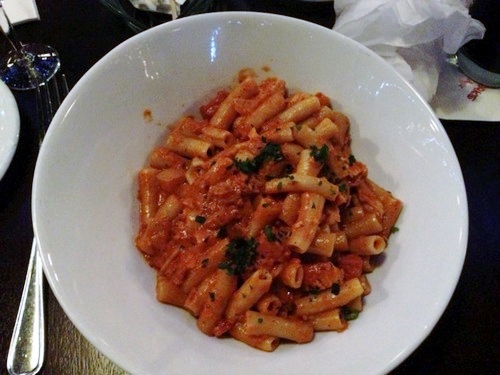 Dessert: Flourless chocolate fudge cake made on premises, which the server told me, is not on the menu, but they always offer it to GF patrons. This dessert is dense, fudgy, and outstanding.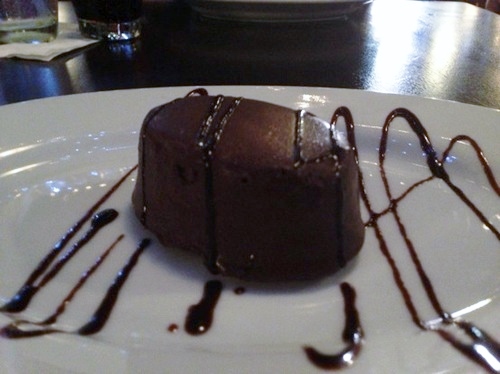 Other years I have also ordered the following dishes GF and all were outstanding: Oven-baked Chicken alla Parmigiana with marinara sauce topped with melted mozzarella (no breading) with GF pasta, and the Charred Strip Steak with GF five-cheese baked macaroni.
This restaurant has also done several magical things for us in the past as we often celebrate our anniversary here. We have received fast passes, champagne toasts, and gluten free cheesy garlic bread. This was not all in one experience, but little bits over the 4 years we have dined here. They really know how to bring out the Disney Magic at this location.
Magic Kingdom:
Counter Service: Be Our Guest (Fantasyland) Lunch Only
We were unable to secure reservations for dinner at Be Our Guest, but did not want to miss out on seeing it this trip, as it was not open during our last trip. We stopped by the restaurant the day before and asked a cast member what time we should arrive. She kindly informed us that lunch starts at 10:30am and we should arrive 30 minutes prior to get in line as it gets very long quickly. We arrived in the line at 10am and were the 4th party in line. Doors opened promptly at 10:30. What a beautiful restaurant. It is exactly like stepping into the movie. I was in awe.
The way to order was through kiosk, which I like. And they had an allergy option. It was so nice to not have to wait for a manager to come over to take my order. They serve your food on an adorable cart right to your table with real silver ware. I ordered the Carved Turkey Sandwich served on a GF bun with Dijon mayonnaise and Pomme Frites.
For dessert, a GF Lemon-raspberry cream puff . The dessert was very good here. Especially because it is difficult to make a GF cream puff.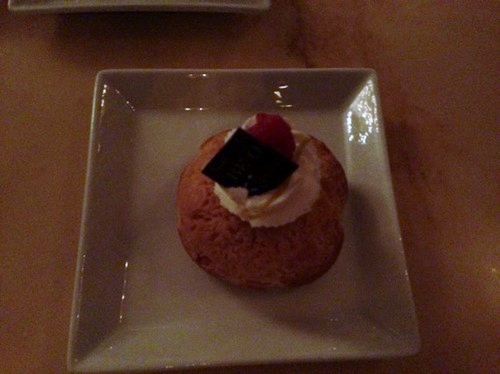 The food, sadly it was not good at all. The fries were cold and limp, and the sandwich was made on the GF bread. The greens on the sandwich looked old and rotten, and the turkey was not very good quality. I am unsure why the food didn't taste fresh since we were some of the first lunch guests of the day. I feel this restaurant is definitely worth going to just see it once. I have never had dinner there, so we will be trying that our next trip to see if table service has better quality food.
Counter Service: Columbia Harbor House (Liberty Square)
Service here is always impeccable and very accommodating. I ordered the GF Chicken Tenders and Fries. These are the best GF chicken tenders I have had on Disney property. They also have a dedicated GF fryer. Dessert: OMG GF Brownie. It was huge, fudgy, and excellent for a pre-packaged dessert.

Counter Service Cosmic Ray's Starlight Café (Tomorrowland)
Service is also fantastic and very accommodating here as well. I ordered the 1/2 Rotisserie Chicken with Mashed Potatoes and a seasonal vegetable and Blake ordered the BBQ Pork Sandwich with a GF bun with fries. Both were delicious. Fries were made fresh, as was the rest of the food equally hot and tasty. Dessert was an OMG GF Brownie and Enjoy Life Crunchy Chocolate Chip Cookies.
Downtown Disney:
Raglan Road is my favorite Downtown Disney table service location because the entertainment is wonderful and the food is delicious. The service was outstanding and musicians/dancers fantastic. We left very full. I ordered the Mammy's Roast Chicken which is a lemon thyme roasted half chicken with mashed potatoes. It was wonderful and fresh as always.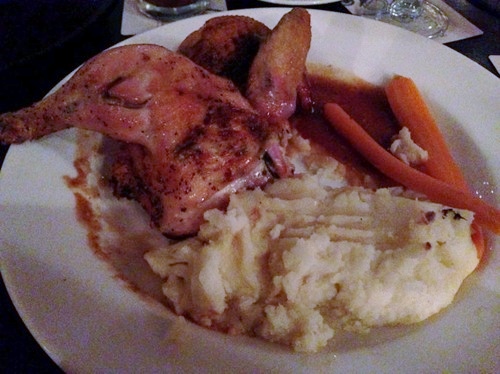 My husband ordered Keen Eye for the Shepherds Pie. Both dishes were GF. My husband stated the meat in the Shepherd's Pie was tender and flavorful. He stated it tasted fresh and was very filling.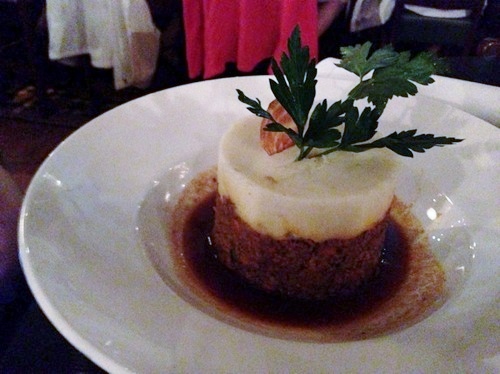 For Dessert: Strawberry & Apple Crumble which was fresh strawberries and apples in a tart with berry compote and vanilla bean ice cream. This dessert is not naturally GF; but the server informed us they could make special GF ones! This was a perfect combination of tart and sweet. Most definitely one of my very favorite desserts at Disney.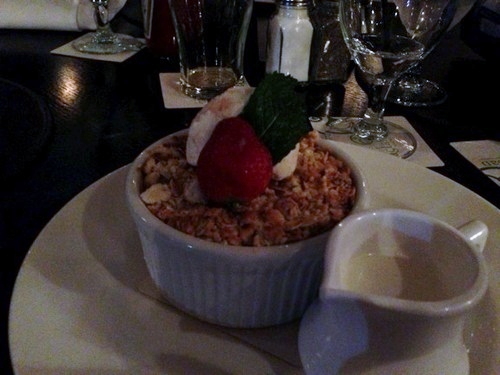 Port Orleans French Quarter Resort:
Quick Service: Sassagoula Float Works
We came here specifically for the GF beignets. I have never had any beignets and was afraid I never would with Celiac disease. We asked to speak with the chef. He was so nice and from Paris. I have never had real beignets but my husband has and he said the GF ones were delicious and very close to tasting like real beignets.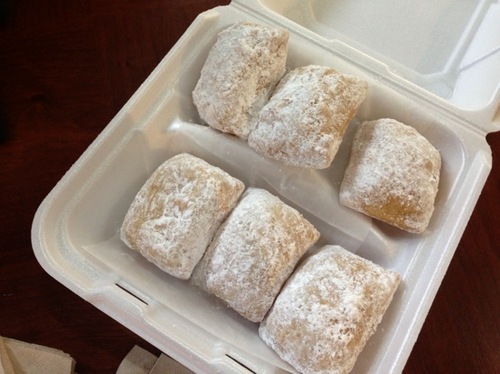 Below you will find a list of other places we have eaten on some of our past trips to WDW.

Animal Kingdom:
Table Service: Rainforest Café (Entrance to Park)
Very accommodating. Did not have GF bread or rolls at the time we went, or dessert other than ice cream. Chef came out and spoke with me directly. I was able to easily order the rotisserie chicken.
Counter Service: Pizzafari (Discovery Island)
Amy's Rice Crust GF pizza. I am not a fan of this brand, but if you like Amy's you will love this location.
Epcot:

Table Service: Le Chefs De France (France, World Showcase)
Accommodating. I was able to order rotisserie chicken, but no dessert available other than sorbet.
Table Service: Marrakesh (Morocco, World Showcase)
I was able to order chicken, and any kebabs. I was unable to have rice, as it was not GF here. Sorbet was the only option for dessert.
Table Service: Le Cellier (Canada, World Showcase)
This restaurant has become a signature dining experience and now requires two table service credits per person per meal. This restaurant carries my favorite steak on Disney property. I usually order the filet mignon with cream cheese mashed potatoes and the GF maple crème brulee for dessert. The steak is always cooked perfectly to order, the cream cheese mashed potatoes are to die for, and the maple crème brulee is the best I have had anywhere. This restaurant truly sets itself above and beyond all standards .The service has always been spectacular and chefs extremely accommodating.

Counter Service: La Cantina de San Angel (Mexico, World Showcase)
I was able to order the nachos and tacos de pollo as they are made with corn tortillas. Chips are corn as well, but fried in a fryer with non-GF items. Service was a little tough, and food was average.
Counter Service: Electric Umbrella (Future World)
I was able to order the 1/3 lb. Bacon Cheeseburger on a GF bun with fries. The service was good, and the food average. Nothing outstanding.
Hollywood Studios
Counter Service: Backlot Express (near Star Tours)
I have ordered the GF chicken tenders and fries multiple times at this location. It is very crowded and often takes a bit of time for a manager to come over and take our order. Once that is done, I must say the GF chicken tenders and fries have always been delicious and fresh at this location.
Magic Kingdom

Table Service: Tony's Town Square (Main Street)
We have only eaten here once because although the service was great, the food was a bit bland and lack luster for my taste. I ordered the GF pasta with marinara sauce. This is a good solid choice for anyone wanting good service and the adorable Lady and Tramp décor.
Counter Service: Pecos Bill Café: (Frontierland)
I ordered a cheeseburger on a GF bun and fries. It was fresh and good. The fixins bar here has a wide variety.
Snacks: Aloha Isle (Adventureland)
I have to admit one of my favorite Disney treats is a vanilla Dole Whip root beer float. I also love all the other flavors of Dole Whip. They are not only GF, but dairy free as well.
Animal Kingdom Lodge Jambo House
I ordered the rotisserie chicken and mashed potatoes. It was excellent. The chef came out and informed me that he could make almost anything on the menu GF. He even told me he could prepare GF zebra domes, which is Animal Kingdom Lodge's infamous dessert. I also noticed in the grab and go case that they had Babycakes GF desserts pre-packaged.

Boardwalk Resort and Villas
Counter Service: Boardwalk Bakery
I have ordered the smoked turkey sandwich on GF bread, fruit cup, chips, and they often have some sort of pre-packaged cupcake. Main meal good at this location, GF cupcake not so much.
Table Service: Big River Grille and Brewing Works
Food here is good, but not great. Service is always excellent. I usually order the NY strip steak. I have been unable to get dessert here that is GF.
Service was excellent. I ordered a burger on a GF bun with fries. Dessert option was gelato only.
Contemporary Resort
Table Service: California Grill
We have only eaten here once and it was on our honeymoon. The manager and waiter knew the occasion. Service from the manager who found us a wonderful seat by the window was impeccable. Our waiter was okay. View and fireworks amazing. The GF bread was warm. I ordered the oak fired filet of beef with roasted potatoes. It was prepared nicely, but lacked much flavoring. The potatoes were a bit dry and bland. When I asked the server about dessert, he stated they had a pre-packaged GF brownie. He did not offer to do anything special with it. I asked if they were able to make me a brownie sundae with ice cream and hot fudge using the pre-packaged dessert. He said yes and put the order in. This is a signature dining experience, which requires two table service credits. I was very surprised they did not have a GF dessert that was not pre packaged. The waiter came back with the brownie sundae, which was still mostly frozen in the middle. The ice cream was good, but there was no hot fudge, just cold chocolate sauce. This may have just been an off day for this restaurant as I have read that many people have had wonderful experiences here. I plan to try it again on our next trip.
Downtown Disney
Both are very accommodating, but no GF bread or buns at current time we dined. Ice Cream Sundaes were the GF dessert option.
Wonderful service, food, and atmosphere. We often go for a late dinner on a weekend night when they have a live salsa band. I have ordered the Arroz con Pollo and the Pollo Asado. My husband usually gets the Churrasco a lo Cubano (Cuban style Skirt Steak). GF dessert option was flan at the time. I am not sure if they still carry it.