Have you ever received an e-mail that just warmed your heart?
Have you ever read an e-mail and thought, "That's what I mean! That's what Disney Magic is all about."
I got one of those e-mails just a few weeks ago. It came from my friend John Ames who is a Travel Agent/Vacation Planner with Mouse Fan Travel. John received it from one of his fellow Mouse Fan Travel agents, Nancy Swope, and Nancy received it from her client Trena.
Trena was telling Nancy the story of her son Nicholas and his amazing feat at Expedition Everest.
There's just no way I could tell the story as well as Trena did, so here is the story in her words, the same words that made me think, "That's what I mean! That's what Disney Magic is all about."
QUOTE
When we visited Walt Disney World in January 2011 for Nicholas' 12th birthday, he ended up riding Expedition Everest 33 times in one day. It took him from park opening at 9:00 a.m. until about 2:00 p.m. He mainly worked the single rider line, with a few fast passes thrown in for good measure.
As soon as we told Nicholas we were headed to Disney for his 14th birthday, he said, "I'm going to beat my record. I'm going to ride Expedition Everest 50 times!" I tried to convince him that 34 times would beat his record and be good enough, but he was having none of that!
So, on the morning of January 21, 2013, Animal Kingdom had Extra Magic hours and opened at 8:00 a.m. and, yep, we were at Expedition Everest ready to help him achieve his goal of 50 times in one day.
Eventually the cast members working the ride realized he wasn't joking about riding it 50 times in one day as they saw him again and again (as they rotated through their positions). I was keeping a time log of every time Nicholas got off a ride so we would not get confused.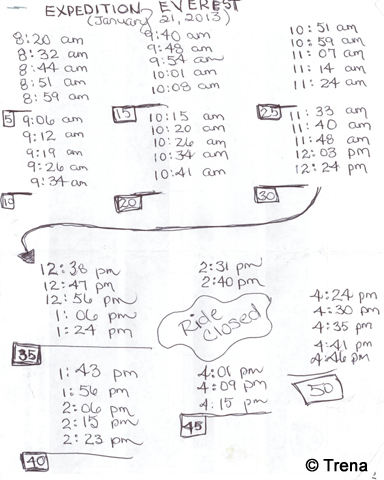 We were getting fast passes as quickly as we were allowed and really had to rely on those this time around as the single rider line was at a 20 – 30 minute wait time by mid-morning.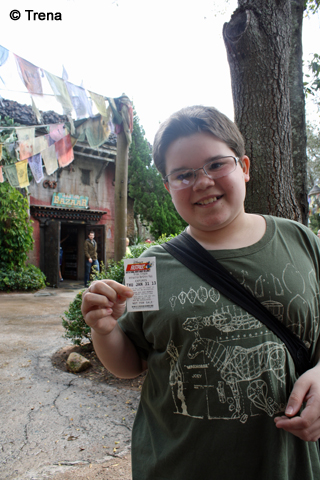 The morning manager on duty, Holly, heard about what Nicholas was doing and came out and gave us four anytime fast passes to use. Later a few of the cast members gave us swap passes to use as fast passes. Then a Season Passholder family of four saw my time tracker and asked what I was doing. When they heard the story, they said if we were still at the ride when they came by on their way out of the park, they would get us 4 fast passes to use. So, 45 minutes later we had 4 more fast passes for Nicholas to use.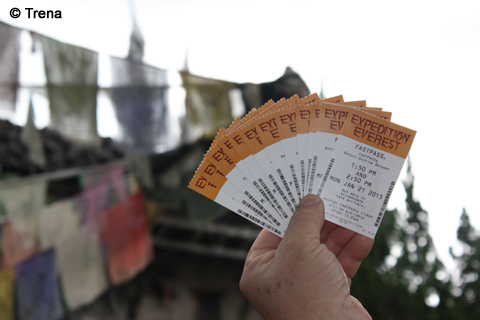 When Holly went off-shift, she came to tell us good-bye and assured us she would let the next manager know about Nicholas. Actually, everyone knew Nicholas by name at this point 🙂
Nicholas was making great time, averaging 8 – 12 minutes per wait/ride. Then we ran out of fast passes and his wait/ride time was more like 25 – 30 minutes.
It was about 2:45 p.m. – he had just completed ride #42 and was waiting in line to get on the next train, when the ride shut down. We later learned that two of the monitoring computers disagreed, which brought the ride to a screeching halt. They even had to walk folks down off the mountain.
We waited around for a bit hoping for some news when Michelle (the afternoon manager on duty) came to get us. She, along with Bill (the afternoon supervisor), explained that they were going to get the ride back up and going, and when they did, they were going to personally make sure that Nicholas made his goal of 50 rides in one day. The four mechanics on duty came out to have their picture taken with Nicholas and promised they were doing everything they could to get the ride back up and going.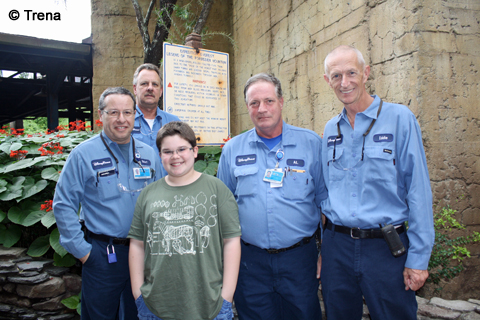 Just before 4:00 p.m., Expedition Everest was back up and running. Bill (a supervisor) and Don (a cast member) personally escorted Nicholas to the last train car (his choice) each time he finished a ride.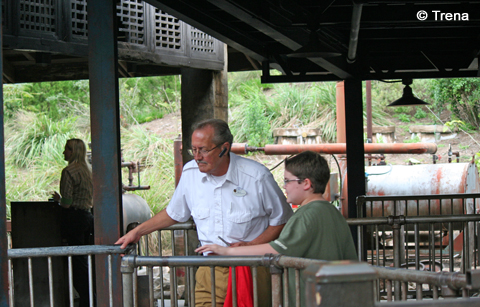 Several of the cast members stayed after their shift ended because they wanted to ride #50 with Nicholas. As Nicholas was waiting to take his seat for ride #50, Bill announced to all those within hearing that Nicholas had been riding Expedition Everest all day long and was now going to take his 50th ride of the day. Folks started cheering and clapping for him and even taking his picture!!!! And, as you can see from the photo below, Nicholas had three cast members ride with him to celebrate his 50th ride in one day!!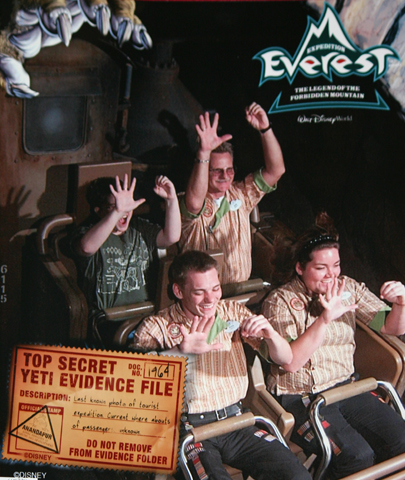 When he got off the ride, everyone was cheering.
The cast members, supervisor and managers gave him a T-shirt and they all signed it. They also gave us the picture of his 50th ride.
AMAZING DAY!!!
The next day, we headed back to Everest because Nicholas wanted to get a few of the early morning cast members to sign his T-shirt. He was like a celebrity! All the "new" cast members had already heard about him and made a huge deal over him.
Only at Disney!
END QUOTE
Isn't that a great story!
That's the kind of story I like to tell when my friends ask, "Why do you keep going back to Walt Disney World?"
Nicholas met a lot of very caring cast members that day. So many different people pitched in to help him live his dream; to help him achieve his goal . . . the cast members loading the ride cars, their supervisors and even the mechanics!
It is that kind of caring cast members that sets Disney apart from other theme parks. And it's infectious; The wonderful attitude of the cast members often brings out the best in park guests too. This is what keeps so many of us coming back again and again.
Aaah – that's Disney Magic!
Special thanks to Trena and Nancy for sharing this wonderful story. Congratulations to Nicholas on an amazing achievement. In my opinion he's the newest Disney super-hero!
Nicholas, if you and I should ever meet at the park I would be honored to ride Expedition Everest with you . . . but only once!
That's my limit.