We did it! After many, many years of prodding my friend Yoli to join me at Walt Disney World, we have finally taken our vacation and what an epic vacation it was. We spent the first night by the airport at a Travelodge Inn (not recommended) and the following 10 nights at All-Star Movies (highly recommended). During our very long stay we visited Epcot, Disney's Animal Kingdom, Magic Kingdom, Disney's Hollywood Studios, Universal Orlando, Islands of Adventure, Downtown Disney, Disney's Boardwalk, the town of Celebration, International Drive, 8 Disney resorts, Company D, Cast Connection, and other locals. Needless to say, Yoli was fully immersed into Walt Disney World. :curtsy:
Keep an eye out for my other upcoming blogs with lots of photos and recaps.
My first hiccup came when picking up my car at Orlando International Airport. The line at Dollar was long and it was about 12:15 AM. To make matters worse, it appeared that those renting didn't have reservations and were taking a long time to select a vehiclet. My own experience crept along when I asked the girl if they were offering complimentary upgrades. She could have said, Sorry, not at this time" and that would have been the end of it. Alas, she kept trying to upsell me and barter even though I kept saying I'd just take the compact I reserved. She went from $10/day extra for a midsize car to $5/day down to $3/day. I thought I had landed in Orlando not Tijuana. Finally, she did my paperwork and I went to get the car.
Half asleep, I took the elevator up when in fact Dollar is on the ground level of the parking garage. Back down I went, schlepping my brand new purple suitcase and magenta carry-on bag. As I made my way to the proper aisle, an employee approached and asked if I needed help. By now it was about 1 AM. I said, "I need to pick out a compact…unless you'd like to offer me a free upgrade." Note to self, never ask the reservation agent, always ask the parking lot attendant for upgrades because he gave me an SUV. Score! No hassle, no Let's Make a Deal scenario, he just signed my contract. Thanks!
Finding the hotel was a piece of cake although the sign wasn't illuminated and I nearly missed the driveway. Finding the room was another story. The front desk clerk had no idea where the elevator or my room were. Awesome service. That's sarcasm in case I lost anyone. Well, I found the elevator and Yoli guided me to our room. It was mostly clean but I'd never stay there again. It was a blind special offer from Priceline of $39.00. You get what you pay for…unless you can get a free upgrade.
2 AM came around quickly and we put ourselves to bed knowing we had to get up at 7 AM. When that alarm went off, we were pooped but excited for what the day had in store for us. After getting ready, I grabbed a waffle from downstairs. Once Yoli was all set we drove straight to All-Star Movies. It was so early that I figured the room would not be ready but at least I could get the parking pass and room keys.
Melissa was so nice and helpful that when I nearly begged for a room in the Toy Story-themed buildings, she called her "connection" who handles room assignments. A little buttering up on my part to her buddy, "He sounds good-looking from here" and "My friend loves Toy Story and this is her very first visit to Disney World" must have helped or at least made him laugh because I got my wish. He put us in building 9, first floor, facing trees, just steps away from the humungous Buzz Lightyear statue. It was perfect and the room was ready. The luggage was dropped off, snacks were packed, and were on our way to Disney's Animal Kingdom after one more item. Each day I gave Yoli a little present, that day she got a Mickey Mouse water bottle because trekking thru a dinosaur-infused land makes you thirsty.
I had to take care of something at Guest Services at Animal Kingdom so I told Yoli to go into the park and check out the stuff up front. That's the first time I lost her. I found her up by the ducks. We began making our way through Oasis and when I put my camera down after photographing parrots, I'd lost her again. Dude! This was going to be a long trip. Just as I was about to call her, she showed up on the other side of the cave walking towards Africa.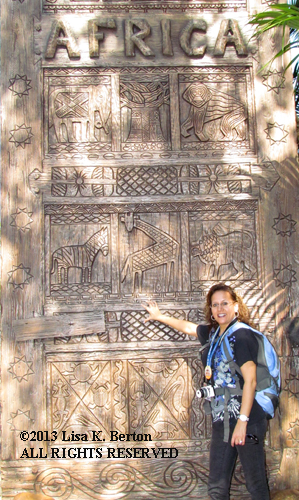 Yoli gets ready to enter Africa by pressing on the proper drawings in the right series. Shhh. I know, I know but she thinks it's real.
Okay, with Yoli in tow, we journeyed into Africa, looked in a few shops, watched Tam Tam Drummers of Harambe, visited the Single Rider attraction (restrooms became known as single rider), and grabbed FastPasses for Kilimanjaro Safari.
Strolling along the Pangani Forest Exploration Trail is Yoli's favorite memory of Animal Kingdom because she apparently loves gorillas.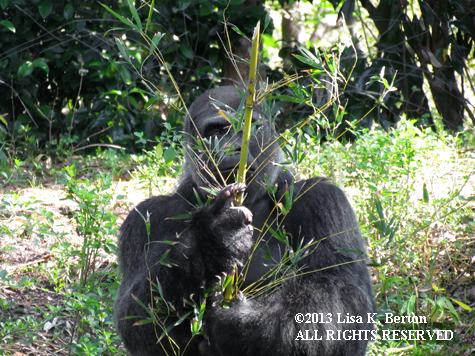 Gee, I wonder where the gorilla is hiding.
From there we took a safari ride where just like in the TV specials, a giraffe walked up to our jeep and headed straight for Yoli. I wasn't sure if I should laugh or worry it might try to bite her. I went with utter surprise and missed photographing this magical moment. You win some, you lose some.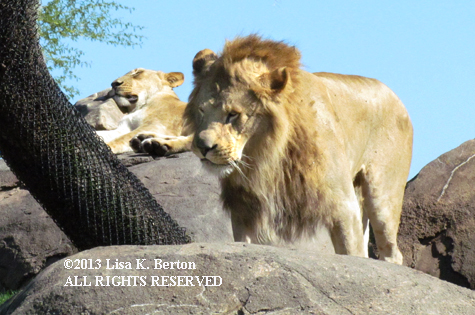 Kitties!! We were bouncing along when I snagged this shot of the lion and lioness. Meow.
From Africa we crossed into Asia where DiVine was enthralling guests. Then we watched Flights of Wonder as I absolutely love birds, especially parrots including those that ride bikes on high wires. (angry face aimed at Disney for always making a jab at Jungle Island formerly Parrot Jungle in Miami) Next we obtained FastPasses for Expedition Everest and went on the 3 o'clock hunt for Nemo in musical form, watched the Jammin' Jungle Parade, and then had a late lunch at Flame Tree BBQ.

Dale! Dale! I'm over here! Dale! Dale! Dale! Ma! Ma! Mommy! Ma!
:sigh: I have food allergies and dietary restrictions so I had brought a can of tuna with me and snacks but I figured I'd see what Flame Tree BBQ might be able to concoct for me. After looking thru the almighty book of ingredients, the manager and I agreed upon the salad minus chicken and replacing a few ingredients along with a small order of fries. To say I was surprised and annoyed with the next moment is an understatement. The manager said I still had to pay regular price even without the chicken. I mentioned you can order a hamburger meal without fries and the price drops so why couldn't someone order a salad without chicken and have a few dollars removed? He said they can't change prices. My bowl of lettuce, carrots, and red grapes cost me $9.00. He threw in the fries for free but still…$9.00 for rabbit food? Ech.
We went back to use our Expedition Everest FastPasses and as we walked thru the queue I kept thinking, what am I doing? I've never ridden it before but after having watched videos on YouTube I thought it looked like Matterhorn meets Big Thunder Mountain Railroad. WRONG! Very, very, very wrong. Going backwards threw me over the edge and from that point on I had to close my eyes. Few attempts at opening them only made me feel worse. If you saw someone gripping a wall in the gift shop under heats lamps, it was me trying to regain composure. As I relaxed I realized I had grind my teeth and my jaw hurt. The lights as it turned out, only made me sweat more. It wasn't fun and when I finally let go, we walked very slowly to our next destination.
The park was open until 8 PM that night so we walked thru Dinoland while it was still daylight and then into Camp Minnie Mickey for the last showing of Festival of the Lion King. I was so loopy from Expedition Everest that I couldn't find the show entrance. On the third attempt, I located the proper doors. Yeah, turns out going into the ladies room or exit don't work. As always, the performers did an amazing job.

The stilt walker and giraffe had a conversation. I know you all think I'm kidding but I'm not.
Feeling better, we got in line to meet Minnie Mouse then King Louie and Baloo. Yoli was excited to see all of them and I had fun singing "I Wan'na Be Like You" to King Louie and dancing with Baloo. Back to my old self, I was ready for the jolting ride on Dinosaur. I did just fine and Yoli and I kept making references to the Indiana Jones attraction at Disneyland because the vehicles are the same and instead of a giant boulder coming at you, it's a dinosaur right before plunging down.
Perhaps we lingered too long in the gift shop because when Yoli tried to get on Primeval Whirl it was 8:01 and they were officially closed. She took the news well. It had been a long day and we did see and do quite a bit.
Loaded back into the SUV, I tried to locate a Target near the park for groceries. I had read that one was close by but my GPS took us aaaall the way down 192 past the 535. They had everything we wanted and more. I grabbed some California sushi rolls for dinner and lost Yoli for a good 20-30 minutes in the store. Too bad they didn't carry adult leashes.
Back in the room, we unpacked and created what looked like a mini-mart of granola bars, various types of drinks, Rice Krispie bars, candy, cereal, health and beauty products, cans of tuna, flour tortillas, etc… We watched TV, ate dinner, and konked out.
It was an exciting start to an epic trip.
Come on over and "Like" my Facebook page or follow me on Twitter, my handle is lisano1.