If you aren't yet familiar with DiVine, a performing artist dressed and made up to blend in with foliage at Disney's Animal Kingdom, then you are missing out on a beautiful experience.
Always played by a woman, DiVine silently emerges from a Cast Member entrance on the path between Africa and Asia. A good point of reference is a sign post directing to various shows and attractions. If you stand in front of the sign so that it points Flights of Wonder as being to your right, she'll come out from your left near a large brown gate. You won't find her on the entertainment schedule but you can plan ahead by visting Steve Soares' website for dates and times.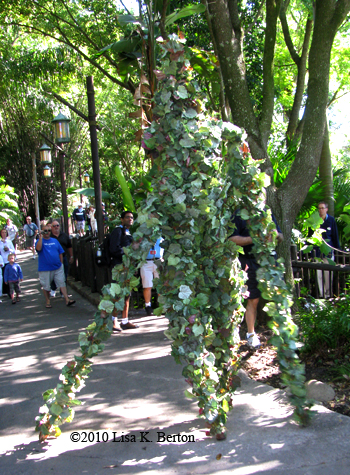 Making her way out into the open, DiVine always draws attention and facial expressions of wonderment, especially from unsuspecting Guests.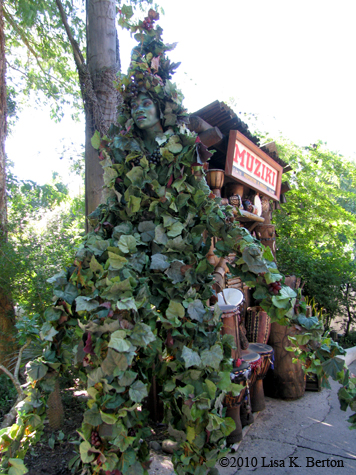 It is possible that she will stop to pose for photos with people but otherwise have your cameras up and ready for action. When she finds some nearby trees she likes, she'll stop and wrap herself around them and blend in with the surroundings.
Substituting a sign post for a tree, DiVine gracefully moves around, looking into camera lenses for great photos. Watch the lighting as she moves between harsh sunlight and shade. As you can see my point and shoot camera balanced the difference as best it could.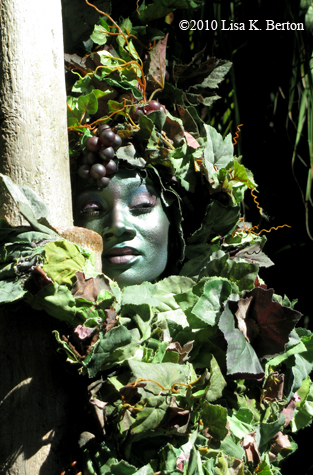 The lighting has changed as well as my location. Although the sun is bright, having it come in from a right angle helped immensely. If you look closely at her face, you'll see the left half is darker than the right half and a small triangular patch of light is under her right (your left) eye. This technique is known as Rembrandt lighting and is commonly found in professional portraits.
One last look at DiVine in the form of a backlit portrait. The Canon PowerShot SX100 IS was set to Portrait, which is a fabulous tool for photographing DiVine as it will find and focus on her face amongst the grapes and leaves. The image is sharp but flat. This can be corrected at home with any photo software. I used Adobe Photoshop CS3.
In a few easy steps I turned the image from drab to fab. I clicked on Image, Adjustment, and Auto Levels. Next I hit Image, Adjustment, and Auto Contrast. Lastly, I selected Image, Adjustment, and Auto Color. Normally, I don't use any Auto settings but wanted you to see how simple it is to improve your photos.
Learn more about where DiVine comes from at The Living Garden.
Keep up with my every move via my Facebook page.