Man, am I sore!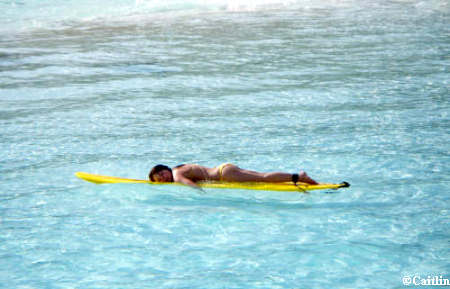 I had my surfing lesson this morning which was amazing! The instructors are very helpful and friendly and by the end you are actually surfing! The instructors were from the Cocoa Beach surfing school and they come to Typhoon Lagoon a couple days a week.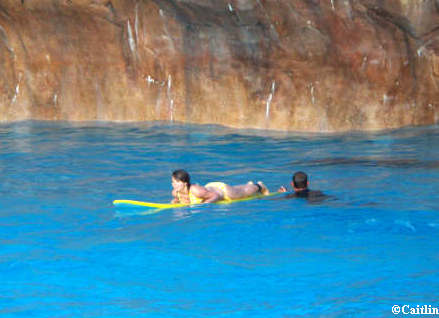 The nice thing about learning to surf in a wave pool is you can pick what kind of wave you want. They have the big wave and the small wave for beginners. The class size is small and everyone gets about 10 waves.
I would recommend it to anyone who has ever wanted to surf!
Afterwards we went to Animal Kingdom and it was packed!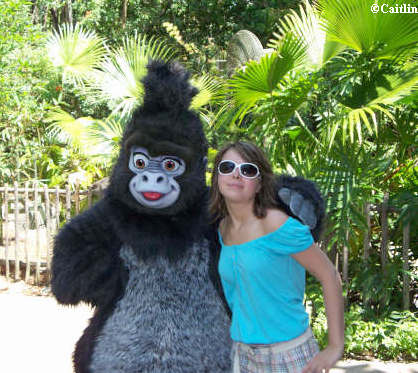 I couldn't go on much since we were leaving early but I managed to go on Dinosaur and Kali River Rapids.
On the River Rapids you really don't get that wet after the initial plunge at the beginning. The scene in the middle is supposed to look like loggers cutting down the rainforest, a girl in our boat thought it was supposed to be ancient Asia so I just wanted to clear things up.
I have always loved Dinosaur ever since my grandma freaked out on it because she couldn't get the seatbelt out, ah fond memories. It's a fun ride and I was very proud of myself when I found a Hidden Mickey on it!
We had lunch at the Restaurantosaurus in Dinoland, it was soooo good! I would recommend it for any picky eaters or someone who would just like an ol' cheeseburger and fries for once. The set up is really cool and you should take your time looking around the restaurant.
I would like to take some time out to say thank you to a few people:
Deb– for letting me write this awesome blog and help all of you out there
My parents– for giving me another awesome vacation
My grandparents and my boyfriend Dustin– for taking care of our dogs and our house.
And you guys for reading this!
Ttyl!
Editor's Note: Thank you Caitlin for sharing your vacation with us! It was great fun to read! Deb