I just got back from a quick trip to WDW and I do mean quick – less than 20 hours! I had a meeting to attend on Thursday, so I took advantage of the Southwest Ding fares to fly into Orlando on Wednesday evening. I had hoped to do some exploring once I checked in, but the flight was almost an hour late arriving in Orlando.
For those of you who fly Southwest, they recently made an announcement about a slightly revised boarding process. They will still board in groups of A, B, and C; but A and B will now have 60 persons in each group. In addition each boarding pass will be numbered. So Group A 1-5 is announced and boards first. The idea is to get rid of the "cattle" call. Another change may be in the near future, giving priority seating to those paying full price for tickets.. but that's just a rumor.
The Wilderness Lodge is an awesome as always. Ranger Stan was on vacation so I didn't get to chat with him. However, Jack (from the Old Faithful Club Concierge) was filling in for him. Jack is a great Cast Member, very knowledgeable and "hosts" a fantastic Flag Family experience.
I didn't get a photo, but some of the Dansani Water bottles now have Tinker Bell and the Castle on the label.
I arrived at the Animal Kingdom Lodge early and took the opportunity to check out the Arusha Savannah. In just a few moments I saw several giraffe and zebra. The Anakole cattle were off in the distance.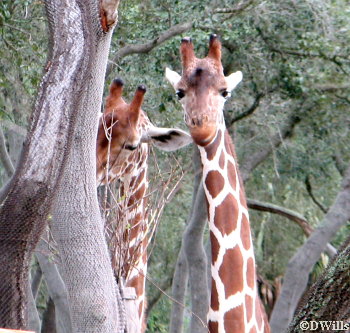 Work continues at Disney's Animal Kingdom Lodge Villas. Workers could be seen on both the inside halls ways (from the lobby) and outside the resort. And construction continues on the new animal barn and Kidani Disney Vacation Club Resort. (More on that in an upcoming post).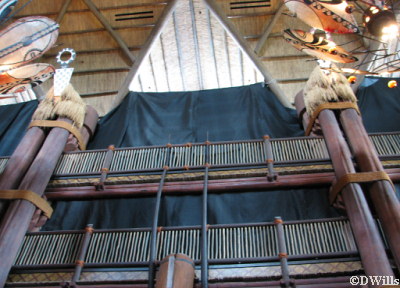 I was able to see one of the new Disney Vacation Club Grand Villas in the Animal Kingdom Lodge. One of the Cast Members was kind enough to point out numerous "Hidden Mickeys" for me. I'll be sending the photos to fellow AllEars blogger and Hidden Mickey guru Steve Barrett! Here is a sample of what you'll find on the shower curtain.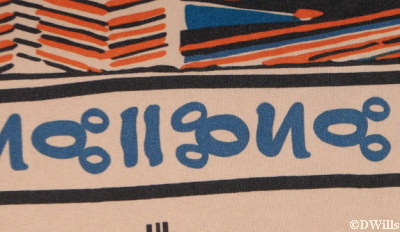 My whirlwind tour of the Animal Kingdom Lodge and Disney Vacation Club Preview Center at Saratoga Springs was over way to quickly and it was soon time to leave for the airport.
Late last year I had applied for a CLEAR card for the Orlando Airport (one of 11 participating airports). This was my first time using the CLEAR system. It worked REALLY well!
Here's the brief description of CLEAR from their website: "Travelers who join the Clear Registered Traveler program are pre-screened for security and provided with a biometric card which allows them to pass through security faster, with more predictability and less hassle."
This program is not for everyone as you are required to supply lots of personal information as well as allow fingerprinting and iris scanning. It is $100 per year. Unless you are a frequent user of the CLEAR participating airports this program isn't for you.
I will say, it couldn't have been any simpler or quicker! I walked up to the area and identified myself. The whole process took about 5 minutes. I showed my CLEAR card, boarding pass and photo ID to the staff person. Check. Next, stand on a machine, insert my clear card, put my thumb on the slot. Check. While doing that, my shoes/feet are scanned and my thumbprint checked to match that recorded on my card. Check! or should I say CLEAR!
Then, I was escorted to the head of the security line, put my items on the belt and I was on my way. No need to remove my shoes (although TSA) can always request you do so.
Once I got to the Orlando Airport B Terminal, I noticed a few things that had changed since my last visit in April of this year. Not far from where you exit the shuttle is a kiosk for the Disney Credit card. They were giving away a non-descript white Mickey t-shirt for applying.
The eatery area is still under construction but 2 new venues have opened: Au Bon Pain and a bar and grill. Nice additions to the otherwise, McDonalds and Sabaro Pizza counters. I had a smoked turkey sandwich with Swiss Cheese from AuBon and it was very good. Fresh Romaine lettuce and tasty turkey! The salads looked good too!
Usually my flights on Southwest are very full and there is rarely an open seat near me. This time, however, I lucked out – less than 50 persons on the plane. I really got to enjoy an entire empty row! WOW! Talk about luxury!