May 27, 2008
Disneyland Resort
Weather: Partly Cloudy and 70s
My last day of the trip. I can't believe how quickly time has gone by. A week ago the Disney Magic was in Puerto Vallarta and I was horseback riding. Now, I have one final day at Disneyland before heading home in the morning.
Many of you who have sent blog emails to me have asked for even MORE photos. So, for my last day in Disneyland, I'll be filing several blogs. I hope you enjoy the photos!
It was Magic Morning at Disneyland which meant resort guests could enter 1 hour early. As we neared the entrance to the parks, we noticed California Adventure was very empty (not opening until 10am). So we took the opportunity for photos! This entrance will be totally changed with the new expansion project!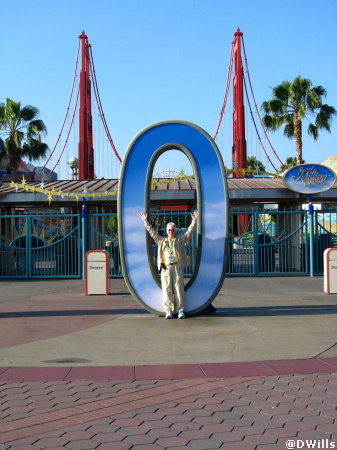 We thought our resort room key was all we needed to get into the park but we were wrong. Turned out we also needed our resort charge card. Now, for those of you WDW folks, you know one plastic key does it all, tickets, room key, etc. But in Disneyland, you have one plastic key for your door lock and then a paper card for charging privledges. I don't care for that system, but what can you do.
Fortunately, I had my charge card with me and the Cast Member let us all in. Thing was, I intentionally went to Guest Services at Paradise Pier before leaving for the park and specifically asked what we needed to get into Magic Morning. I was told our Resort Room Key. So, a word to the wise, bring the charge card paper!
We strolled down a fairly empty Main Street.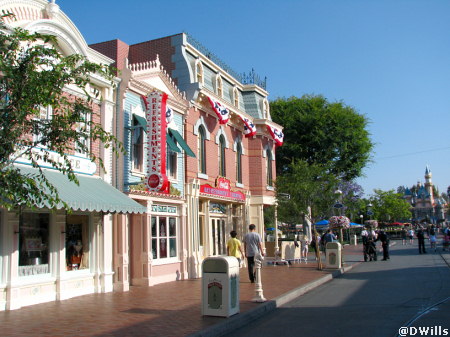 Our original plan had us getting to the Finding Nemo Submarine Voyage, but when we arrived there was already a one hour wait. We decided to not stand in line. LindaMac went to check out the line for the Matterhorn Bobsleds and I went to Space Mountain. While not a real coaster fan, I had read great things about the Space Mountain version at Disneyland and wanted to try it out.
Two Thumbs Up from me!!!!
The priority this morning was to see attractions that were not at Walt Disney World. Later, our friends Mari and Raleigh were going to join us for a day at the parks.
First up, Storybook Land Canal Boats. A very gentle boat ride with lots of storybook villages to look at. Simple yet very enjoyable.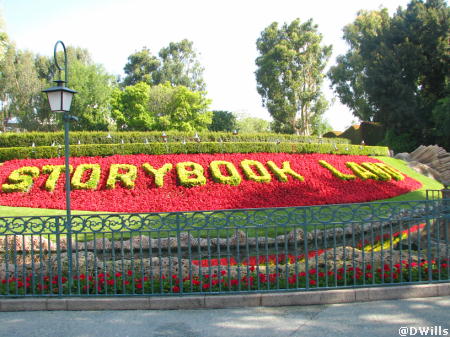 Our next attraction was Casey Junior Circus Train. The train circled the same area as the Storybook boats just from a different view point. It was cute and we had a great time.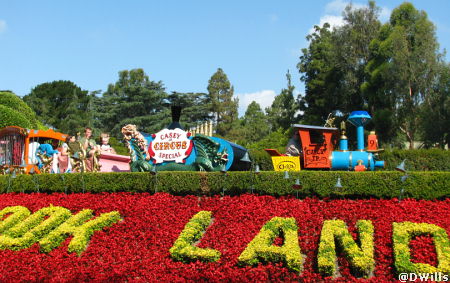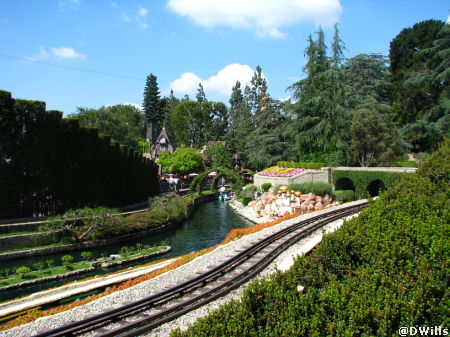 We even spotted our friends Gary and Karen down below taking photos of us.
Gary and Karen were heading to the airport in a few hours, but they wanted to say "goodbye" and maybe get a couple attractions in. We decided to visit Mr. Toad's WIld Ride!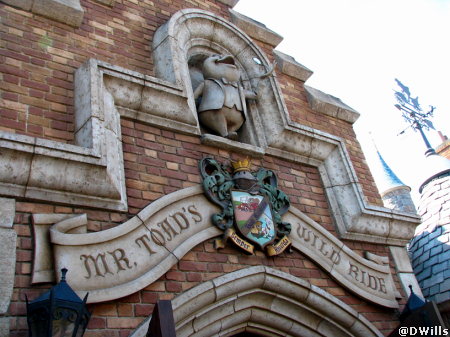 Next up, Pinocchio's Daring Adventure.
About this time I was getting text message from Mari letting me know they are on Disney property and would be meeting us at California Adventure. I asked her to pick out a good counter service place and we'd meet there.
We slowly made our way out of the park. In the Hub we stopped for a photo of Ann, George and LindaMac.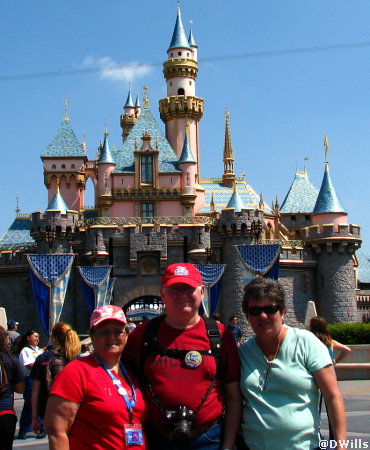 The Barbershop Quartet bicycled by as we strolled down Main Street: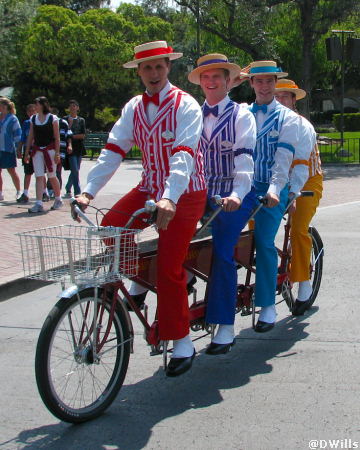 As we headed out of the park we window shopped down Main Street. Lo and behold, I found my good friend Steve Barrett's Hidden Mickeys Disneyland book in a Main Street Shop window!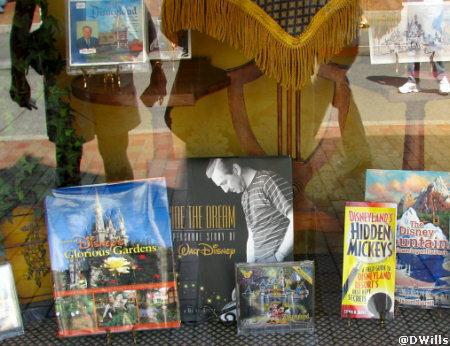 Next blog, Part 2 of my last day – on to Disney's California Adventure.
Follow my Panama Canal Cruise and Disneyland Blogs. Beginning entries at the top, for most recent entries scroll down.
Deb