I wish to let you know about a couple of Hidden Mickeys that I've been searching for (for years!). Thanks to great photography and better eyes than mine, I can describe them to you.
The first one is in the last scene of Walt Disney's Carousel of Progress in the Magic Kingdom. Other people have seen it and tried to describe it to me. But it took the excellent camera work of Tim Devine (www.themagicinpixels.com) and Shannon Hamilton's description for me to finally appreciate this Hidden Mickey.
As Shannon writes: On the last stage at the Carousel of Progress, one of the Christmas presents under the tree (near the grandfather's chair) is wrapped in red and white paper, but has a large classic Mickey head cut out of green paper glued to the side of the gift. The gift is partially hidden by another present, so you see the ears and part of the top of Mickey's head. The green Mickey ears are to the right of Grandpa's lower leg and behind the present with the silver bow. Check out Tim's photo, and you'll see why I had such a difficult time finding this one!
I'd been informed about this second Hidden Mickey by the Cast Members at the Sci-Fi Dine-In Theater Restaurant. I'd never really spotted it, even when I was close to it and had studied it for long periods of time. The CM's told me that the lighting had to be just right. Well, finally a prolific Hidden Mickey spotter (Sharon Dale; you'll see her name all over my website) sent me a photo of the colorful tile mural inside at the rear of Sci-Fi that I think shows this amazing side profile Hidden Mickey. Mickey seems to be looking to the right (our right) side of the mural. I think I can see Mickey's jaw line curving to the front of his face, and his ears seem to be visible above his head. Let me know what you think! This Mickey is truly hidden!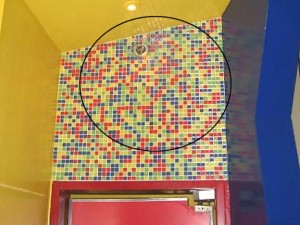 Read more about Steve's Hidden Mickey finds on AllEarsNet.com
Steve maintains a Catalog of Hidden Mickeys on the Hidden Mickeys Guide.