I revel in hard-to-find Hidden Mickeys. Some of these Hidden Mickeys have evaded me, or maybe they're "off the beaten path" (off stage or behind the scenes). I'm especially interested in the elusive ones, but I listen to Cast Members who whisper to me about the off stage ones (sometimes these are visible only to cast members and not to guests like me).
A few weeks ago, my friend Bill and I were studying the intricate scenes in The Great Movie Ride for some elusive Hidden Mickeys. I say "elusive" because I'd read about some HM sightings in this attraction that I'd been unable to verify. I'm often humbled by Hidden Mickeys that have evaded me, sometimes for years, until some sharp-eyed spotter educated me about their presence.
I'd heard about a classic Mickey in the trees, in the Wizard of Oz scene in The Great Movie ride. For years, I had studied the flowers and trees in this colorful scene, but I hadn't spotted any Hidden Mickeys. I told Bill that supposedly Mickey was hiding somewhere in the profusion of trees in this room. I didn't really expect that the Mickey sighting here was real, but I try to keep an open mind, as I've been humbled many times before. When I check out a Hidden Mickey post on my website, I consider the specific view from all possible angles, take my time and sometimes study the area many times over.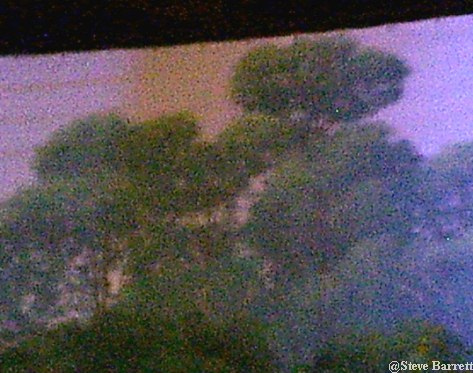 I was lucky! Bill spotted the classic Mickey in the trees on the first pass through the Oz scene! (Check out the photo). This HM is nestled in the top of the trees, midway along the mural above the exit from the room. Wow! I'd passed under this mural so many times over the years and had never seen this cool classic Mickey. It's really hidden!
I mentioned behind the scenes Hidden Mickeys, because occasionally they're visible to the guest if you know where to look. A few weeks ago, my sister Donna asked a Cast Member at Expedition Everest about Hidden Mickeys in the attraction. He told her of one in the rocks, behind the scenes but visible to the lucky few. It's supposedly on the ground and across the tracks after you exit the ride. In the photo, it's to the right of the post and above the fourth vertical strut several inches above the rail. I'm not sure that I see it, and I'll try to spot it myself in person. If you spot it, let me know! Maybe we can get a close-up photo.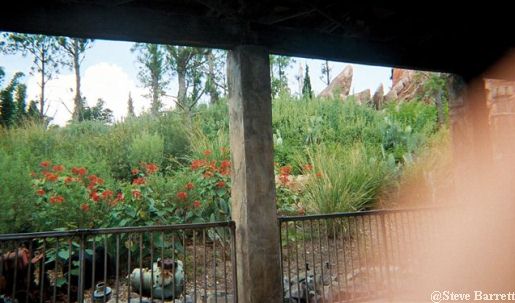 Read more about Steve's Hidden Mickey finds on AllEarsNet.com
Steve maintains a Catalog of Hidden Mickeys on the Hidden Mickeys Guide.