It still may feel like summer in Orlando, but at the Magic Kingdom, fall came early (as it usually does) with autumn decorations and Mickey's Not-So-Scary Halloween Party. My family thinks this is one of the best hard-ticket events at Walt Disney World and has been attending the party for more than a decade. As such, we have some up-to-date tips for families who want to make the most of their time and money.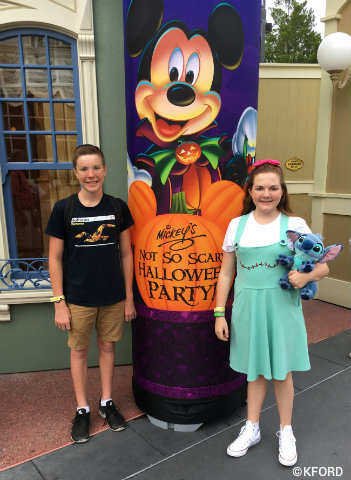 The party only lasts for five hours — from 7 p.m. to midnight — so you'll need a strategy in order to do most everything that's important to your group. Our family focuses on the entertainment that is unique to the party because we can choose to experience other things at Magic Kingdom another day.
First, know that your party ticket allows you to enter the Magic Kingdom at 4 p.m., even though most party activities do not start until 7 p.m. Early admission used to be a non-publicized perk and a tool to disburse the arriving crowds. Now, however, Walt Disney World touts the entrance time. You could, of course, use the extra time to experience attractions, but I think that three-hour window is best used to prepare for the party so you don't waste precious party time.
Once you enter the park, head straight to the Firehouse in Town Square so you can pick up a special Halloween card for the Sorcerers of the Magic Kingdom virtual game. Each person will need his or her party wristband to collect the card, beginning at 4 p.m. Because this is the only time you can get the card, I recommend collecting it and using it on another visit. There was no line at about 6:30 p.m. on the day we attended the party.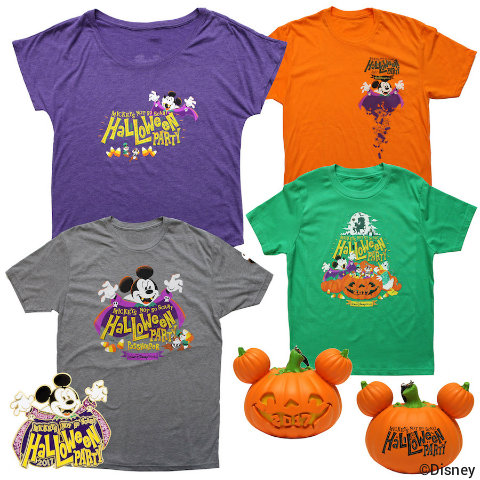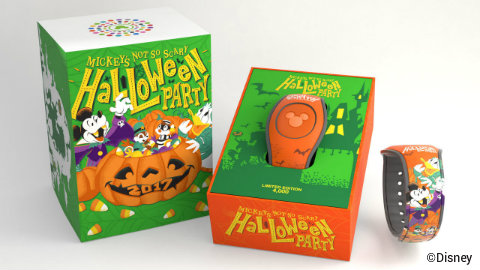 Next, if you are interested in exclusive party merchandise, head into the adjacent Emporium store. In the center room, the goods are displayed in a section behind the cash registers. Cast members will allow a few guests — with party wristbands — at a time to peruse and purchase items. This is a change from past years when the merchandise was not uncovered until 7 p.m. If you see something you like, don't hesitate to purchase it because items can and do sell out later in the night. Other locations with party merchandise include Mickey's Star Traders, Frontier Trading Post and Big Top Souvenirs.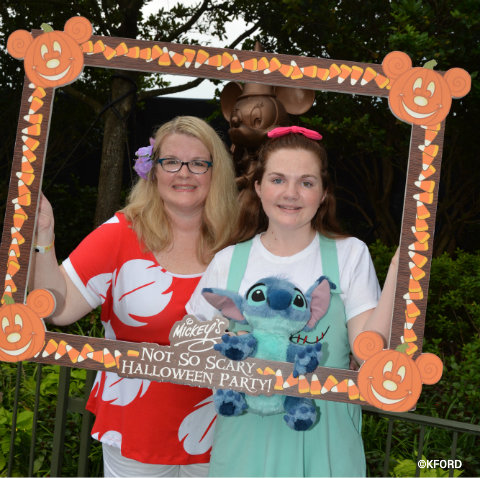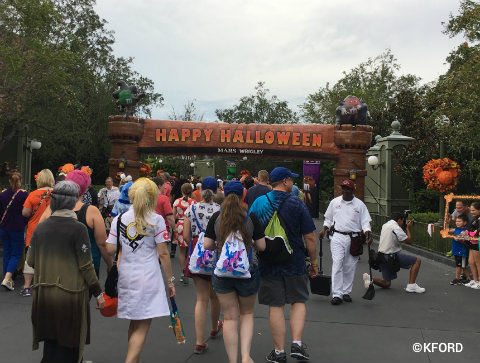 After shopping, you can continue down Main Street, U.S.A., and into the park or backtrack a little and take the bypass route into the park. Near The Chapeau store in Town Square, the gates to a "back stage" area are open, providing guests with an alternative pathway into the park. The purpose is to alleviate congestion on Main Street with day guests leaving at the same time many party guests are entering. Cast members offer incentives for guests to walk this way, including a starter pack of Mars treats and the opportunities to take photos with party props and to purchase party merchandise from carts. If you don't walk this way, don't worry about missing out. The candy, with the exception of a granola bar, is the same that you will receive at the trick-or-treat stations; the merchandise is the same as what is offered at other locations; and the party frame photo prop is available in other PhotoPass spots later in the party. (At Mickey's Very Merry Christmas Party last year, guests were handsomely rewarded for choosing the bypass route with large, wrapped sugar cookies not available elsewhere during the party.)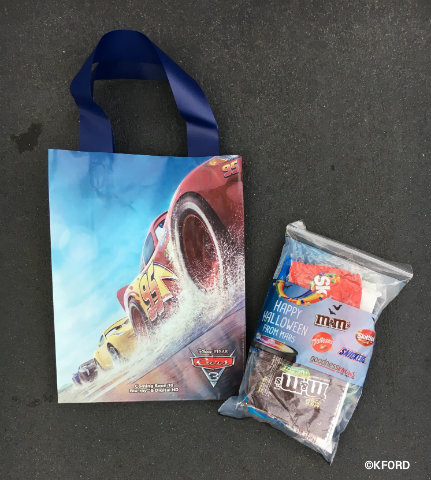 Next, I would either recommend having an early dinner before the party starts or getting in line for one of the popular meet-and-greets. If having an actual meal (as opposed to grabbing snacks on the go) is important to your group, don't waste party time; eat beforehand. There are limited restaurants open during the party, so having dinner beforehand also gives you more choices for your meal. This may be especially important to families with small children. If the food aspect is not key to your group having a successful evening, then I would suggest getting in line for Jack Skellington and Sally, the Seven Dwarfs or Moana, who is new to the party this year. Jack and Sally are in the gazebo behind Liberty Square, where Princess Tiana and Prince Naveen used to greet guests. The Seven Dwarfs can be found in the covered area in Storybook Circus adjacent to where Minnie Mouse meets. Moana is greeting guests on the wooden platform near the exit of Swiss Family Treehouse in Adventureland. Lines this year for these meet-and-greets routinely are about two hours, so if you do use your time before the party starts to wait, you'll have more time for the other entertainment later. Plus, these character experiences have been known to start before 7 p.m. for guests with party wristbands.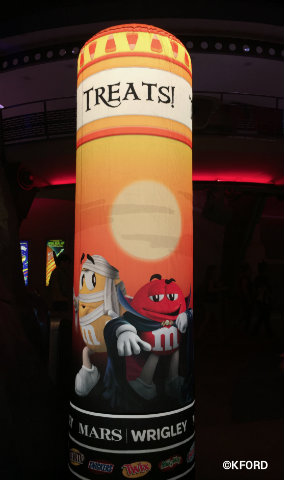 Once the party starts, guests can begin trick-or-treating. This fun tradition is open to all guests, including adults, and bags are provided. Also, guests are invited to wear costumes, as long as they are family friendly. My own children love this tradition, which allows them to see the Magic Kingdom in a whole new way.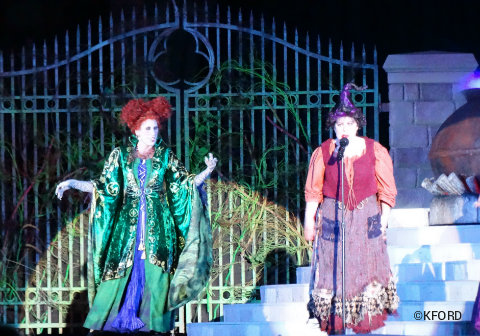 The big entertainment this year — Hocus Pocus Villain Spelltacular, Mickey's Boo-To-You Halloween Parade and Happy HalloWishes fireworks — are all scheduled a little later in the evening. Depending on your strategy, this may actually give you more party time. The first stage shows and parade are always more crowded than the later ones, so if everyone in your party can stay awake, choose later options. For example, you could choose to view Happy HalloWishes at 10:15 p.m. (the only time it's available) and then grab a seat in the hub for the Hocus Pocus show at 10:45 p.m. and the second parade at 11:15 p.m. (There actually is a Hocus Pocus show at midnight, if you want to try to do something in between the fireworks and second parade.) That gives you at least three hours to collect candy, meet characters, go on rides and more.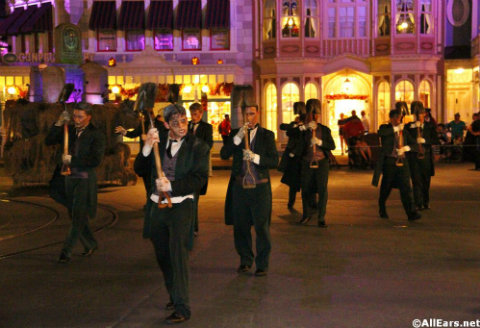 What to do when the clock strikes 7 p.m. if you are saving the big entertainment until the latter part of the evening?
Here are a few suggestions:
** The Fab Five are decked out in their costumes, and lines to meet them typically aren't as long as those for Jack Skellington and the Seven Dwarfs. We waited 30 minutes a couple years ago to meet Mickey Mouse, who actually talks to guests, and is in his Halloween costume. Mickey engages guests in conversation about their costumes and even strikes a pose himself.
** Check out the dance party in Tomorrowland, which features the Monsters University characters. This is not a meet-and-greet opportunity so characters don't stop and pose but you may be able to capture some fun candid shots.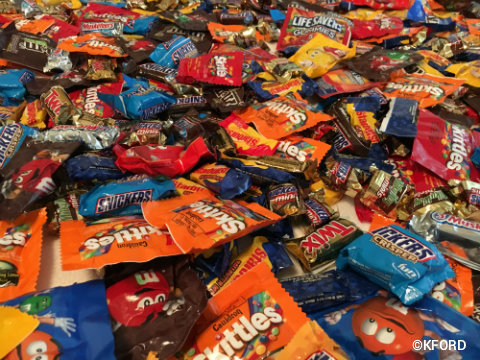 ** Trick-or-treat. There are candy spots all over the park so you can pick up candy wherever you find yourself.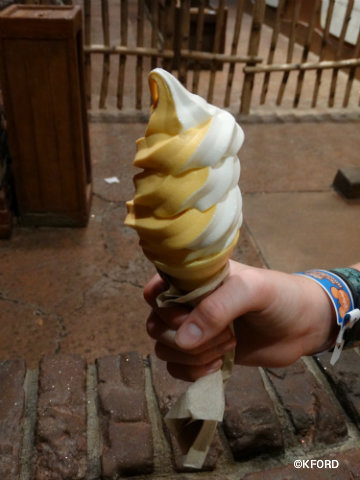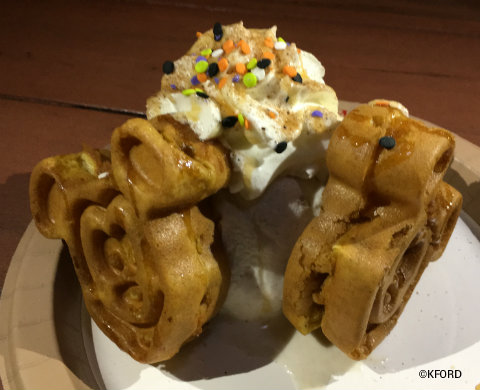 ** If candy is not your thing, try one of the specialty foods at the party: Jack Skellington Desserts, Haunted Mansion Portrait Desserts, Pumpkin Cheesecake Dome, Candy Corn Soft-Serve Ice Cream, Worms and Dirt, Pumpkin Mickey Waffles and Vanilla Ice Cream, Chocolate Crisped Rice Treats and Vampire Mickey Brownies. My daughter loves the ice cream, and I enjoyed the waffles.
** Take advantage of short lines for attractions. You will be able to walk right on many of the rides, and others will have much shorter waits than a typical day. For example, we saw Seven Dwarfs Mine Train only had a 40-minute queue at one point. Some guests actually buy tickets to Mickey's Not-So-Scary Halloween Party with no intention of experiencing the seasonal events. Instead, they plan to take advantage of the short waits for rides.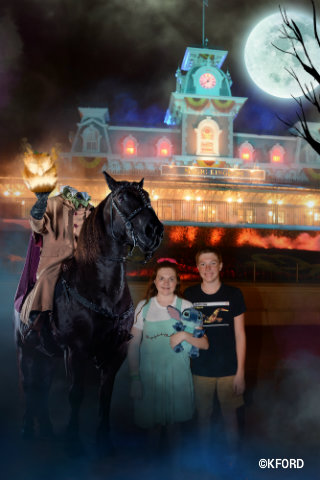 ** Once it gets dark, get in line for one (or more) of several cool party-exclusive Magic Shots. (Magic Shots are photos that the professional photographers take. When you view it later on My Disney Experience, a character or other enhancement has been added to the image. For a detailed explanation of everything related to Disney's PhotoPass, please read my newsletter story.) At the front of the park, in front of the train station, photographers take two pictures of each guest — one looking scared and one looking happy. The Headless Horseman, who starts Mickey's Boo To You Parade, is added alongside the guests. I really like this image because this is the only time guests can get an image with the Headless Horseman. Check the party map for locations for other Magic Shots. Remember that the photographers on Main Street stay in place until 1 a.m., so you can take those last photos when the queues might be shorter.
Disney's Official Theme Park products are now available anytime at shopDisney! Shop ear hats, collectibles and toys today.
Have a tip or a question? Please share it in the comments.
DISCLAIMER: I was a guest of Walt Disney World at Mickey's Not-So-Scary Halloween Party. This did not affect my story; my opinions are my own.