Attention, theme park visitors: Floridians will be celebrating winter beginning Friday. That's because Orlando temperatures actually are going to dip into the 60s during the day and into the 40s at night for an entire week. Break out the parkas, hats and gloves! And don't forget the boots — we must seize this rare opportunity!
If you're from a colder climate than our normally balmy Florida weather, I'm sure you're shaking your head, but I hope you are chuckling along with us, too. I'm originally from Indiana, so I know what it's like to be truly cold outside, but this change in weather is the closest we get to a change in seasons here in Orlando. Humor us! My children were born here in Central Florida so they view this next week as an opportunity to not only break out the winter clothes but to drink gallons of hot chocolate.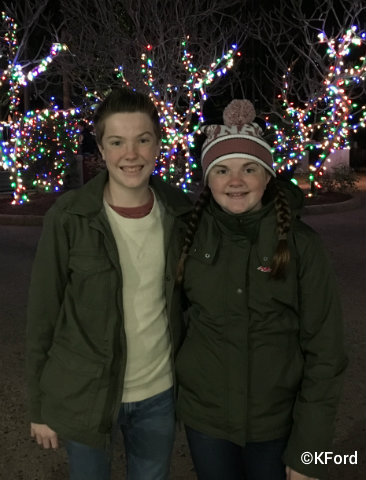 In all seriousness, when the forecast calls for colder than normal weather here, there are some things that theme parks do differently — and you, the visitor, should take into account, too. I've updated my annual story to include suggestions from readers as well as new information from the theme parks. Here are some things to keep in mind:
** Water parks will close. Disney's Typhoon Lagoon already is not open to guests because of scheduled maintenance, and Disney's Blizzard Beach is slated to be closed Friday (Jan. 27) through Sunday (Jan.29) because of the anticipated cold weather. Guests who had planned to visit the Disney water park still can enjoy the adjacent Winter Summerland miniature golf course, though. Reader George suggests an alternative is to take your favorite beverage and relax in your hotel's hot tub. Reader Craig suggests waiting a day after the water park reopens to go, if your vacation allows, because the water park can be busier than usual after a closure.
** Some animals will stay indoors, but others will not be deterred by the cold. At Disney's Animal Kingdom, a three-hour process brings all animals indoors each night to climate-controlled areas. In the morning, they are given a choice whether to venture out or stay warm and cozy. When Florida has a cold snap, such as this one, extra precautions also are taken in the outdoor habitat, such as adding heating elements, for example. So, riding Kilimanjaro Safaris will not be a bust, but you're unlikely to see the Komodo dragon from the walkway along its outdoor habitat because it is sensitive to the cold. The same goes for some other animals.
At SeaWorld Orlando, many of the marine animals already thrive in cooler waters, such as the orca whales, sea lions and dolphins, so these temperatures don't affect their performances. The shows will go on! You might want to skip the Splash Zone, though. And although the penguins in the Antarctica attraction reside in a climate-controlled area, guests just might feel like they've stepped onto the South Pole, too, no matter how chilly it might be outside. Reader NT3 suggests bringing (or buying) a blanket or towels from your hotel room to sit on for attractions and shows.
** Steer clear of water rides, such as Splash Mountain or Journey to Atlantis. These places may be open, but do you really want to spend the rest of your day shivering from wet, soggy clothes and hair? If they are on your bucket list, be sure to stash some extra clothes in a locker for afterward.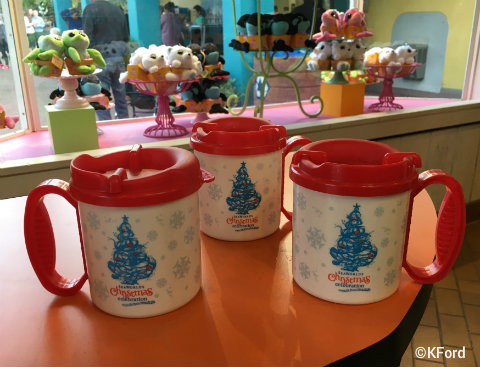 ** Seize the opportunity to drink plenty of hot chocolate or warm coffee in the theme parks. SeaWorld has the best deal for hot chocolate, with its refillable souvenir mug. It works the same way as its drink cups — after a one-time purchase of the cup, all refills are a little more than a dollar each. (Pass members can apply their discount to the refill price.) At Disney World, coffee lovers can get their Starbucks fix at locations in each of the four theme parks and two stores at Disney Springs. Of course, Disney visitors can sip on hot chocolate that's readily available, as well.
** When vacationers arrive at the theme parks, it's easy to get caught up in the excitement and the anticipation of their favorite attractions. But when it's cold, adjust your schedule accordingly. Plan to visit indoor attractions in the morning or evening, when temperatures are coolest. As the day warms up, spend more time outdoors for a more pleasurable experience. Also, know that some outdoor roller coasters may be affected by the cold weather, and operators also have to wait for the tracks to warm up for the coasters to perform correctly and safely.
** If you're staying in the Disney resorts, don't forget that some, like the Fort Wilderness Resort or the BoardWalk Inn, offer enticing fireplace settings in their main lobbies. Others, such as the Polynesian Resort or the Beach Club, also offer nightly beachside fire pits complete with s'mores that also can be fun family escapes from the rare Florida cool-downs. The cozy evening gatherings around the fire can be the perfect way to wind down after a long day in the parks, too. Who knows, if you're outside at a fire pit, you might even catch a glimpse of a fireworks show, as well.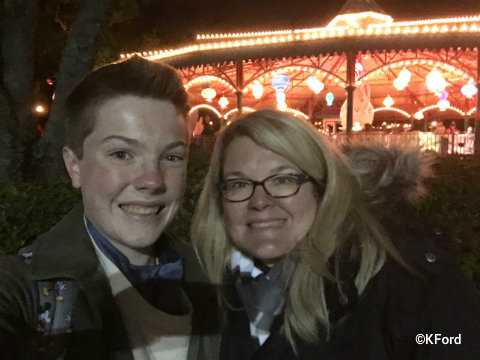 ** Finally, the No. 1 tip from locals and seasoned visitors alike: Dress in layers for changing temperatures. You may very well be comfortable in shorts in the middle of the afternoon, but once the sun goes down and the wind begins whipping across the lakes, you'll be longing for a jacket — or at the very least, a sweatshirt. Lockers are relatively inexpensive if you want to bring extra clothes and not have to carry them around all day. As reader Ashley said, "How much fun are you going to have if you're freezing for a couple of hours?"