Young Dory the tang fish made a splash and "Inside Out" 's character Riley Anderson overcame her angst Friday night at the Amway Center in Orlando. The two characters debuted during Feld Entertainment's newest Disney On Ice production, "Follow Your Heart," which is kicking off its tour with six shows in The City Beautiful.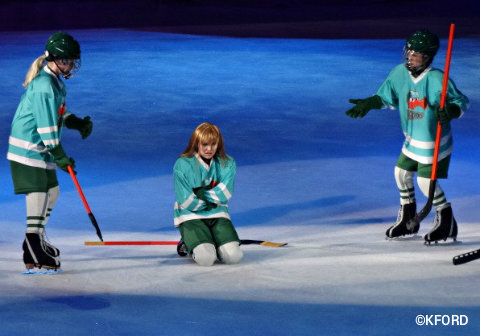 The musical ice skating show opened with Riley, her hockey teammates and their cheer squad, which is a departure from the tradition of Mickey Mouse and Minnie Mouse getting the festivities started. Don't worry, though, the Disney hosts still bookend the evening with an early appearance and a starring role in the finale. And they bring Goofy and Donald along for the fun. Only Pluto is missing from the Fab 5!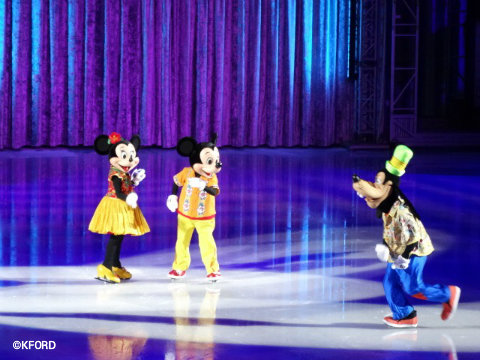 Feld Entertainment is known for including a large number of Disney characters in its productions — clearly so the shows will appeal to a wide audience. Given that, you might think that the presentation of certain characters would become formulaic. After all, there are about eight productions on tour at any given time. Not so. I have been to several Disney on Ice shows over the years — from the time my children were toddlers to now when they are a tween and a teen — and I am still amazed at the new ways Feld finds to present the classic Disney stories.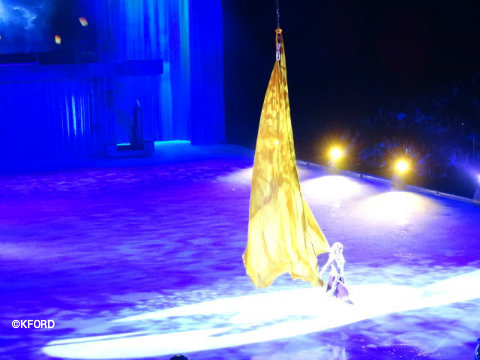 Although the choreography and costumes certainly are the main draws for a Disney on Ice show, the productions make good use of movable sets, special effects and unique props to keep audiences entertained. "Follow Your Heart" emphasizes aerial stunts with The Little Mermaid doing acrobatics while dangling on a rope from the ceiling, and Rapunzel and Flynn Rider flying through the air on yellow silks (reminiscent of Cirque du Soleil) that represent her long locks. Changing patterns and colors of lights on the ice — and over sections of the audience in the arena — help set the mood of each Disney Princess story. Pyrotechnics are used creatively, too, and not just to punctuate the finale.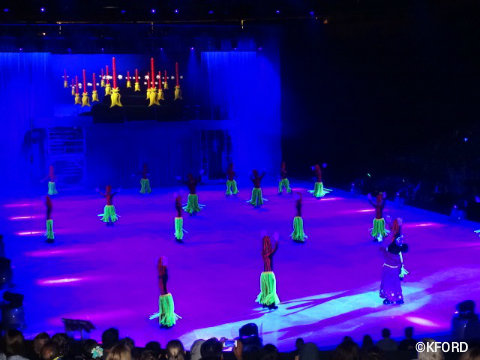 I don't want to give too much away, but the "Fantasia" act with Sorcerer Mickey and the magic brooms just might have been my favorite part of the entire show.
Every Disney on Ice production has a brief intermission (15 to 20 minutes) after the first hour. There is plenty of Disney merchandise to peruse during this time, or kids can have their faces painted or their photos taken with special backdrops. If the concession stand takes precedence during intermission, all of these booths are open before and after the show, as well.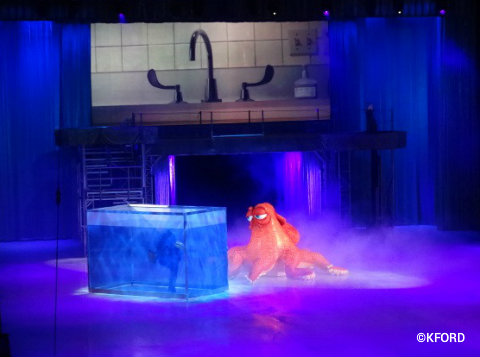 "Follow Your Heart" resumes with a retelling of this summer's hit, "Finding Dory," through several numbers. In one, a towering Hank the septopus makes an appearance and interacts with Dory, who is cleverly placed in a tank on the ice. The video screen shows scenes from the Disney-Pixar movie as well as images to reinforce the life-size tank scene playing out.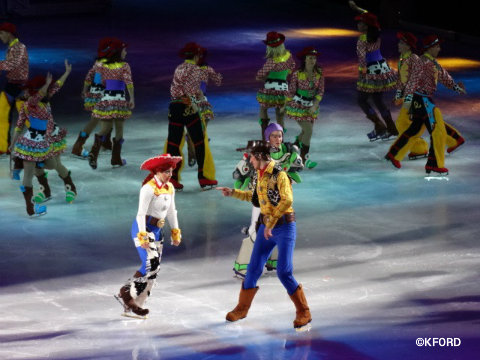 The next act features Woody, Jessie, Buzz Lightyear and many of the toys from the "Toy Story" movies. The audience is invited to get up and dance when the characters teach everyone the moves to a hoe-down.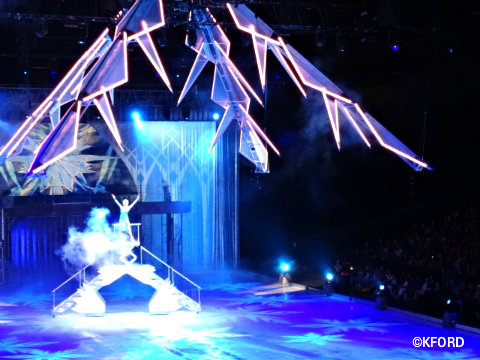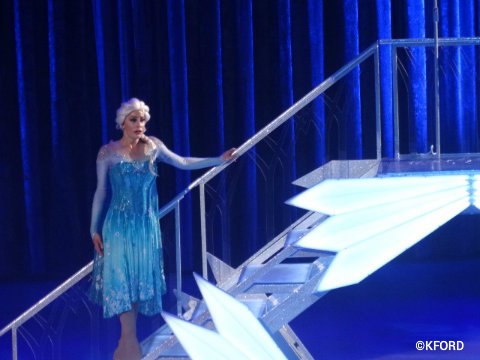 Finally, the last half hour is dedicated to "Frozen." Parents of older children who have experienced the story since it came out three years ago may feel the franchise has reached its saturation point. But let me tell you that isn't true for everyone: The younger audience members and even their parents were singing along loudly to all of the "Frozen" songs.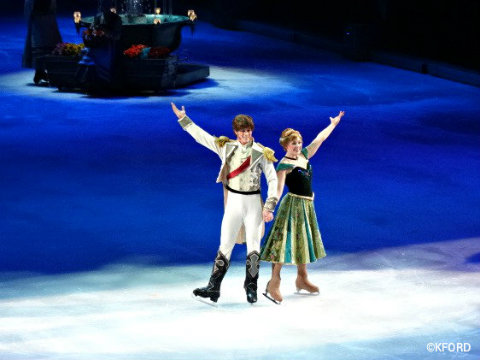 Regardless of how you feel about "Frozen," you most likely will appreciate the beauty of how each number is designed. The sets are amazing, and the skating is mesmerizing with graceful moves, choreographed pairs and even a stunt thrown in for Elsa, Anna and Kristoff. Of course, everyone's favorite snowman, Olaf, has his time to shine. Much of the "Frozen" segment has been adapted from the full production, "Disney on Ice Presents Frozen," that debuted two years ago. If you haven't seen it, prepare to be wowed.
Tickets still are available for the remaining showings of "Disney on Ice presents Follow Your Heart": 11 a.m., 3 p.m. 7 p.m. today (Sept. 3); and 1 and 5 p.m. Sunday (Sept. 4). Tickets range from $18 to $100 and can be purchased at the Amway Center box office or through Ticketmaster. Every audience member 2 years and older is required to have a ticket.
DISCLAIMER: I was a guest of Feld Entertainment at the first showing of "Disney on Ice Presents Follow Your Heart." This did not affect my review; my opinions are my own.