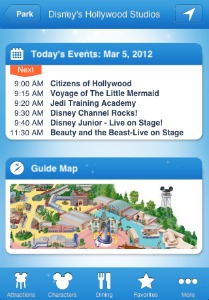 Disney is introducing two theme-park tools for mobile devices to new audiences.
At the end of February, iPhones users were excited to learn that the Disney Mobile Magic app is now available to them and Android users for free. Disney Mobile Magic debuted in 2009 for Verizon-only phones and cost $9.99 for a 180-day subscription. The much-talked-about app is the first official Disney Parks app to list wait times for rides and FastPass return times. (The app utilizes the same system that issues the times in the theme parks.)
Other interactive features for the app include GPS-enabled park maps to get you to your favorite characters, mobile games and the ability to make dining reservations. Verizon customers can unlock bonus content that includes sneak-peek videos, a pirates game, Disney character puzzle and Disney character quiz.
While my family was at Disney's Hollywood Studios this past weekend, we tried the app. We were most interested in the official wait times for rides. After all, that's what differentiates this app from others, or even Disney Parks' paper schedule. When the app worked, it definitely was a helpful tool. Coverage was spotty, though, and I'm not sure if that was due to our AT&T service, the park we were in, the weather, or some other factor. We'll keep trying, though. One downside is that the app will not display wait times until you are in an actual Disney park.
We did like that the app will allow you to set reminders for your FastPasses and shows you plan to attend. On the wish list: Making the app available in other countries and offering Wi-Fi in the theme parks so Disney Mobile Magic is available to more guests. I know my kids would love to be able to use their iPod touches while waiting in the queues.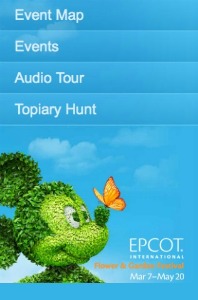 Epcot International Flower & Garden Festival
Guests attending the 2012 Epcot International Flower & Garden Festival, which begins Wednesday, will be able to access a mobile website called Epcot in Bloom. The site is available now at http://m.epcotinbloom.com, but certain features are unlocked when the guest scans a QR code like the one below from inside Epcot. There are 12 audio tour locations and 14 topiaries that have QR codes.
The site includes maps, event guides and an audio guide. I especially like the "Kid Fun" section in the event guide. It's too bad, however, that the photo of the new play equipment — which is always a big draw for kids — is an older image. Hopefully, that will be fixed soon. You can see this year's new and more elaborate play equipment in the links in my AllEars article about kids and the festival.
Another fun aspect is the Topiary Hunt. There are more than 75 at Epcot and it's your job to find them! A character list tells you who to look for and which plants and flowers are used in each topiary.
This mobile website is similar to one that launched in the fall for the Epcot Food & Wine Festival and was quite popular. Disney World also had a website dedicated to Mickey's Not-So-Scary Halloween Party last year.