During the January Walt Disney World Marathon Weekend, I took the opportunity to explore the Epcot resorts for Hidden Mickeys.
Jay Stonefield sent me a photo of a classic (three-circle) Mickey on a plate inside Cape May Cafe at the Beach Club Resort. The plate is perched on a small shelf on the right wall just past the check-in podium at the restaurant entrance. The classic Mickey is formed of a red circle for the "head" and two black circles for Mickey's "ears" on the inside of the blue plate. The plate is evidently rotated from time to time, as the classic Mickey is sometimes upside down. Thanks, Jay!
A crayon design display is on a wall just inside the entrance to Cape May Cafe. In the past, a classic Hidden Mickey has been planted inside this display. Alas, this Hidden Mickey comes and goes and is not maintained as a reliable image. Note the current display in the photo below. I don't see a convincing Hidden Mickey in the crayons.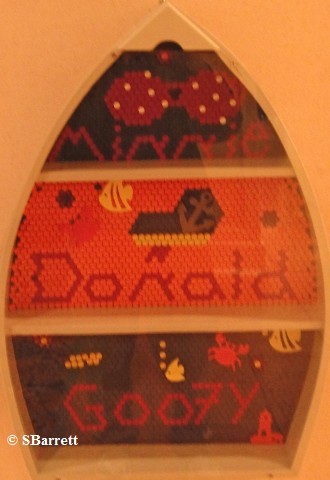 Sara Lodgen wrote to me about Hidden Mickey images on chairs in the main lobby of the WDW Dolphin Resort. Walk to the lobby piano and observe the backs of the brown chairs near the piano. Several classic Mickeys are formed by wood circles on the chair backs. Thanks, Sara!
My wife Vickie and I wandered over to the Magic Kingdom to meet up with some Disney friends who were running in one or more of the events of Marathon weekend. The weather was near perfect for running, much more hospitable than a year ago, when the temperature was uncomfortably COLD for running (at least, by Florida standards). We stopped to enjoy the Dapper Dans on Main Street, U.S.A.
Kudos to all the runners! The runs are good for health and even enjoyable, as Disney provides entertainment along the trails as only Disney can do!