We reserved the 5 P.M. Candlelight Processional and a 2:20 P.M. meal time at Tokyo Dining. The restaurants at the Epcot Japan pavilion are among my family's favorites. My wife and I always look forward to our salads there with ginger dressing. Here is our party outside the restaurant next to the koi fish pond. My wife Vickie took the photo; I'm on the left side next to my son Steven and friend Amy (on the right). Vickie's mother is sitting.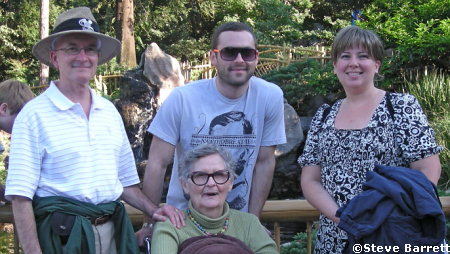 After lunch, we took in a show by Sergio in the Italy pavilion. He's a clown mime and an accomplished juggler. We smiled and laughed throughout the entire show.
In the Candlelight Processional show, Isabella Rossellini read the Christmas story, accompanied by beautiful music from the first-class orchestra and huge choir.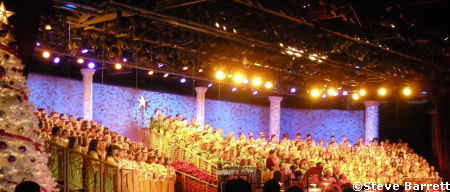 While in World Showcase, I checked out two bush classic Mickeys that have been admirably maintained by the landscaping folks for a long time. The first bush image is in the miniature train exhibit at the side of the Germany pavilion.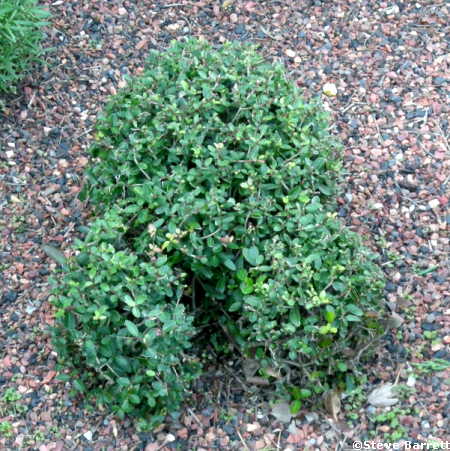 The second one is in the parterre (patterned hedge) garden at the front of the France pavilion.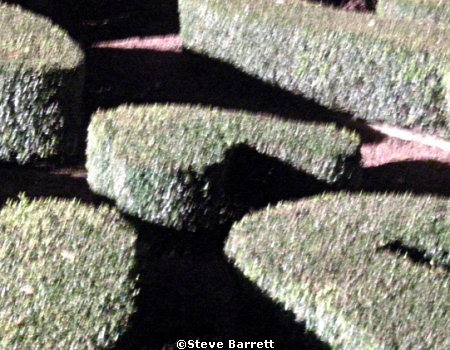 It's hard to top Walt Disney World during the holidays!
Read more about Steve's Hidden Mickey finds on AllEars.net
Steve maintains a Catalog of Hidden Mickeys on the Hidden Mickeys Guide.