During World Wars I & II, Victory Gardens (also known as War Gardens) were encouraged by various governments, including the United States. Citizens were asked to plant fruits and vegetables in their backyards and on apartment terraces and rooftops. This additional produce would help lower the price of food that the U.S. War Department needed to buy to feed the troops. The money saved could then be spent elsewhere in the military. It's estimated that these gardens produced up to 40 percent of all the fruits and vegetables consumed nationally during the war. And in addition to the tangible benefits, the gardens were considered a morale booster.
Since Hollywood and Sunset Boulevards at Disney's Hollywood Studios are set in the 1930's and '40's, it makes sense that you'd find a Victory Garden here. Located behind Catalina Eddie's at the Sunset Ranch Market, is Disney's version of this civilian war effort. I especially like the scarecrow donning the oxygen mask.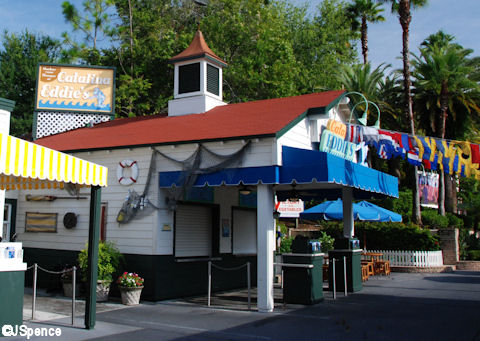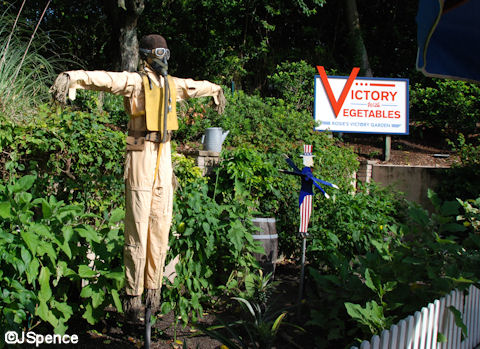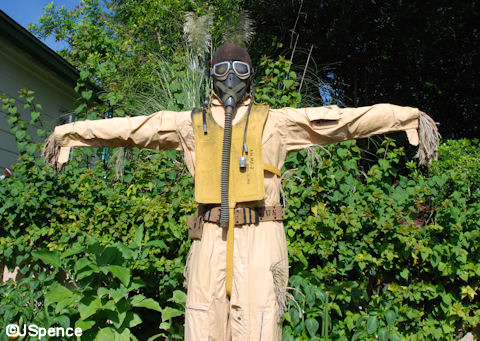 And speaking of the military, over on Pixar Place, you can find the green army men hoisting a Scrabble board. If you look at the letters you'll find YOUVE GOT A FRIEND IN ME spelled out on (and off) the board. In case you don't catch the connection, this is the title song from the movie "Toy Story."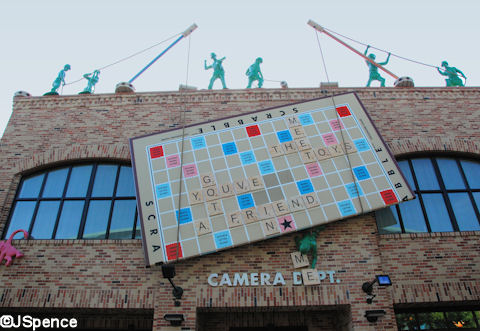 Moving over to the Echo Lake district, we find the Hollywood & Vine restaurant.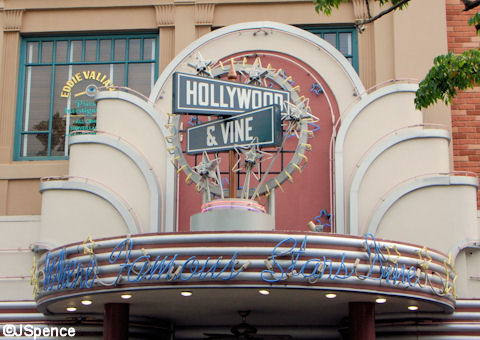 If you look at the second story window to the left of the marquee, you see an ad for Eddie Valiant, Private Investigator.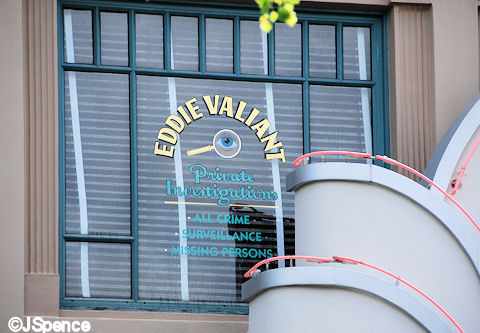 If you can't quite place this gentleman, he was the gumshoe in the movie "Who Framed Roger Rabbit."
Next to Eddie's window we see a silhouette of Roger. If you remember, while at Maroon Studios, Roger went berserk after drinking a shot of whiskey and crashed through the window in this manner.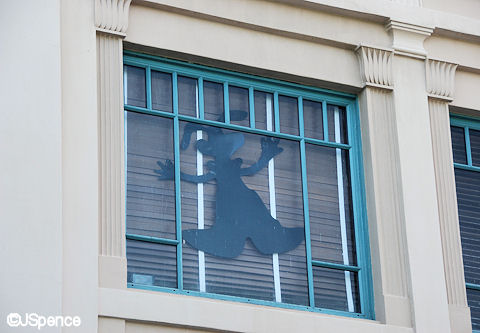 Also in this area is a billboard for Maroon Studios.
On the other side of Echo Lake is the Indiana Jones Epic Stunt Spectacular attraction. To the right of the entrance you'll find an archeological dig in progress.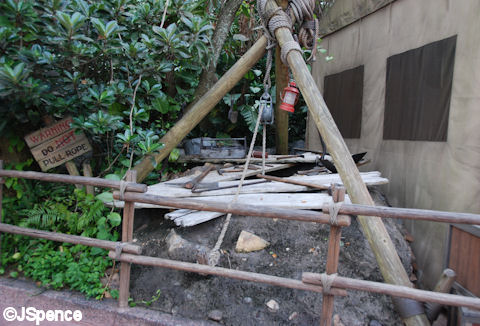 Next to this excavation site, is a sign that some joker has modified. Go ahead. Pull the rope. You know you want to.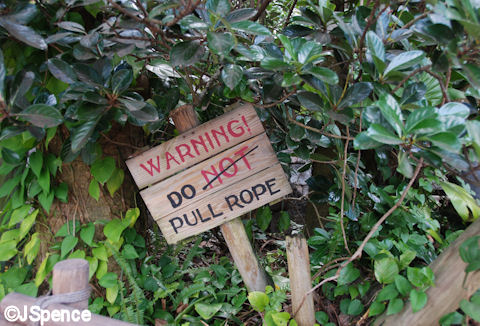 Across from the dig, you'll find a table full of Indy's treasures. Beside the table is a box with his name and college stenciled on its side.
That's all the details I have for today, but there willl be more to come.