AllEars® Team Member Erin Blackwell brings us this blog entry on Disney's PhotoPass.
What can we tell you about Disney's PhotoPass? Well, like everything else on the site, we try to be as comprehensive as possible, so you have all the information you need for your Disney vacation. Let's start with the basics for everyone who hasn't been to the parks in awhile or is about to go for the first time!
What is Disney's PhotoPass? It used to be Disney's photographers would take pictures of you in a park and give you a slip of paper to claim the photos at the end of the day. If you forgot or if you couldn't get the picture(s) then, you were out of luck. But now, that's all changed… and for the better! With the advantages of digital photography, Disney created the only system of this kind: the photographers still take pictures of your vacation, but now you can claim that any time, including online for 30 days after your trip is over. From there you can view your photos, order prints, and create photo keepsakes. Many guests say since PhotoPass has done away with the old system, they had more photos taken.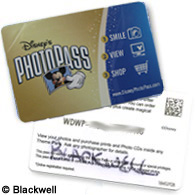 The first time you have your picture taken, the photographer will give you a plastic Disney's PhotoPass card with an ID number on the back. Hang onto that card and use it for the duration of your trip. In fact, you can hang on to it and use it on every trip you take! Each time you see one of the roving photographers and want a photo taken, just go up and hand them your card – they'll get you situated, snap the pose, scan your card and off you go – and you can do this as often as you like.
By the way, you're not limited to one card. If you and others in your party each have a card, or you forgot yours in your room so you get another, it doesn't matter. Your online account will take the ID numbers from all those cards and combine them, so everything's in one place.
You'll also get a separate card if you attend a special event such as Halloween parties, and the Walt Disney World water parks give you a small card on a wrist strap like the one on the right. These cards are getting so popular, the Magic Kingdom now offers them at Pixie Hollow, and hopefully, that'll expand to all the parks.
The most important thing is the ID number on the back of the card. All of your photos are linked to that code, so write it down, take a clear picture of it, or save it somehow. That way, if you lose your card, you still have your pictures! You can even send this ID number to someone at home, so they can look at your pictures online and share in your trip. They can also tell you if a picture didn't come out well, so you can have it done again.
Each park at Disneyland and Walt Disney World has PhotoPass Centers, and even some of the resorts, so you can look at them while you're on your vacation. But since they're online for 30 days, from the date the photo was taken, you just go to http://www.disneyphotopass.com, register for free, and enter the ID number on the back of the card(s). Now you can add characters and borders, look at the Disney Gallery for their pictures, and figure out what kind of products you might like.
So where are the photographers? That's the biggest question that I hear. Where are they? How do you recognize them? I'm going to give you two ways of finding them. You'll be able to print these (and even download them to a PDA) so you can have them while you're at the parks.
First, how do you recognize them? Most Disney PhotoPass photographers wear the same basic costume: dark shorts or pants, white shirt, and, most times, a khaki photographer's vest. One exception are the photographers on Main Street at the Magic Kingdom; look for blue and white pinstripe shirts, with white pants and oversized beret-type hats. Both costumes are pictured on the left.
Second, the next big question: where are they? And "why doesn't Disney have maps for them!" Actually, Disney does have maps for the photographer locations. It's true that they aren't on the maps you get in the parks; Disney feels the locations can change so much, the paper maps become too easily obsolete.
But! The All Ears.Net PhotoPass page gives you the link for the only Disney PhotoPass maps; they're online and in PDF format, broken down by the six parks: Disneyland, California Adventure, Magic Kingdom, Epcot, Disney's Hollywood Studios. Just look for the camera icons on the map to find the photographers. You also get some general tips and where you can find the PhotoPass Center in that park.
I said I'd give you another way to find them, and here it is: each PhotoPass page on the site (one for Disneyland parks, and one for Walt Disney World) lists each location. I also give tips like the official maps and the PhotoPass Centers, but (putting on infomercial voice) wait, there's more! The pages give additional tips like characters in each section, and what can you get in the "magical photos", plus the restaurants, special event locations, and resorts. You can read these Disneyland PhotoPass locations and Walt Disney World PhotoPass locations tables, and use the print link to take them with you!
Remember: because of the weather, character times, and photographer availability, photo locations are subject to change without notice. Some locations are meant to be temporary: my husband and I had our picture taken by a photographer taking advantage of the sunset on a lagoon, as an example.
Some readers reported seeing fewer photographers lately; the good news is, Disney is bringing in more, so this problem can be resolved.
Note: one PhotoPass location outside the parks is the NYC World of Disney store, so you can get a touch of Disney while visiting the Big Apple.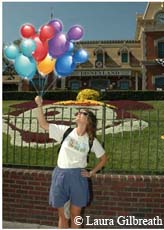 "Magical photos"? Yes, Virginia, I did say "magical photos". They can also be called "special poses" or "magical poses". The photographers will ask you to pose in what might seem like odd ways: cupping your hands, pointing to the ground, looking surprised…. They do this because characters are added into the photo, like you crossing swords with Captain Hook or Stitch popping out of the ground. The latest magical photo is the Mickey balloons, like you see in All Ears team member Laura's hands. Disneyland told Laura they've only been available for a month. My personal opinion is, they've been added to coincide with the balloon theme for "What Will You Celebrate?", but it could just be, the balloons look great!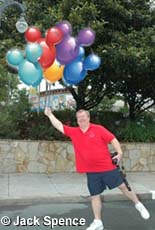 One Disney manager told team member Jack Spence that these balloons are available at all PhotoPass locations. We haven't tested all the places, but we can say that they're definitely available at these two locations:
Disneyland in front of the train station: as you see with Laura.
-and-
Disney's Hollywood Studios on Sunset Boulevard, as you can see with Jack on the left.
Ask if you get the balloon pose in other locations, and if you do, please let AllEars® know! More on that later.
The other newer magical photo that I've seen is also at Disney's Hollywood Studios, and it's Stitch bursting out of a hat in your hands. They offer it on Hollywood and Sunset Boulevards.
Professional Portrait Service: Walt Disney World offers a private portrait session for you and your party at five of their hotels: The Grand Floridian, The Polynesian, The Beach Club, Animal Kingdom Lodge, and the newest location, Wilderness Lodge. (Each of these also has
their own PhotoPass center.) For full information, check the Disney's PhotoPass page for Walt Disney World under Locations & Tips.
General tips: this section on the pages is about what you'd expect – tips on making Disney's PhotoPass work for you. The most important tip is what I said above: save that ID number! Others tips include help with dining locations, pictures with children, and not forgetting the great opportunity for beautiful night photos.
Ways to save money: that perked up the ears, didn't it? And why not? Who wouldn't like to save money? Disneyland guests save money on the PhotoCD of all your pictures, but did you know there is a way to get that price when you have a trip to both Walt Disney World and Disneyland?
Walt Disney World guests: If you booked your trip through either via Disneyworld.com or through Disney's Reservation Center, you will get an email from Disney Destinations called "Disney Vacation Must Sees for the (name) Family". It is sent approximately mid-way between when a reservation is booked and the arrival date (or 45 days prior to the arrival date if the mid-way point is more than 45 days prior to arrival). The email has a link to pre-order the PhotoCD and save! (Note: This is the ONLY way to get the link now and you only get this link if you booked your trip through the 2 ways described above. At this time, you will not get the discount if you booked through a travel agent, if you're staying off-property, or if you are a DVC member. Also, you must pre-order the PhotoCD to get the savings, you cannot do it during or after your trip, and the link is not transferable.)
Look for other ways to save money in this section. Of course, it lists all the products you can purchase; they're the same for Disneyland and Walt Disney World. If you've been to these sections before, one of the updates is to product prices. Some even went down.
Yes, Virginia, you read that right: some prices went down.
Tips on Posing: here's a whole new section added to the pages. It deals with what kind of fun and creative poses you can do. Some photographers are great with this and so are some guests. One of AllEars.Net's photographers, Lisa Berton, for example, got an apple to pose with the Evil Queen from Snow White poisoning her. She also used the crowd behind her at Cinderella's Castle to do a "I crush your head! Crush! Crush!" pose. (Everyone who knows Lisa is nodding their heads right now and grinning.)
Another that I really love is Mickey cupping his hands with a couple's hands folded on top of his, displaying their wedding rings like you would in a wedding album. It's a lovely "intimate" photo that is all Disney.
So check out these new sections to inspire your imagination and have fun!
Contacting PhotoPass: Two things that never change (besides death and taxes): 1) people make mistakes and 2) so do the machines they create. Your photos might not show up in your account, or you have some other reason you need to contact Disney's PhotoPass. The pages give you five different ways to do this: their contact form, 3 different email addresses, and their phone number.
The only difference between the Contact PhotoPass section for Disneyland vs Walt Disney
World is: the latter also has the phone number for the Portrait Sessions and the NYC World Of Disney store.
Both also have a link to the Disney's PhotoPass Help FAQ.
What's coming up: For Disney's PhotoPass? Quite a lot, I'm sure: locations are fluid, technology improves, more and more special events are created. For the PhotoPass pages on AllEars.Net? My next big update will be Photo Galleries. This way, you will see all the "magical photos" characters, some of the creative poses you can do, Special Events, and PhotoPass pictures in general.
Of course, I need to keep the pages current so they're useful. One way I do that, in addition to whining badgering politely asking people on the team for help, is reading the feedback, tips and reviews from our readers. Please send in what you learn about Disney's PhotoPass. You help out me and your fellow guests!
Thank you to Jack Spence who dared to open an email with the subject line "Good Morning, Mr. Phelps" where I begged asked for help, and to Laura Gilbreath for all her help!