I was at WDW looking for Hidden Mickeys while thousands were running the Disney marathon and half marathon. I was fortunate to track down Lou Mongello at the Contemporary Resort, and we sampled the food at the new Contempo Cafe (where the Concourse Steakhouse used to be located). At this new eatery, you place your order at a touchscreen kiosk, pay for your food, and then pick it up at the counter when it's ready. The food was delightful; the Contempo Cafe is a level above the usual counter-service restaurant.
I tracked down a few decent Hidden Mickeys at the Magic Kingdom that folks had sent to me. Paul Klein informed me about an image inside the Main Street Bakery, along the left side of the entrance queue. It's a Mickey-shaped serving platter partially hidden in the upper left of a display case. Other plate arrangements in the display cabinet aren't proportioned properly to be Hidden Mickeys.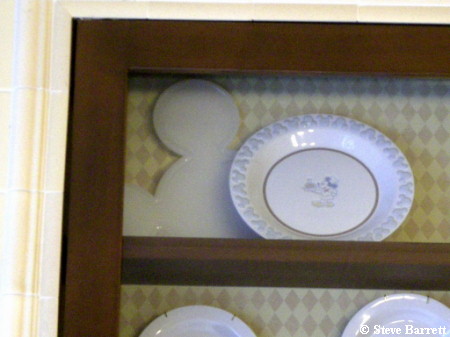 The hanging coins and jewels in the gift shop near the exit from the Pirates of the Caribbean ride continue to intrigue Hidden Mickey hunters. Victoria Newhuis sent me an image from the jewel collection, which is located just as you exit the ride into the gift shop. These jewels form a sideways classic Mickey and are perched along the rim of the hanging plate, near a large green gem.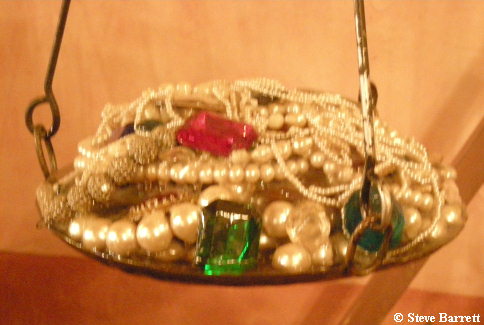 A bunch of folks (Sharon Dale, Peter Caldwell, Erin Blackwell, Kyle Lighting, and Martha Tischler) spotted classic Mickey music stands along the upper shelves near the ceiling of the gift shop at the exit of Mickey's PhilharMagic. I usually wait a while to see if Mickey images in shops will stick around. I hope this Hidden Mickey is here to stay!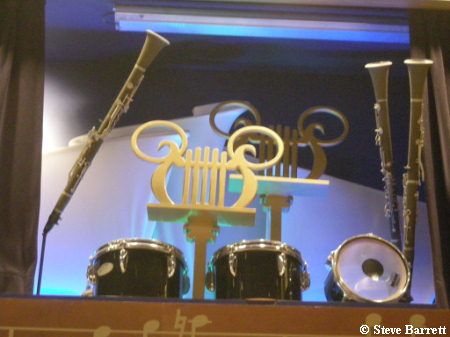 I might try to run a Disney race one of these years, but for now I'd rather search for Hidden Mickeys!
Read more about Steve's Hidden Mickey finds on AllEars.net
Steve maintains a Catalog of Hidden Mickeys on the Hidden Mickeys Guide.