Last year I wrote about the Hong Kong and Tokyo Disney Resorts.
As the series continued, I received a number of positive emails from readers telling me how much they enjoyed reading about the Asian parks. So I've decided to write another series of blogs, this time about the Disneyland Paris Resort. To begin with, let me give you some background about Disney's second foreign venture.
Euro Disneyland (now Disneyland Paris) opened on April 12, 1992. It is located about 20 miles east of Paris and occupies 4,800 acres.
Today it features two theme parks (the second opening on March 16, 2002), six hotels, a shopping district, a campground, and a golf course. Additional non-Disney facilities also occupy a portion of this land. This makes it the second largest of the Disney resorts, after Walt Disney World.
In the early years, the Disney Company lost an enormous amount of money with this venture. To begin with, the resort opened during a European recession, a time when people don't spend money on vacations.
During the first couple of years the theme park, Euro Disneyland, wasn't meeting its projected attendance. However, enough people visited to help the park become one of Europe's top tourist attractions. But, the real drain of cash came from the hotels. There simply wasn't a need for six resorts with only one theme park nearby. Also, with Paris being just 35 minutes away by rail, why stay at Disney when you could stay in The City of Lights.
In October, 1994, the name Euro Disneyland was changed to Disneyland Paris and on May 31, 1995, Space Mountain opened. These events helped attendance grow substantially in both the theme park and in the hotels.
In addition, the ban on alcohol in the Disneyland Park was lifted. It was realized that Europeans enjoy wine with their meals and they were more vocal with this request than their American and Japanese counterparts. This makes Disneyland Paris the only Magic Kingdom in the world to serve liquor. By the end of 1995, the Paris venture showed its first profit. Although difficult times have continued to come and go over the years, Disney has steadfastly stood by this project.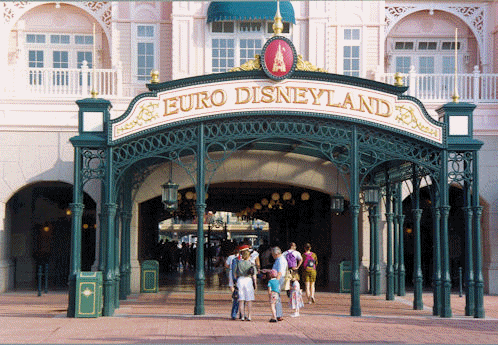 The name change was facilitated for several reasons. Here is a quote from Michael Eisner:
"As Americans, the word 'Euro' is believed to mean glamorous or exciting. For Europeans it turned out to be a term they associated with business, currency, and commerce. Renaming the park 'Disneyland Paris' was a way of identifying it with one of the most romantic and exciting cities in the world."
Another reason for the name change was in deference to the French. Even though this resort caters to all of Europe, the majority of guests come from France – the host country. There had been a lot of hostility with the French people when Disney announced plans to build here. It was hoped that dropping "Euro" for "Paris" would help pacify some of the critics.
When Disney and the Oriental Land Company built the Tokyo Disney Resort, it was decided that English would be the primary language and Japanese would be secondary. At the Disneyland Paris Resort, it's the other way around. All signage and announcements are in French first and English second.
For the most part, all cast members at the Paris Resort are required to speak two languages, French, and one other. However, it's been my experience that most of the on-stage cast members speak at least some English and I've never had a problem communicating my needs.
My first trip to Euro Disneyland was in June, 1993. I decided to wait at least a year after the park's opening before vacationing here. I wanted to make sure that Disney had worked out all of the "bugs" before visiting. I've also learned that theme parks often open additional shops, restaurants, and attractions in the months immediately following their opening. Giving the park a full year of operation before visiting would help maximize my experience.
My vacation started in England and from there I traveled by rail to Paris. Then I caught the RER (Regional Express Railway) to Euro Disneyland.
The RER is a commuter rail system that serves Paris and its suburbs. Line "A4″ travels from downtown Paris to a station smack dab in the middle of the Disney Resort (Marne La Vallée station – the last stop on the line) and it only takes about 35 minutes to get there. Keep in mind; this is a "commuter" train. It really isn't designed for tourists to schlep a lot of luggage. I only had one suitcase and a carry-on, but I still received a number of questioning stares from the other passengers.
If you arrive by plane (as I did in September 2005) and want to skip the city of Paris and travel directly to Disney, there are shuttle buses. The VEA Airport Shuttle will pick you up at various terminals at either Orly or the Roissy/Charles de Gaulle airport. The shuttle runs seven days a week and pick-up times vary. The current fare is 17€ for adults and 13€ for children 3 to 11. You can order your tickets online or purchase them directly from your driver. MasterCard and Visa are accepted. Note, this is a private, non-Disney company. For more information, check out this site: http://www.vea.fr/uk/
People often ask me for advice when planning a trip to Walt Disney World. When they do, I always tell them to stay "on property" if at all possible. In other words, stay at a Disney owned and operated resort. Besides being totally immersed in the magic, Disney resorts offer perks that non-Disney hotels cannot.
But when people visit France, Paris is probably high on their list of places to experience. So there's the temptation to stay in The City of Lights and just make day trips out to Disneyland – and that's a perfectly fine decision. As I mentioned earlier, it's just a 35 minute trip by train.
But if you were asking me for my advice, I'd tell you to split your visit to Paris into two segments. Spend a portion of your time in Paris, then change hotels and spend several days at the Disney resort. That way, you can enjoy the extra perks Disney offers and not waste over an hour a day commuting. In my opinion, you should spend two full days at Disneyland and one day at the Walt Disney Studios. That would equate to at least two nights, probably three, at a Disney hotel.
In my next blog, I will describe the two budget resorts, the Hotel Cheyenne and the Hotel Santa Fe.