I had the pleasure of spending time at WDW with family and friends during Thanksgiving week. We enjoyed a few of the Christmas decorations in the parks and resorts; more and more of them appear as the week unfolds.
Most of the decked out Christmas trees and elaborate gingerbread displays have decorative and hidden Mickeys. I snapped this photo of a Hidden Mickey on the Epcot holiday tree, which is located between Future World and World Showcase.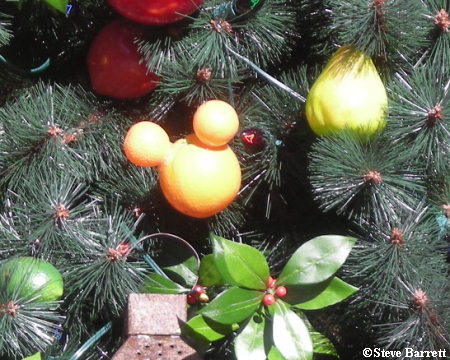 I met my sister and cousins from Texas at the Grand Floridian Cafe for breakfast. My server put a cinnamon classic Mickey on my cappuccino. Check it out!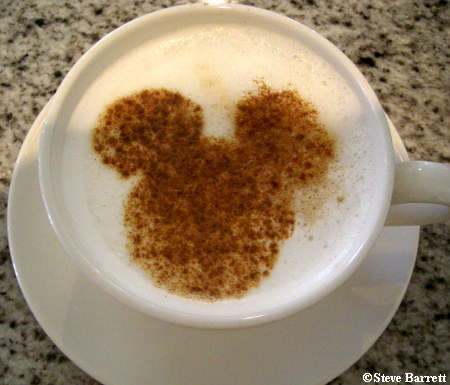 After breakfast, we rode the monorail over to the Magic Kingdom. My sister Donna showed me a tiny classic Mickey she'd found along the entrance area of Monsters, Inc. Laugh Floor. It's in a window display of a city, on the rear of the wall to the right just past the entrance doors to the second room. The classic Mickey is under the apex of the triangular roof segment on the building in the front center of the window display.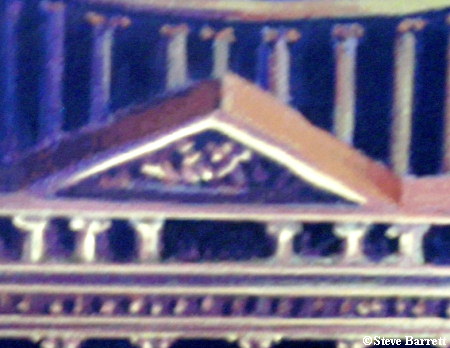 We had a fun day at the Magic Kingdom, using FASTPASS to our advantage and stuffing ourselves with soup, sandwiches and ice cream at the Plaza Restaurant for lunch. We screamed on Big Thunder Mountain Railroad as the Wishes fireworks lit up the night sky. (I like to ride Big Thunder at night!) This photo shows (from the right) Sherry, Olan, Donna, Camp, Carson, and Landon waiting near Liberty Tree Tavern for the second SpectroMagic parade. The kids' parents, Amy and Kevin, stood near the rope with me. (The later parade is almost always less crowded than the earlier one).
Sharon Dale wrote to me about a possible Hidden Mickey in SpectroMagic.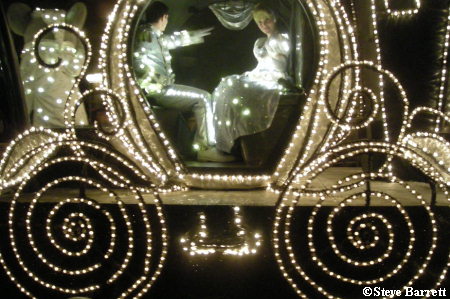 Does the Cinderella carriage form an upside down classic Mickey? I'll put it to a vote on my website; let me know what you think!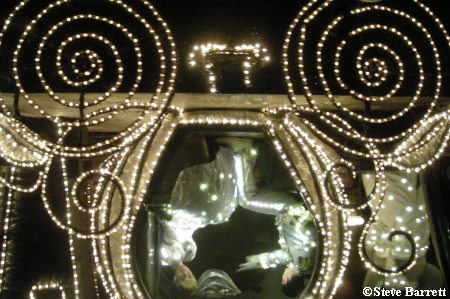 Read more about Steve's Hidden Mickey finds on AllEars.net
Steve maintains a Catalog of Hidden Mickeys on the Hidden Mickeys Guide.