My sister, Donna McMurrey, visits WDW at least twice yearly. Her real job is Assistant Principal at a high school in Dallas, Texas, but she wants to eventually retire to a job at WDW as the character Timon! She enjoys Disney World as much as I do and helps me find Hidden Mickeys. Donna is a good HM spotter and is almost as discriminating as I am about HM sightings.
Recently, she stayed at All Star Sports Resort and planned at least a portion of every day to look for Hidden Mickeys. One day, she and I had lunch at the Coral Reef Restaurant (her first time there), and we planned our day's Hidden Mickey odyssey while enjoying a scrumptious meal. Donna savored mahi mahi, while I polished off a delicious pumpkin risotto.
A few days before, I'd dined at this restaurant with my wife Vickie's mother and sister. I'd asked a Cast Member there about a Hidden Mickey that I'd heard about but never found. He took me to this awesome classic Mickey in the tiles (check out the photo!) in the middle of the seating area. I showed Donna this really cool Hidden Mickey. I hadn't found it before, since the CM's at Coral Reef don't often allow folks inside just to look around. So you generally will need reservations to eat there to spot this HM.
After lunch, we took in a couple of our favorite musical acts at Epcot: Off Kilter and the British Invasion. Off Kilter is always entertaining, and the current British Invasion guys sound pretty close to the real thing!
Here is the British Invasion singing "No Reply" by the Beatles.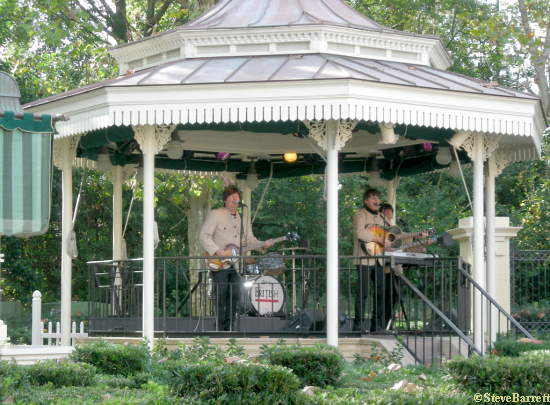 We ambled over to Spoodles Restaurant to find some Hidden Mickeys that Donna had discovered before with the help of a CM; they were still there! I attached a photo of Donna pointing to a Mickey image on a plate near the inside entrance doors to the restaurant. The CM told Donna that the manager had decided to allow this Mickey face to stay put. Whoever this manager is, you have my undying gratitude!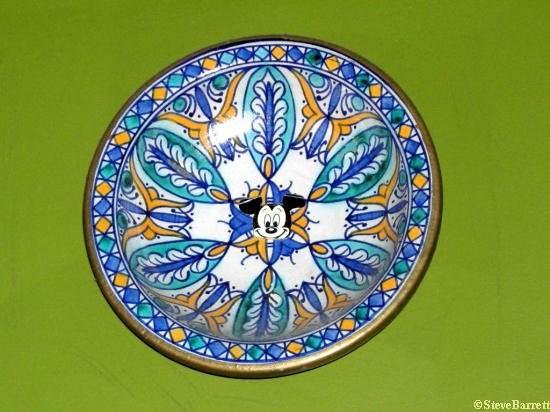 After floating to Disney-MGM Studios on a boat from the Swan and Dolphin, Donna and I enjoyed a "home-cooked" meal at 50's Prime Time Cafe, another of our favorite haunts.
I had to photograph the MGM logo at the park entrance, as it's due to disappear January 1, 2008, when the park will be renamed minus the "MGM" tag.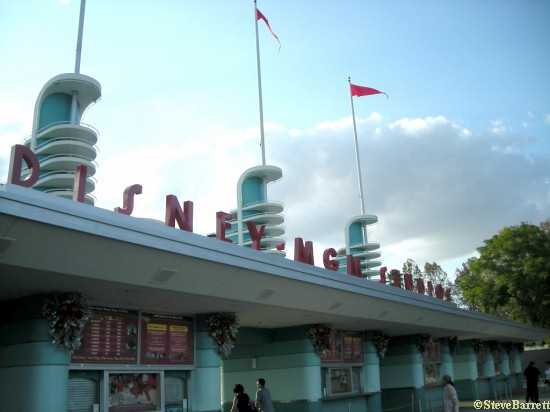 See you next year, Donna!
Happy New Year Everyone!!!!
Read more about Steve's Hidden Mickey finds on AllEarsNet.com
Steve maintains a Catalog of Hidden Mickeys on the Hidden Mickeys Guide.