August 2018 Walt Disney World Bits and Bites
Feature Article
This article appeared in the July 31, 2018 Issue #984 of ALL EARS® (ISSN: 1533-0753)
Editor's Note: This story/information was accurate when it was published. Please be sure to confirm all current rates, information and other details before planning your trip.
= = = = = = = = = = = = = = = = =



STEP BACK IN TIME
= = = = = = = = = = = = = = = = =
by Joan L. Feder
AllEars® Staff Writer
Join us on our monthly journey into the past as we step back in time and explore the history of Walt Disney World and the Walt Disney Company. This time we travel to August 2010, and the opening of Via Napoli in Epcot's Italy pavilion.
The story actually started a decade earlier when some intrepid explorers set out to learn how to create an authentic Neapolitan pizza. No pepperoni was left unturned as they headed to Naples, Italy, and visited several world-famous pizzerias, including Da Michele and Trianon. They learned that fresh mozzarella cheese was a must, and that Caputo flour and San Marzano tomatoes would have to be imported from Italy. A good crust had to be thin and baked in a wood-fired oven. But to achieve a perfect crust they needed perfect water, just like that in Naples. A sample was brought back to the States for analysis, and a nearly identical domestic source was found to provide the water to make the dough.
Then and only then were they ready to open Via Napoli on August 5, 2010. Mickey and Minnie arrived in a horse-drawn carriage wearing their traditional Italian costumes. World-renowned chefs Joachim Splichal and Paul Bocuse (Monsieur Paul himself) were also there. After the entertainment and a ribbon-cutting ceremony, guests were escorted in to try the fare.
If you haven't visited it yet, Via Napoli feels enormous inside. The ceilings soar to 30 feet high, and the 14,000-square-foot space is filled with Italian treasures. The entryway chandelier is made of more than 1,200 pieces of Murano glass. The dining room's long communal table was built in Florence, and is decorated with hand-painted tiles highlighting Italian landmarks. The heart of Via Napoli is the open kitchen. Its three wood-burning ovens are named after active volcanoes in Italy: Stromboli, Vesuvio and Etna. Each has its own face and personality. They blaze at between 800 and 900 degrees, cooking a pizza in less than two minutes.
The food is Southern Italian, with a wide range of appetizers and entrees, including chicken parmigiana and pasta dishes. But the star is the authentic Neapolitan pizza which comes in three sizes, individual, large, and the 1/2 Meter Mezzo Metro.
Via Napoli's menu is the same for both lunch and dinner. It is one table service credit per person on the Disney Dining Plan, though if you split a pizza one credit will be deducted from each guests' total. The ambiance and cast members make this one of my family's favorite places, but it's the sangria, pepperoni and tiramisu that make eating here a must every time we visit Walt Disney World!
RELATED LINKS
Read reviews or rate Via Napoli in our Rate and Review section!
= = = = = = = = = = = = = = = = =



HIDDEN MICKEYS ALERT
= = = = = = = = = = = = = = = = =
Steve Barrett, author of the Hidden Mickeys Field Guide books and webmaster of HiddenMickeyGuy.com, includes some Hidden Mickeys you should add to your next search at Walt Disney World.
1. Disney's Animal Kingdom, Na'vi River Journey. Toward the end of the boat ride, study the cloak on the chanting Audio Animatronic 'Shaman of Song' on your right. A classic Mickey-shaped hole is in the lower part of the cloak hanging from the Shaman's left arm (to your right of the Shaman's chest, between the hand and chest). The image appears a couple of times as the Shaman lifts and moves the left arm. In the left middle of the photo, look for the black holes in the reddish fabric that form a classic Hidden Mickey tilted to the left. This image is very difficult to spot! (Thanks to Daniel J. Kielsmeier.)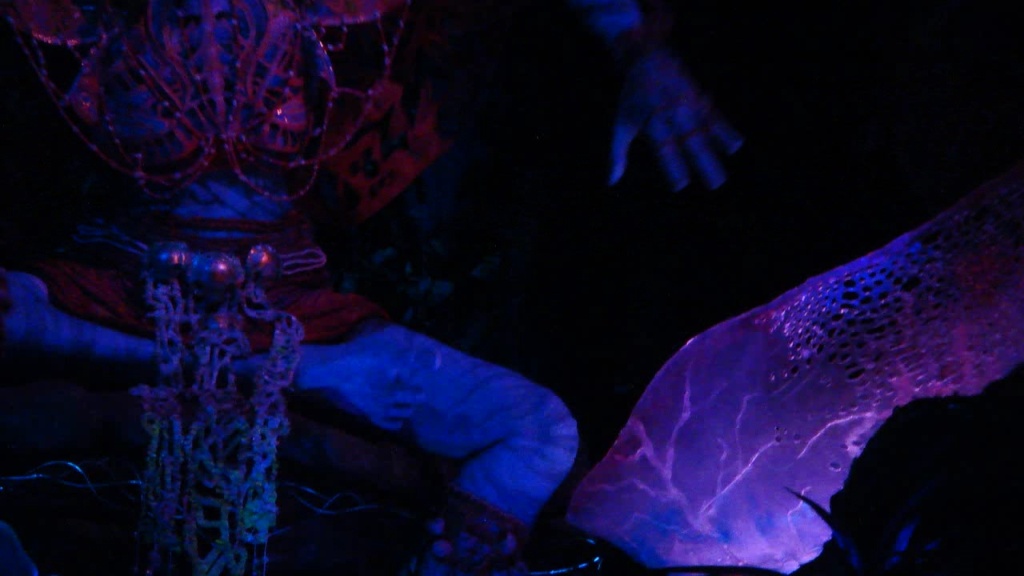 2. Disney's Animal Kingdom, Tiffins Restaurant. Framed collages of photos related to Disney research hang on the wall just inside the main entrance to Tiffins. At the left middle of the far right collage (as you enter), an explorer wears a red shirt with a Disney logo on the back. (Thanks to Bill and Kari Middeke.)
3. Disney's Wilderness Lodge Villas. One of the many great Hidden Mickeys here is in the small telephone alcove near the lobby. Looking out from inside the alcove, a sideways (to the right) classic Hidden Mickey is impressed in the rock on the right near the floor. (Thanks to Jason Gall.)
=-=-=-=-=-=-=-=-=-=-=-=-=-=-=-=
You can find an archive of past Hidden Mickey Alerts HERE.
And check out our latest Searching Disney with Steve blog. This week he's looking at Possible New Hidden Mickeys in Disney's Hollywood Studios.
= = = = = = = = = = = = = = = = =



MONTHLY REMIND-EARS
= = = = = = = = = = = = = = = = =
Through Sept. 3: Incredible Summer at Walt Disney World.
Aug. 11: H2O Glow Nights end at Typhoon Lagoon water park.
Aug. 7-12: Jr. NBA World Championship inaugural event at ESPN Wide World of Sports Complex.
Aug. 17: 2018 Mickey's Not-So-Scary Halloween Party debuts!
Aug. 19: Final Day for Guardians of the Galaxy – Awesome Mix Live! at Epcot.
Aug. 30: Epcot's International Food and Wine Festival Begins! This culinary extravaganza runs through Nov. 12.
Check our Events page for a full schedule of upcoming events.
-=-=-=-=-=-=-=-=-=-=-=-=-=-=-=-=-=-=-
Resort-Wide
Disney Skyliner construction: Walt Disney World is in the process of creating a new transportation system, Disney Skyliner, which will give you a bird's-eye view of the resort while traveling via gondolas. During this time, construction noise will be seen or heard throughout the resort, but noise should not be heard from Disney hotel rooms between dusk and 9 a.m.

The Walt Disney World Monorail system is undergoing ongoing refurbishment. As a result, normal service and/or routes may be modified. Alternative transportation options will be available during this time.
Star Wars: Galaxy's Edge — Work is underway on the 14-acre Star Wars-themed land at Disney's Hollywood Studios that was announced during the 2015 D23 EXPO. It was recently announced that Galaxy's Edge will open at Walt Disney World in Late Fall 2019.
Be Our Guest Restaurant in Fantasyland will be closed for a short refurbishment Aug. 20 – 24, 2018.

Liberty Square Riverboat closed for refurbishment on January 8, 2018. No reopening date has been announced.

Ferrytale Fireworks: A Sparkling Dessert Cruise is not operating through October 20, 2018.
Kringla Bakeri og Kafe in the Norway Pavilion closed February 26, so that seating and overall shop space can be enlarged. While it's closed, a temporary kiosk called Midnattssol is open to sell the spot's most popular items (including School Bread). No reopening date has been announced.
The entire resort is undergoing a major room refurbishment that will continue until late 2018.
Art of Animation Resort is currently undergoing some general refurbishment projects. During this time, the resort will be in full operation with all amenities available, including dining, merchandise and recreation locations. It is possible that construction may be seen or heard, but noise should not be heard from guest rooms between dusk and 9 a.m. No end date for these projects has been announced as yet.
Through Fall 2018, Old Port Royale Food Court, Shutters at Old Port Royale, Cabana Pool Bar and Calypso Trading Post will be undergoing refurbishment. A variety of dining options will be available for all meals. Centertown will serve breakfast and dinner. Grab 'n' Go options will be available in three island markets: Aruba, Jamaica, and Martinique.

In addition, buildings in Barbados and Martinique islands have been demolished to make way for the new Disney Riviera Resort.
The resort room "hard goods refurbishment" at Coronado Springs has been extended to continue throughout summer 2019.
Disney's Old Key West Resort is undergoing a wholesale refurbishment, which is expected to be completed in 2019. You can see some photos of refurbished rooms HERE.
Tambu Lounge will close for expansion and refurbishment work on August 5, 2018. It will reopen in early November 2018.
Pop Century resort rooms are currently undergoing refurbishment, with work expected to be completed by Summer 2018. In addition, there are a number of other refurbishment projects going on around the resort, but all amenities are available.
Rooms at the resort are undergoing refurbishment, including a soft goods refurbishment, through Summer 2018.
The leisure pools at Alligator Bayou will be undergoing refurbishment through Fall 2018. During this time, while one pool is closed, the feature pool, Ol' Man Island, and four other leisure pools will be available.

Also, the rooms at Port Orleans Riverside are being refurbished now through early 2019.
The Yacht and Beach Club Convention Center is undergoing expansion and renovation throughout 2018. No end date has been specified.
World of Disney at Disney Springs Marketplace is being "reimagined" this year. Work is being completed in phases so guests can continue shopping during construction. Shops in Town Center at Disney Springs, such as Ever After Jewelry Co. or The Disney Corner carry select merchandise during renovations.
-=-=-=-=-=-=-=-=-=-
A complete list of known rehabs can be found HERE.
= = = = = = = = = = = = = = = = =



MAGICAL MOMENTS
= = = = = = = = = = = = = = = = =
Each month, we like to share a few heart-warming Magical Moments brought to us by the amazing Disney cast members!
Debbi H.: My daughter and I just returned from a trip to Disney World to celebrate her college graduation. We had several magical moments happen right from the beginning of our stay at Animal Kingdom Lodge with a surprise room upgrade to a Savanna View room. The moments continued with my daughter being picked as a Rebel Leader during the Star Tours attraction, and then at lunch at the Backlot Express the cast member told us we had a special tray, so we received a complimentary Kylo Ren cupcake! We met so many wonderful cast members that made the trip extra special and I can't thank them enough.
Lori K.: I am a seasoned Walt Disney World veteran. I have been there 12 times, partially due to the fact that my son worked there. I recently was remarried and talked my husband into going to Disney World for our honeymoon. He was a little unsure as he had never been there before. I assured him he would have a good time. I had stayed at the Coronado Springs Resort two times before and I knew the rooms were spacious and beautiful. Unfortunately, we did not get the area I had requested and there were no other rooms to switch to. The room we were assigned was less than magical — among other things, the bathroom door hinge stuck and the thermostat did not work. I explained to the front desk that we were on our honeymoon and I did not think that my new husband would catch the Disney Bug (that is, fall in love with Disney) with this room. The manager came out and told me that unfortunately the only room he had available was a brand new suite — would that be OK? Needless to say, we took the suite, we had a magical time and we are planing our next Disney vacation. Yes, my husband caught the Disney Bug! I am forever grateful to that manager.
Andrew S.: Just returned from a trip to the World with my wife Kim. While we were there, she wore a pin to let everyone know that she'd just beaten breast cancer, and we received many magic moments from cast members as a result. We walked from our room in Riverside to Port Orleans French Quarter and sat outside the food court. Robbie, one of the cast members there, saw Kim's pin and got us a surprise serving of beignets. A cast member on a cart by Beauty and the Beast Live on Stage refused payment for our drinks, and a cast member in Mexico in Epcot refused to take payment for a memento we were trying to buy. We also had many wonderful interactions with cast members who saw the pin and wanted to congratulate my wife with high fives, and we got to do lots of pin trading, as well!
-=-=-=-=-=–=-=-=-=-=-=-=-=-=-=
EDITOR'S NOTE: Did you know that you can turn the tables and create a Magical Moment for your favorite cast member on Twitter? Simply send a tweet to @WDWToday with the hashtag #castcompliment and they'll make sure your cast member gets some special recognition for making your day Magical!
We just bet you have a story to tell about an unforgettable moment during your Disney vacation! Please send your favorite memory for inclusion in a future AllEars® via our Contact Us page. Thank you all for sharing!
-o-o-o-o-o-o-o-o-o-o-o-
Editor's Note: This story/information was accurate when it was published. Please be sure to confirm all current rates, information and other details before planning your trip.