ACCOMMODATIONS
General Resort Information
Value Resorts
All Star Movies
All Star Music
All Star Sports
Art of Animation
Pop Century
Moderate Resorts
Caribbean Beach
Coronado Springs
Fort Wilderness
Resort &
Campground
Port Orleans - French Quarter
Port Orleans - Riverside
Deluxe Resorts
Animal Kingdom Lodge
Beach Club
Boardwalk Inn
Contemporary
Dolphin
Grand Floridian
Polynesian Village Resort
Shades of Green
Star Wars Immersive Luxury Resort
Swan
Wilderness Lodge
Yacht Club
Disney Vacation Club Resorts
Animal Kingdom Villas
Kidani Village at Animal Kingdom Lodge
Bay Lake Tower
Beach Club Villas
Boardwalk Villas
Disney Riviera Resort - Opening Fall 2019
Old Key West
Polynesian Villas and Bungalows
Saratoga Springs Resort & Spa
Treehouse Villas at Saratoga Springs Resort and Spa
Villas at Grand Floridian
Disney Vacation Club at Disney's Wilderness Lodge
FEATURED NON-DISNEY ACCOMMODATIONS
Sheraton's Vistana Resort
One - Two Bedroom Villas
Sheraton Vistana Villages
One - Two Bedroom Villas
DoubleTree Guest Suites
Downtown Disney Resort Hotel
OTHER LOCATIONS
Aulani - Disney's Resort and Spa
w/DVC Villas - Hawaii
Disney's Vero Beach Resort
Wilderness Lodge
Flag Family Scrapbook
Bret, Sherrie and Kayla - November 2002
Kevin, Joy (aka Joyful1nh) & Sydney from NH - February 2002
David, Steven, Julie McKeever and Stan - December 1, 2000
The Meisch Family - July 4, 1998
Bret, Sherrie and Kayla
New Orleans, La
November 2002
My husband and I have tried being Flag Family for our past three stays at WL. One of the top priorities for us at check-in time was to ask about becoming flag family. Well, our magical journey began when the CM told me that we were upgraded from a standard view room to a courtyard view and I was able to pick the floor I wanted to be on. Well, that pretty much got me over-excited and I completely forgot about asking about Flag Family. As soon as we got to our room and "oohed and ahhed" over the courtyard view, I remembered that I forgot to inquire at check-in. I immediately ran back to the front desk with fingers crossed. They checked the book containing the Flag Family schedules and asked when we were departing and then the CM informed us that the ONLY day they had available was the day we were leaving. We jumped at the chance and you could see the biggest smile on my face. We were only at our hotel for a very short time and have already experienced two magical moments.
We thoroughly enjoyed this experience with Ranger Stan. This special honor made departing Wilderness Lodge a not so terrible event, as we hate having to leave WL. Being Flag Family truly made our already magical trip even more magical.
The O'Briens - November 30, 2002
We speak to you as royalty (for another 2 hours anyway).... we are today's Flag Family! We had a great experience with Stan this morning (he continues to be fantastic, and charmed our 5 and 7 year olds!), and appreciate your advice to share this experience with him. Our certificate signed by Stan will hold a place of honor (now that we are back in Delaware!). Thanks again.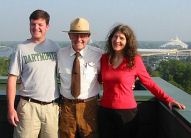 Here is a picture of my mom (Heather Hansen) and my brother (Michael Hansen) with Ranger Stan.

We were the flag family on this tranquil morning thanks to the tip on your site about signing up when registering at the hotel.

I kept the appointment a secret from my mom and brother, so they had no idea where we were going as we made our way up the mysterious staircase that can be seen from way down in the lobby.

Though our flag family is all adults, we were very excited to have the opportunity to experience something "behind the scenes" and for the rest of that day we felt a special sense of wonder whenever we caught sight of the top of the Wilderness Lodge.

Thanks for letting us know about this very unique opportunity! We were so glad to get to meet Ranger Stan, too. What a wonderful man!
Kevin, Joy (aka Joyful1nh) & Sydney
from NH - February 2002
We read about the Flag family on both here and the DIS. On checking in, we immediately asked for the opportunity to be Flag Family. Ranger Stan was our guide and he asked about you, Deb. He is such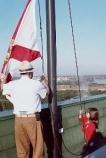 a wonderful person! What a wonderful way to start the day.
David, Steven, Julie McKeever and Stan
Zeeland, MI
December 1, 2000
We were at the Wilderness Lodge after Thanksgiving in 2000 and lucked into being the Flag Family since they hadn't started the December calendar yet. One of our last days was December 1 so we got to meet up with Stan on that day. I had read about the Flag Family from your newsletter and my husband was skeptical of the whole thing. What a magical morning it turned out to be! We had such a great time with Stan and he happened to originally be from close by our home town and I believe his son lived close by to us. Stan is an amazing guy! I can't think of anyone who says Disney more to me than Stan. Even outside of Disney, Stan is an incredible man!
The Meisch Family - July 4, 1998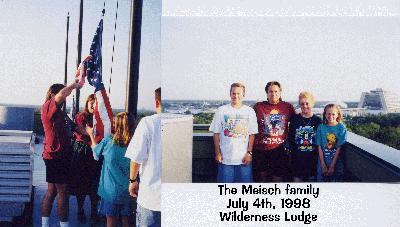 Cathy and Gary Mullen -- Clearfield,PA
JULY 1997
In July 1997 my husband and I were guests at the beautiful Wilderness Lodge! We had the opportunity to be the "Flag Family" one morning. The lodge does not advertise this special activity so you must inquire about it when you check into the resort.
We reported to the front desk at 7:15 AM and a very friendly cast member took us up to the fifth floor by elevator. Then we walked up steps which led to a door. When the door was opened we were treated to a fantastic rooftop view. The cast member gave us directions and up went old glory. We took photos and the cast member took some of my husband and I. The cast member presented us with a certificate so we would always remember this special time.
The time involved is only about 15 minutes, and provides a unique view that is worth experiencing if you're a guest at Wilderness Lodge.

My husband and I were celebrating our 10th Wedding Anniversary back in September, 1995. (We spent our honeymoon at WDW in September 1985). My husband's parents joined us on this vacation, who had turned into WDW lovers just a few years prior to this trip.
The Wilderness Lodge had not been open very long, so it was our first time staying there. Guest Relations approached us and asked us if we would be interested in the Sunrise Flag Ceremony. Of course, we said yes!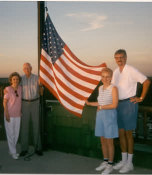 The first photo is the cast member who assisted us that morning, pointing out the fact that you can see Orlando from up there.
This picture is all of us. Left to right: My mother-in-law, Grace M. (Sadly, she passed away in April 2002) , my father-in-law, Joe M., me, Regina C.-M., my husband, Patrick M.
This was a very proud and magical day for all of us!! Thank you for letting me share it with all of you.