ACCOMMODATIONS
General Resort Information
Value Resorts
All Star Movies
All Star Music
All Star Sports
Art of Animation
Pop Century
Moderate Resorts
Caribbean Beach
Coronado Springs
Fort Wilderness
Resort &
Campground
Port Orleans - French Quarter
Port Orleans - Riverside
Deluxe Resorts
Animal Kingdom Lodge
Beach Club
Boardwalk Inn
Contemporary
Dolphin
Grand Floridian
Polynesian Village Resort
Shades of Green
Star Wars Immersive Luxury Resort
Swan
Wilderness Lodge
Yacht Club
Disney Vacation Club Resorts
Animal Kingdom Villas
Kidani Village at Animal Kingdom Lodge
Bay Lake Tower
Beach Club Villas
Boardwalk Villas
Disney Riviera Resort - Opening Fall 2019
Old Key West
Polynesian Villas and Bungalows
Saratoga Springs Resort & Spa
Treehouse Villas at Saratoga Springs Resort and Spa
Villas at Grand Floridian
Disney Vacation Club at Disney's Wilderness Lodge
FEATURED NON-DISNEY ACCOMMODATIONS
Sheraton's Vistana Resort
One - Two Bedroom Villas
Sheraton Vistana Villages
One - Two Bedroom Villas
DoubleTree Guest Suites
Downtown Disney Resort Hotel
OTHER LOCATIONS
Aulani - Disney's Resort and Spa
w/DVC Villas - Hawaii
Disney's Vero Beach Resort
Wilderness Lodge
Flag Family Scrapbook
Send in your WL Flag Family Photo and Story
*****
Sherry and Bret - November 2007
Kim, Eric, Kyle, and Kelly VanDevender - December 2005
The Kuhns - October 2005
Cooperman Family - June 2005
Chris Holmes and Family - March 5, 2005
Sue, Mick and Sam Farrell - August 9, 2004
Margie Bloyd, Amy, Dylan, Tyrone, and Katlin Gentry - July 9, 2004
Laura Harrell and family - June 9, 2004
Mike, Rachelle, Michael Jr, & Elizabeth Janoski - May 2004
Lori Wilkinson - March 8, 2004
Greg Cable - January 2004
The Scott Family - June 2003
Sally Brackman and Family - April 1, 2003
The O'Briens - November 2002
Bret, Sherrie and Kayla - November 2002
The Hansens - May 2002
Kevin, Joy (aka Joyful1nh) & Sydney from NH - February 2002
David, Steven, Julie McKeever and Stan - December 1, 2000
The Meisch Family - July 4, 1998
Cathy Mullen - July 1997
Regina C.-M.- September 1995
Sherrie and Bret - November 2007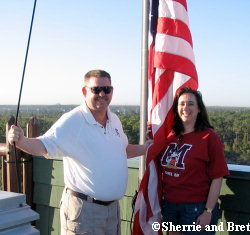 We got a second chance to be flag family at our DVC home of Wilderness Lodge. We got our first chance in November of 2002 when we were with our niece Kayla and we sent in our photo to your site. This time it was just Sherrie and Bret on our stay. We checked on Flag Family just as we have done on every trip since Nov. 2002. On this trip they had the day we were leaving so we adjusted our time we left so we could do flag family. We got to meet in the lobby and go up top with our favorite Ranger Stan. He took us upstairs and raised all the flags and we got to take tons of pictures. After we were done Stan bought us breakfast at the concierge level. It was a great way to finish off our trip.

Kim, Eric, Kyle, and Kelly VanDevender
December 16, 2005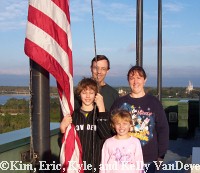 A great big thank you to AllEarsNet.com for letting us know about the Flag Family opportunity at Wilderness Lodge! I inquired at check-in, and there was an opening for our last morning. What a way to end a vacation! We met Ranger Stan in the lobby at 8:30 am for our trek up the stairs to the roof. It was cold and very breezy that morning, but we had a great time anyway. My son, Kyle, was chosen to raise the American Flag, much to his honor and delight.
My daughter, Kelly, was chosen to raise the Mickey flag, much to her delight as well, and also got to raise the Florida flag and the green Wilderness Lodge flag. I raised the white Wilderness Lodge flag. My husband, Eric, declined raising a flag so he could film the occassion. After the flags were raised, Ranger Stan led us in the Pledge of Allegiance. He then gave us all the time we wanted to admire the view while he pointed out everything around us. Although we had not met Ranger Stan until that morning, it felt like he was an old friend thanks to this web site. We made sure to tell him "hi" from Deb! (He said he had just missed you the week before.) On the way back downstairs, he pointed out interesting features of the lodge. He then presented us with a certificate to mark the occassion. This was our first stay at Wilderness Lodge, and it was a beautiful and memorable part of our Disney vacation.
The Kuhns-Kevin, Debbie , Kurtis & Dave
Upon check in I knew to ask if there were any spots available to be the Flag Family. There was only one spot and that was for our check out day Oct 31, 2005. I said that would be great and then broke the secret to my family.

On the 31st we met in the lobby at 8:15 am to begin our exciting adventure. Stan was off for the day so we had an older gentleman from the front desk. He was very good and informative. We climbed the stairs to the rooftop to be greeted by a sunny sky. Wow the view was amazing.

First we raised the American Flag which was the chore of our 2 sons. Both sons are Eagle Scouts(the highest rank in Boy Scouts--only 4% of boys reach this rank) and so was the gentleman who took us to the rooftop. He earned the rank in the late 50's. It was special to have 3 Eagle Scouts to be involved in the raising of the American Flag. Next the Florida state flag was raised, followed by the Walt Disney World flag and 2 Wilderness lodge flags. After the raising of the flags, our guide explained that you could see all of the parks from the rooftop. Sure enough you can see Expedition Everest in the distance from Animal Kingdom, Spaceship Earth from Epcot, the tower of terror from MGM and The Castle from Magic Kingdom. After several family pictures taken on the roof we went back downstairs.

This was an amazing experience for all of us. It was so neat to see the view from the rooftop. We highly recommend this little piece of the magic if it is available upon your trip to Wilderness Lodge.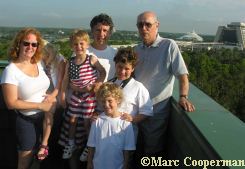 We stayed at the Wilderness Lodge Villas in June 2005. This was our fourth time at the Lodge, but our first time as a flag family. We had asked on previous trips but they were always booked. Not this time! We were flag family on our second to last day.
Jason from the front desk took us all up at 8:15. What a view! Just like everyone says in their reports - you can see just about everything. We were all wearing our red, white and blue to celebrate the occasion.
The experience was great. We always wondered what that set of stairs was way on up that you can see from the lobby. Now we know it takes you to the roof. Jason usually doesn't do the flags but filled in. He was a real trooper even though it was incredibly hot and Jason was wearing, of course, the Wilderness Lodge cast member outfit - dark corduroy. He still gave us all the time we wanted to admire the view and take pictures.
We have four kids so it worked out perfectly. Each one got to raise one flag and the four of them raised the fifth flag together. Thanks Jason!
The Cooperman Family - Marc. Chris, Kaleb, Luke, Abbie, Sam and Grumpy (a/k/a Ralph) Warrenville, Illinois
Chris Holmes and Family
March 5, 2005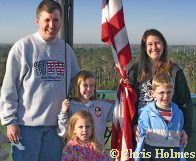 After reading about this on the allearsnet website, I had a hunch that this was something that everyone in the family would enjoy doing. Immediately after checking in I went and asked if we could sign up to be the flag family. I was pleased to find out that the last day was available--and I enjoyed relaying to the kids that there would be a special surprise on the morning of our last day.

Ranger Stan was great in giving the tour, and even taking our picture. The kids had fun seeing all of the different parks and getting to pull the flags up the poles. A perfect way to cap off a great vacation.
Sue, Mick and Sam Farrell,
Cheshire, England

August 9th 2004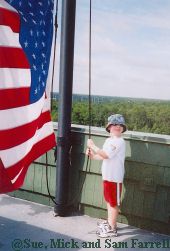 We have stayed at Wilderness Lodge 4 times, and this is the first time we have been able to see that view from the roof! The Flag Family opportunities are always popular, and this time, although there had been a double booking, we were not disappointed as cast member Brendan offered to take us up on a tour of the roof anyway.

It was well worth the wait - the view is amazing - we could see all four park icons, and all the surrounding resorts and Wilderness Lodge boat dock, swimming pools, parking lots etc. Bay Lake looks even more picturesque from that high point. We could even see the cranes building the new Expedition Everest at Animal Kingdom.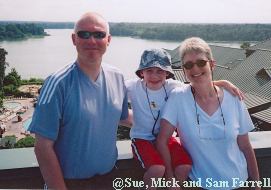 Brendan very kindly showed Sam how to lower the American Flag, fold it, then raise it again - he enjoyed it - a big deal for a 5-year old !

On our walk back down to the Lodge, we had a mini-tour of the 7th floor concierge, and some information about the structure of the building. We also received a 'Flag Family' certificate, and Sam received a personally signed photograph from Mickey Mouse - a big thank you to Wilderness Lodge.
Margie Bloyd, Amy, Dylan, Tyrone, and Katlin Gentry
July 9, 2004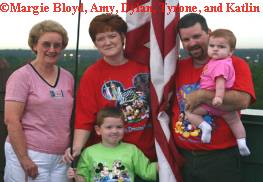 Thanks Deb! Without your site, I would not have heard of such a wonderful opportunity! This was my family's first visit to WDW and we got to stay at the Wilderness Lodge. The authentic decorations, the wonderful landscaped pool and even the wild Whispering Canyon did not compare to the excitement when I found out that there was a spot on our last day. We had planned to start our fourteen hour drive at 6:30 AM, but we were more than willing to wait until the 8:30 flag raising.
Stan was awesome! My four year old loved him and thoroughly enjoyed helping raise the flags. In the bustle of running to the next ride or finding a quick bite to eat, the serenity of being on top of the lodge was awesome. I definitely believe that Stan has one of the best jobs at WDW and I hope to see my friend again.
Laura Harrell and family - June 9, 2004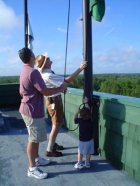 My sister had read about the flag family on Deb's website, so she asked first thing when we checked in. We had arrived at the Wildnerness Lodge on May 31. Lucky for us we were staying for more than our normal seven nights because there was an opening on our 9th day.

This was our first time staying at the Wilderness Lodge, and it couldn't have been better, but being the flag family made it just that much more magical.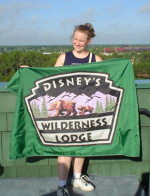 I was chosen by Ranger Stan to raise the American flag. It was a thrilling experience, but at the same time a somber one because the flags were at half staff in memory of former President Ronald Reagan. After the flag was raised, we recited the Pledge of Allegiance. What a time to remember!

Laura, John, and Martha Harrell, Angie, Tony, and Joshua Grimes
Bloomington, Indiana
June 9, 2004
Mike, Rachelle, Michael Jr, & Elizabeth Janoski - May 28, 2004
After I read about the Flag Family on allearsnet.com, my wife & I decided to try and sign our family up when we checked in at the Wilderness Lodge. Since this was our first trip through DVC, and the first time we stayed at the Wilderness Lodge, my wife & I wanted to make this trip unforgettable for our children.
We were able to sign up for 05-28-2004, which was our last full day before checkout, and we later found out was the 10th anniversary of the Wilderness Lodge. After we met Ranger Stan he told us that he used to live in the same area where we live, which gave us plenty to talk about. As he led us to the roof he stopped at different locations along the way, pointing out spots of interest inside the Lodge. The inside view of the Lodge from the upper floors & roof access stairway was great, and the exterior view from the roof was even better. My wife & our children had a great time raising all five flags while I took pictures, then Ranger Stan told us to spend as much time as we wanted to enjoy the view & take pictures. This was definitely an unforgettable event, and we are going to try to sign up again next time we visit.
Lori Wilkinson - March 8, 2004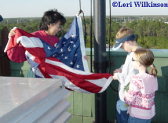 We were lucky enough to be chosen as "Flag Family" on the last day of our stay at the Wilderness Lodge.
I had read about it before our trip and was thrilled to find out at check-in that we would be able to take part in such a wonderful experience.
Our entire trip had been magical and being a part of the flag raising ceremony made it even better!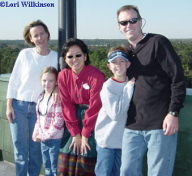 It was a beautiful morning and cast member Rebecca couldn't have been nicer. She spent a lot of time with us and let us enjoy the fabulous view for as long as we wanted.
She answered all of our questions and even invited us to recite the Pledge of Allegiance with her once the American flag was flying high. It was a magical moment that we will not soon forget!
Lori, Spencer, Tucker and Abbey Wilkinson from Doylestown, PA
March 8, 2004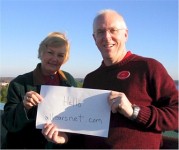 Ranger Stan was Off Yesterday but... ...I was ready so my wife took this photo of Bertie from Guest Services and I sending you our greeting.
We requested to be the 'flag family' on my 50th birthday after reading Deb's article about her experience.
Sally Brackman and Family - April 1, 2003


This was our first stay at the Wildreness Lodge and we loved it! I have to say that being Flag Family was the highlight of our trip! We raised the flags on April 1, 2003.
What a wonderful experience for our children with the fact that our country was in the midst of the heaviest fighting of the war. What better way to honor our troops and our country by being able to do this.
While we were having a magical time at Disney, it was neat to take the time to reflect on what was going on in the "real world" and to send up prayers from the roof of the Wilderness Lodge.

The Scotts - Melissa, Bill, Ashley and Ethan - June 2003
We just returned from our WDW trip, June 8th to June 18th. Those 11 glorious days were spent at the Wilderness Lodge. Upon your advice, we inquired about being the "Flag Family" as soon as we checked in. The last morning of our stay was available, so we took the slot.
What a treasured memory we have as a family! Ranger Stan was as wonderful, delightful, and pleasant as you described him - a treasure himself. (When I told him how I knew of the Flag Family event, he said - "Ah that Deb! Give her my best and tell her that I love her!") Our daughter (age 10) and son (age 4) were the ones to raise the HUGE American flag (with Stan's help - it was a VERY windy morning). They felt so honored and special being able to raise our flag for everyone to see. Saying The Pledge of Allegiance, as the flag billowed high atop the Lodge, brought tears to my eyes. The children enjoyed helping with other 4 flags too. The view from atop the Lodge is breathtaking! You can see the Tree of Life - 7 miles away! Spaceship Earth looks as if you could reach out and touch it. The Magic Kingdom is just beautiful as a backdrop to the picture Stan took of all of us. My husband and I took countless pictures and videos. He and I were awestruck by how meaningful the moment was for our family. We were delighted by Stan's wonderful personality and his genuine interest in our children. This was the most wonderful way to close our WDW vacation. On our way down the drive of the WL as we headed for home, we stopped and took more pictures of the flags we helped to fly high on that day - in the most magical place on earth.
Thanks for letting us know about this wonderful opportunity! I hope more people have the chance to meet Stan and raise the flags for the rest of the Kingdom!