Apparently TV viewers — and Disney fans — cannot get enough of Disney weddings. The popularity of the 90-minute special "Disney's Fairy Tale Weddings" that aired in May has prompted a series of seven one-hour episodes that will expand viewers' look into the dream celebrations.
The Hollywood Reporter broke the news this week that Freeform cable network, which is owned by The Walt Disney Company, has picked up the series and plans to air the shows in the spring. Although the hosts have not yet been announced, the series will be produced by Simon Lythgoe, Ann Lewis Roberts and Jenny Daly, who will partner with Walt Disney Parks & Resorts. The original special was hosted by Bachelor favorites Ben Higgins and Lauren Bushnell. (Freeform has aired two seasons of The Bachelor franchise spinoff "Happy Ever After," displaying the synergy Disney is known for.)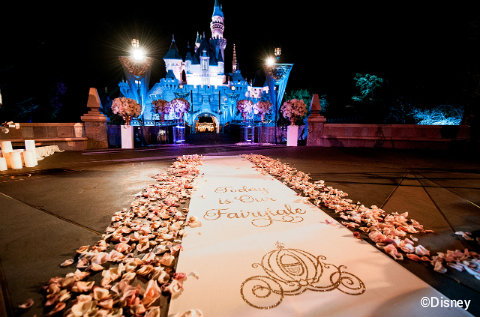 The original wedding special "garnered nearly 3 million viewers (across digital and linear), making the one-off the cabler's highest-rated unscripted TV special to date," The Hollywood Reporter stated. So, it's no surprise the company would want to capitalize on the popularity. Some of the lavish celebrations that have been filmed at Disney properties around the world include a holiday proposal at Disney's Aulani Resort in Hawaii and a winter wonderland wedding at Walt Disney World. Each episode will focus on a couple and tell their story leading up to and including the wedding. Of course, Disney will add a little unexpected magic to each celebration.
But the question everyone wants to know is how much does a Disney wedding cost? Korri McFann, marketing director at Disney's Fairy Tale Weddings & Honeymoons, spoke to Glamour magazine when the original wedding special aired. She said, "An intimate celebration with a handful of guests would start from $2,500. Our Wishes Collection offers couples a completely custom wedding starting from $12,000. We have a wedding experience for pretty much any budget."
Disney's Fairy Tale Weddings & Honeymoons has been helping couples plan their weddings for 25 years. They provide event planning, venues, food and beverage, floral, entertainment, and photo and video. "We have extensive planning tools on our website for those who are still in the dreaming stage," McFann said.