UPDATE on March 13, 2014: Passholders are being invited this month to customize and order their MagicBands. Within a few days of completing this process, passholders gain access to booking their FastPass+ reservations online — even before they receive their MagicBands. Passholders are permitted to book seven days of FastPasses in a 30-day period. The days do not have to be consecutive, and the three attractions in one park per day rule still applies. Once an existing day is used, another can be booked.
—-
As of last week, all four Walt Disney World theme parks have converted to the FastPass+ system. Gone are paper FastPass tickets, and some other key changes are now in place. Here's what you need to know to cut your time spent waiting in line for attractions during your next visit to the parks.
AllEars.Net has a great new FastPass+ resource page that will answer most of your questions, and here are my tips based on my first experience using FastPass+ this week. Although FastPass+ was being tested for a large part of 2013, my family and I were disappointed to learn that both of our Disney stays in 2013 were at hotels that were not participating in the testing.
(If you did receive a MagicBand during a stay last year, you can book your FastPasses up to 60 days in advance on the My Disney Experience website. Read more about that on our resource page.)
As for the rest of us — annual passholders and those not staying on Disney property, collectively known as "day guests" — we can only book our FastPasses in the park on the day of our visit. That is, until we receive MagicBands. Annual passholders have been told they will receive the RFID bands this year, but no promises have been made to other guests not staying at Disney hotels.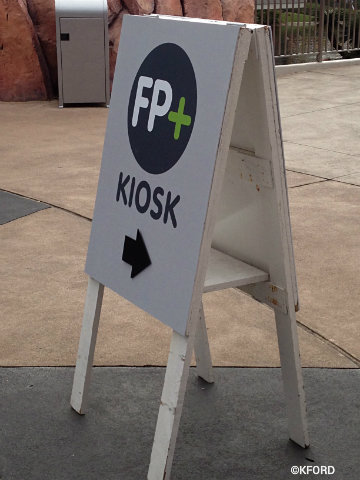 Arriving in the park, the first thing day guests should do is head to one of the FastPass+ kiosks to book all their FastPasses for the day. You are allowed three per day, and they are free — unlike at SeaWorld and Universal Orlando where you pay extra for front-of-the-line access. As you would expect, the kiosks closest to the front of the park are the most crowded, so you might have a shorter wait if you walk a bit farther toward the back of the park. Expect to wait an average of 30 minutes in the FastPass+ queue during morning hours, a cast member told me. The tradeoff is that you won't be crisscrossing the park collecting FastPasses all day long, as you might have in the past. You do it once and you're done for the day, unless you choose to make changes.
My family and I arrived at the Magic Kingdom about 1 p.m. on Sunday and proceeded straight to the FastPass+ queue in Tomorrowland, and it only had about a 15-minute wait. We were off to a good start! While we waited in line, we decided on which three attractions were our first choices for FastPasses. Under the new system, the three FastPass+ reservations must be for three different attractions in the same park. That's definitely something to keep in mind if you like to park hop. Also, if you want to experience a favorite attraction more than once, know that you will have to wait in the standby queue for subsequent rides. Plus, at Epcot and Hollywood Studios, guests are limited to one "E-ticket" ride, and the other two choices must be for less-popular attractions.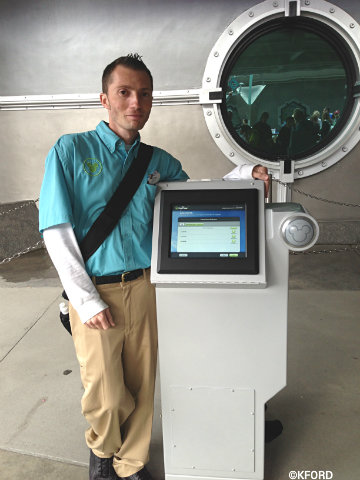 When we reached the front of the FastPass+ line, a cast member was stationed at each kiosk to help day guests. He asked for the ride we wanted to do most, so he could enter that first. He explained that Enchanted Tales with Belle usually is the first attraction to run out of FastPass+ reservations each day. Other popular attractions are Peter Pan's Flight, Big Thunder Mountain, Space Mountain and The Voyage of the Little Mermaid. He also said FastPasses to meet the Disney Princesses book more quickly than meet-and-greets with Mickey Mouse on many days, and Rapunzel is more popular than Cinderella at Princess Fairytale Hall.
Once the cast member inputs your selections, the system will generate the earliest available times for each of the three attractions. Each FastPass+ reservation is good for one hour, meaning you can arrive at the attraction any time during that time frame. Plus, there is a grace period of five minutes before the window starts and 15 minutes afterward. Because of the time constraints, the system will not allow you to book FastPass reservations that overlap.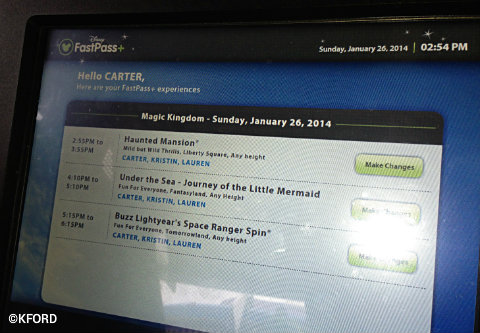 After the system generates the first set of times, you can follow the instructions on the screen to see if other times are available. You might have a conflict with a dining reservation or want to see the afternoon parade at the initial time your FastPass+ is scheduled. This process is fairly easy. Once you have achieved your desired FastPass+ schedule, you can email a confirmation to yourself, take a photo of the screen, or write the times on a sheet that cast members will provide. (Guests with MagicBands will be able to see their FastPass+ reservations on their account on the My Disney Experience app.)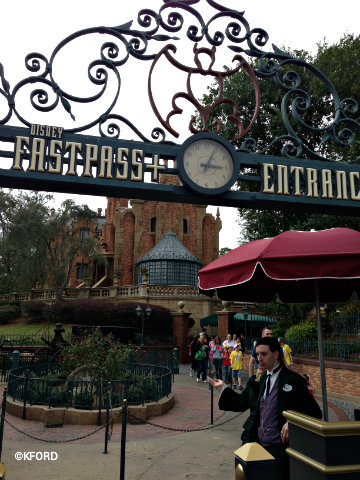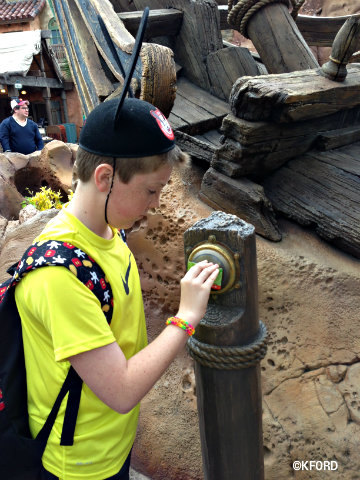 Then, head out into the park for your day. When it's time to use a FastPass+ reservation, go to the FastPass return line at the attraction and have your plastic RFID admission ticket handy. You will have to scan it twice in line. And that's it!
We found the new FastPass+ fairly easy to use, even without MagicBands. Granted we were visiting the park on a day that wasn't too busy and our schedule was flexible, but we were able to have a minimal wait for three attractions, which we rode consecutively. Using FastPass+ certainly helped us maximize our time, which is what FastPass+ is all about, from a guest's point of view.