Disney's Hollywood Studios wants you to live the Hollywood life by surrounding you with stunt shows, singers and dancers, endless jay walking opportunities, waiters who are really comedians, and over priced food and drink. At least the streets are cleaner.
The Great Movie Ride is a great ride about great movies and movies perceived as great by riders perceived as great by the Walt Disney accounting department, depending on how great their spending habits are on property.
Here you'll come across audio animatronics designed to look like famous actors in great acting roles. Do you like horror flicks? Me neither but every single Cast Member who has lead me through this attraction is a great big fan of them. Creepy. Other genres on this slow-moving journey are action and adventure, musicals, sci-fi, and westerns.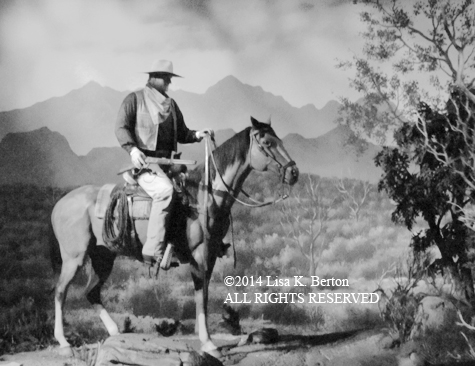 Little known fact, this isn't a replica of Bob Hope, it's actually a model of John Wayne. I'm never going to look at him the same way again. Thanks for the memories…
Giddy up. Scott will be here on Thursday with his Disney Pic of the Week.
Come on over and "Like" my Facebook page or follow me on Twitter, my handle is lisano1.