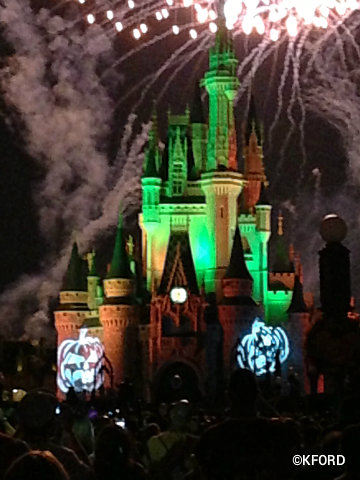 Typically, Mickey's Not-So-Scary Halloween Party, the annual after-hours fall event at the Magic Kingdom, changes only slightly from year to year. This week, however, Walt Disney World officials announced some sure-to-thrill additions to the 2013 entertainment line-up.
Characters Jack Skellington and Sally (from Tim Burton's "The Nightmare Before Christmas") will make their debut appearance at the party. Given the context of their story and the pair's widespread appeal, this meet-and-greet seems like a natural fit. Jack Skellington and Sally first appeared at Walt Disney World last September as part of Frankenweenie Weekend at Downtown Disney. Make no bones about it: Some guests waited three hours to meet these characters, which certainly is a testament to their popularity. At Mickey's Not-So-Scary Halloween Party, you'll be able to find them in the Town Square area of Main Street, U.S.A.
Phineas and Ferb return for their second year at the holiday party. This time, however, they have been promoted from simply greeting guests to leading the Creepa Crew. The Disney Channel duo unofficially performed in this capacity last year, interacting with crowds waiting for the popular Mickey's Boo To You! Halloween Parade. Now, they will lead the Disney dancers and guests in a line dance — the Not-So-Scary Street Jam — performed to "Calling All the Monsters" by China Anne McClain.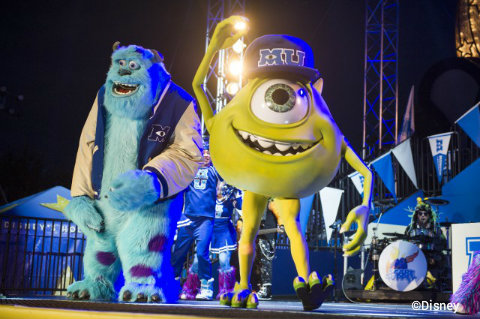 Speaking of dancing, another new event at the Halloween Party will be the Monstrous Scream-O-Ween Ball on the Rockettower Plaza Stage in Tomorrowland. The dance party will be hosted by "Monsters University" scarers Mike and Sulley. Dance parties have become a staple at after-hours events in the Magic Kingdom, and for good reason — guests love to let loose and see their favorite characters doing the same thing. The Monstrous Scream-O-Ween Ball replaces Stitch's Club 626 in the same location.
Of course, two of the annual favorite entertainment experiences have been confirmed for the 2013 Mickey's Not-So-Scary Halloween Parties: Mickey's Boo-to-You Halloween parade, which begins with the Headless Horseman and features Disney characters in costume as well as the ghostly inhabitants of The Haunted Mansion; and Happy HalloWishes fireworks. Both of these events are only seen during the Halloween party. This is different from the Christmas parade and fireworks at Mickey's Very Merry Christmas Party, which can be seen as part of regular admission to the Magic Kingdom during the weeks surrounding the Christmas and New Year's holidays.
The always-popular treat trails that offer concentrated trick-or-treating return, too. Guests can collect handfuls of candy at Alice and Mad Hatter's Treat Party, which begins in Storybook Circus in Fantasyland, and at Br'er Rabbit's Laughin' Place Candy Patch near Splash Mountain in Frontierland. We're told there may be a few new surprise candy stations, as well.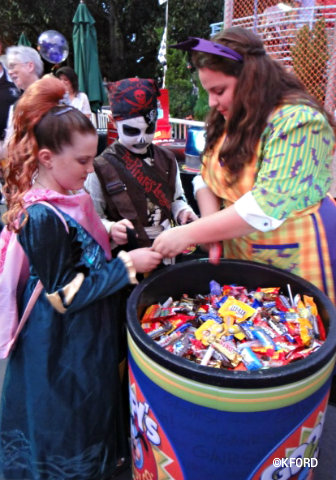 Mickey's Not-So-Scary Halloween Party is a hard-ticket event, meaning guests must pay a separate admission price for the party, which lasts from 7 p.m. to midnight. (The Magic Kingdom usually allows party guests to enter as early as 4 p.m., but the Halloween events do not begin until 7 p.m.) Mickey's Not-So-Scary Halloween Party will be held on Sept. 10, 13, 17, 20, 24, 27, 29; Oct. 3, 4, 6, 10, 11, 14, 17, 18, 20, 22, 24, 25, 27, 29, 31; and Nov 1. Tickets are on sale now, and you can see the full breakdown on prices on the AllEars.Net resource page.