Legions of Disney Parks lovers return "home" year after year whether it's to Anaheim or Lake Buena Vista or perhaps Paris, Hong Kong, or Tokyo. We've bought the single and multi-pack postcards and mailed them off to family and friends. A question I always ask myself is, Am I sending the same postcard to (insert name here) again? I can't recall which set of postcards I bought last time. Was it Epcot or perhaps Animal Kingdom? Crikey. I haven't the foggiest idea.
Well, I came up with an idea and started creating my own postcards and why not, I have hundreds if not thousands of images from which to choose. Not only that but I can make them artsy and truly separate mine from those mass produced.
Here's what you'll need to create your personal postcards:
1. A sharp image you took on a previous trip
2. Photo editing software
3. Creativity
4. A local printer or online printer to produce the postcards
I started with this recent photo taken at the entrance to Rock 'n' Roller Coaster® Starring Aerosmith at Disney's Hollywood Studios.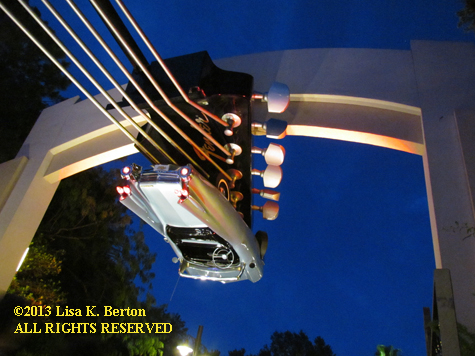 Taken with my Canon PowerShot SX30 IS. I used a mini tripod and set it on a trash can. ISO 800 f3.2 1/6 A long exposure allows the camera to record light and colors correctly in low light.
You don't have to use professional photo editing software to crop, adjust contrast and color, and add effects. I happen to use Adobe Photoshop CS3. Take a look at cnet.com for photo editing software and free trials. Just remember to be careful when downloading anything from any website. Make sure your anti-virus protection and firewall are working.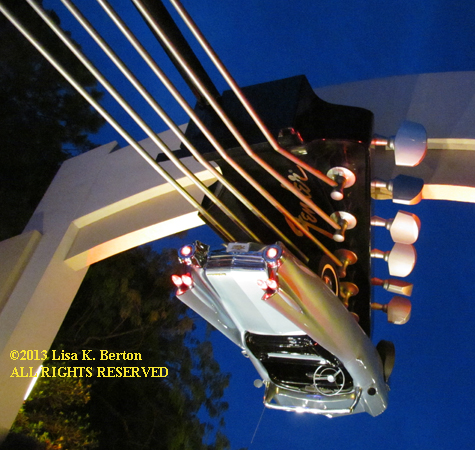 With the software I made my first crop, taking out space that doesn't take away from the overall image. Then I added lens flare to the headlights followed by lighting effects. You'll notice the top right and bottom left corners are very dark, also on the top left, creating a more dramatic look.
Since we're designing postcards, add some text to the photo, perhaps the location or a friendly message. You can search for Disney fonts at www.mickeyavenue.com or a broad range of typestyles at dafont.com
This font is called Waltograph. I also used a warp text effect called bugle.
One website that doesn't require you to purchase large quantities of postcards is Zazzle.com. Start with a blank slate or select designs.
Before uploading your image to any website, make sure to read the guidelines regarding image size and quality. You don't want to waste money on blurry images and have everyone call you and ask, Where did you go, again?
Don't worry, my actual postcards don't have half my copyright mark slapped onto the front. It's imprinted on the back.
There you go. You can create your very own unique souvenirs that people will keep.
"Like my Facebook page and see my photo gifts or follow me on Twitter, my handle is lisano1.