To all who come to this photo trivia game, Welcome! Along the way, the photos can make us relive memories and see details Walt's Imagineers put into everything we love in Walt Disney World!
All together, Players: let's hear it for the Dads! Happy Father's Day!


I hope you have a great day!
Guess who's birthday is on Thursday? Yes! How did you know? You guys!


to me!
Does this mean I can go back to Disney World?
Chris Masse, I am floored by your note! THANKS!
Here's Challenge #283:

And here's the answer: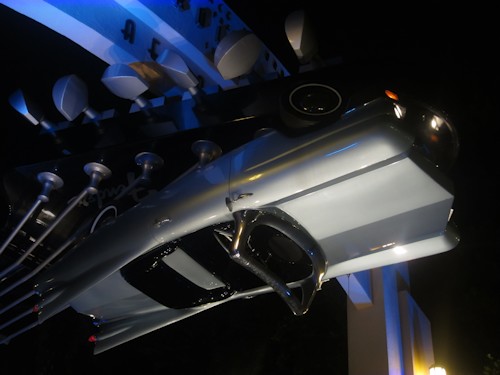 Copyright © Erin Blackwell
The guitar tuning pegs at the attraction archway for The Rock 'n' Roller Coaster, a favorite for some many of us!
Ooo, Duskin Henard! You said "bumfoozling"!
Steve and Ruby Jordan was the first to send in the correct answer! Congratulations to Steve & Ruby and all our winners this week! Daniel Record, Paul Dickson, Erin Hammer, Kye Layton, Andrew Carrieri, Janet Thorn, Jen Tremley, Kristi Strembicki, Debbie Connors, The O'meara Family, Scott Cullen, C.j. Connors, Team Hill, Belicia Cullen, Danielle Ciotti Harsley, Caryn Schill, Tommy Montgomery, Sharon Pierce, Tami Howerton, Christie, Dulcie Hayes, Charlie Zimmerman , Emily Hudson, Ed Hogan, Kate Flanagan, Freemyer Family, Jim Riddle, Patti Gumiela, Vicki And Elizabeth Edwards, Chris And Sarah, Jennifer Noble, Melissa Such, Tina Powell, Tricia Petty, Les Whitten, Mike Rotkiske, Yvonne Marchione, Mike Walter, Dawn Burns, Amanda Campbell, Samantha Raucci, Brendan Abel, Carolyn Lobel, Julie Signor, Paul Moore, Maggie Klotz, Ariana Stowe, Orange Bird, Stuart Hale, Nick Bentz, Angie Blair, Brian Gallant, Joe Calomeni, Malesky Family, The Moore Family, Cathy Connors, Bruce Jones, Stefan Owens, Carol Becker, Chris Kelly, Alan Mize, Megan Krainski, Kenny, Larissa Huda, Maureen Handy, Adr, Marcus Davies , Laney, Joe Mangini, Pam Vanaustin, Amy Schweizer, Ladonna Tisdale, Clay Anthony, The Kahle Family, Judy Simonsen, Rob Jacob, Claire Gregory, Eileen Miller, Jennifer Harmon, Ed Suscreba, Cynthia Hitchcock, Jim Dewalt, Rob Blundin, John &Rhonda Nottell, Andrew Swiatowicz, Gail States, Chuck Sands, Kirk Hardy, Chris, Gretchen, And Katie Barnes, Katie Wood, Brian Skinner, Julie Wickware, Vera Williams, Randi Balch, Karen Ramirez, Mike Malampy, Doug Olson Family, Gallagher Family, Bill Cudney , Carol Ney, Joe Jennings, Emma Poprock, Jeff Blank, Erika Loboda, Len Beebe, Charles Everson, Jennifer Shaw, Dallas Hamilton, Philip Badcock, Jenny Brennan, Anastasia Macneil, Wayne Witherspoon, Mike Cerce, Tricia Noble, Craig Lordan, Sandra Edwards, Chris Bauman, Russell Hamlin, Noah Schweizer, Daniel Schweizer, Kerri Coggins, Matt Holley, Mary Beth Tarbet, Terry Fleming, Anna Keene, Mackenzie D., Nancy Cole, Dick Smith, Nancy Cole, Mark Franklin, Annmarie Arlauckas, Amy Park, Kara Morton, Duskin Henard, Brooke Whitlatch, Carla Leger, Michael Gunnels, Cheri Palmisano, Randy Thomas, Amy Kleinfieldt, Matt Ciccone, Capt James K, Morgan M., Ashley Elizabeth, Mickey Eckert, Ronald Delorey, Vicki Vaught, Kris Nixon, Amber Slifer, Nicole Shuler, Les Stewart, John Pasqueralli, Sonnen's, Patti Mccaffrey, Agnes Ciotti, Tammy Kennedy, Chris Nichols, Donna Hawkins , Nathaniel Clements, The Holmes Family, Jennifer Barbour, Bill , Dwayne Fontenot, Tom Buck, Jason Skow, Heidi Goodhue, Morag Lemon, Fred Shakeshaft, Kara Cummings, Jenny Mcqueen, Elizabeth Scarborough, Jeff Brashear, Brooke Sifferman, Emily Harper, Larry Sprenkle, Kate Fischer, Melodye Berry, Dan And Elizabeth Johnston, Lindsey Nozal, Denise Cayz, Earl Wilcher, Carolyn Comp, Laura Labadie, Vicki Yarnell, and Brent Lollar. Each of you are entered in this month's winners' drawing.
_____________________________________________________ _____________________
Challenge #284 Where in the world is this?
Orange Bird said the challenges are too easy: so… everyone say it together, Players!
It's a DOUBLE CHALLENGE WEEK!
Extra tough challenge:

And regular Challenge #284: staying in the parks again!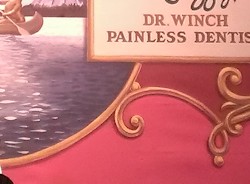 Do you know? Do you have a guess? Please send in your answer, before the end of the day on Thursday, June 20th, by clicking on the blue box below.
Please do not post answers using the Feedback Form link at the bottom of this post.
See you next week, Players!

_______________________________________________________________________
Everyone who sends in a correct answer to a Where in the World Challenge this month will be entered in a drawing at the end of the month for some special AllEars® goodies!