Disney fans, who also are Star Wars fans, know that for four weekends in May and June, Disney's Hollywood Studios turns into a mecca for all things related to that galaxy far, far away. As the event has grown, so have the number of things that are geared toward kids.
My children, who are ages 8 and 10, now enjoy the excitement of the special event weekends, but there was one year when my son joined the ranks of the intensely fascinated. That was the year his night-owl parents took him to the theme park before it opened in a bid to get Jake Lloyd's autograph. (You can read about our experience here.)
This year, we had a more casual approach to our arrival time because we weren't seeking an autograph. That was a mistake, though. The Force is not with families who do not line up outside the turnstiles at least an hour before park opening.
The two kid-centric events — Jedi Training Academy and Padawan Mind Challenge — require registration, which is available immediately after the rope drop in front of the Indiana Jones Epic Stunt Theater and ABC Sound Stage, respectively. On Saturday, all 19 sessions of the training academy and two trivia games were filled by mid-morning and the wait list halted at 70 hopeful kids, a cast member told me. So, my top tip for families who have children eager to take part in the Star Wars activities is to plan for an early arrival.
Here are our favorite must-dos for families who want to maximize their Star Wars fun:
1. Legends of the Force Motorcade and Celebrity Welcome — Even if you're not a Star Wars fan, it's difficult not to get excited when you see this parade kick off. The familiar music and array of elaborately costumed characters create excitement, for sure. Plus, the celebrities and event hosts ride in a motorcade that culminates in a ceremony on the main event stage in front of the Sorcerer Hat. Guests wanting a curbside seat line up for this parade at least an hour ahead of time. We lucked into a spot this year about a half hour before the parade's start that wasn't half bad. Areas are blocked off near the right side of the stage for the parents of kids who are chosen for the parade, but there are spots behind them that line the front of the stage. We could not see the parade from that point, but half of the characters walked past us on their way to the stage, high-fiving my kids, and then we had a decent view of the ceremony on stage. It worked for us.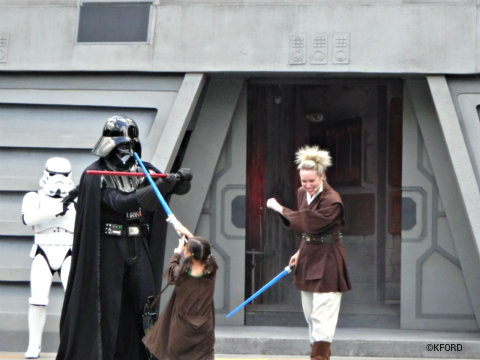 2. Jedi Training Academy — Kids ages 4 to 12 learn how to wield a light saber from master Jedi instructors on an outdoor stage next to Star Tours. Once they've mastered the basics, they take a turn battling someone from The Dark Side. Sign-up is required for this event, but the good news is that it is a permanent feature at Hollywood Studios. If you miss it during Star Wars Weekends, the event is available year round. Robes similar to the ones the kids don for the academy can be purchased in nearby Tatooine Traders for about $50, and there is a build-your-own light saber station, as well.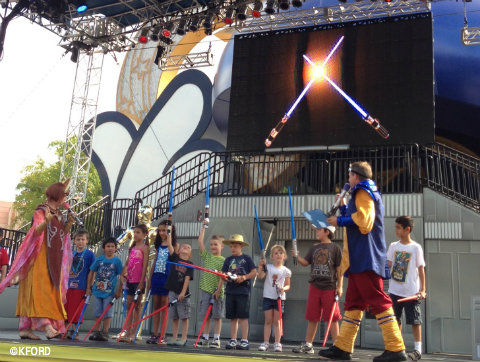 3. Padawan Mind Challenge — In this trivia contest, kids ages 4 to 11 use their mental forces to keep up with two galactic hosts on the main event stage in front of the Sorcerer Hat. Guest C3PO provides some laughs and encourages the kids as they use their light sabers to indicate answers. Registration is required for this event, which has two afternoon sessions.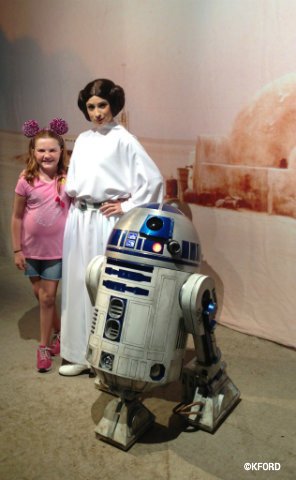 4. Merchandise and character photos — Take time to visit Darth's Mall, the huge merchandise tent that is set up back behind Rock 'n' Roller Coaster. Here you'll find limited edition Star Wars items; Star Wars Weekends 2013 merchandise; photo opportunities with Luke, Leia, R2D2, C3PO, and the Rancor; and the "cast yourself in Carbonite" experience that was inspired by a scene from "The Empire Strikes Back." My daughter loved being able to meet Leia and R2D2, who played along when she gave him her princess crown, and my son added to his collection a special Jedi Mickey plush that marks the 30th anniversary of "Return of the Jedi." There also are many character meet-and-greets with those from The Alliance, The Empire and Mickey and pals seen dressed in Star Wars costumes throughout the park.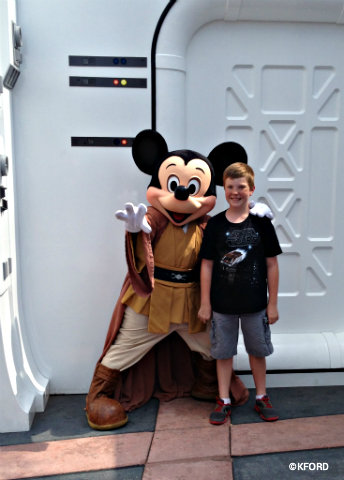 5. HyperSpace Hoopla! — End the day by viewing this hilarious dance competition in which Star Wars characters try to outdo each other in a dance-off set to popular music hits. This event has become so popular over that years that guests line up in front of the main stage well beforehand. (See the AllEars.Net Hyperspace Hoopla! video.) Disney also broadcasts the Hoopla on the large adjacent screen at American Idol Experience, and folks sprawl out on the cement to watch. My son and I were among them, and it was a pleasant way to see the show without being sandwiched in between all the other guests.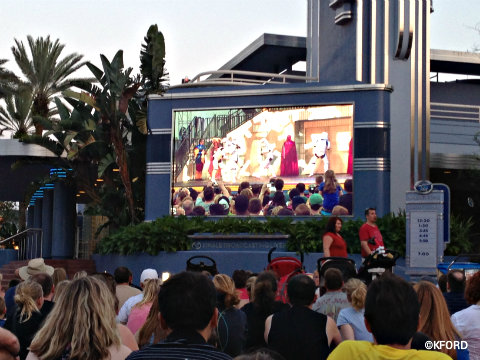 Let me know your tips for kids at Star Wars Weekends, by leaving a comment below.