Grab your point and shoot camera manuals and see if your camera can do this, fish-eye effect. Fish what? Fish-eye lenses are especially designed for SLR cameras and some high end point and shoots. Nowadays with computer programs in digital point and shoot cameras, the effect can be replicated. Just keep in mind it's not exactly the same as an actual fish-eye lens.
A fish-eye effect creates an ultra wide-angle image and distorts it so that the image looks like it's arced forward in the center. The illusion makes the photo look like it can wrap around.
Sample pics will better explain the results. A cut out of Sweetums holding a 3D paddle ball greets Guests at the entrance to Muppet Vision 3D at Disney's Hollywood Studios.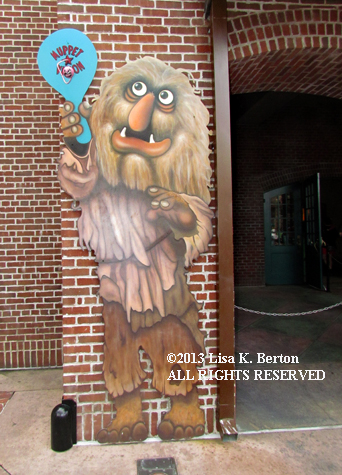 As seen normally by human eyes.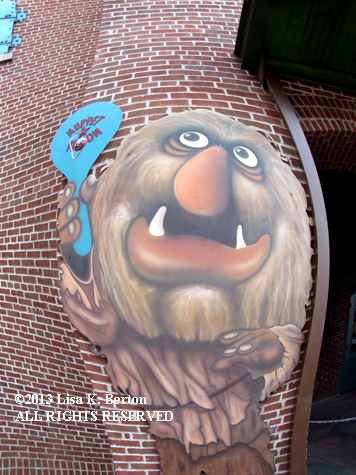 I dialed into Fish-eye Effect on my Canon SX30 IS and retook the photo. See how Sweetums' body had changed.
The 3D paddle is going to serve (Get it? Serve. Ha ha) as a wicked awesome demonstration of the special effect.

Again, here's a normal view.

Fish-eye Effect in action. It's cool but what if I were to slightly shift my stance which will change the angle.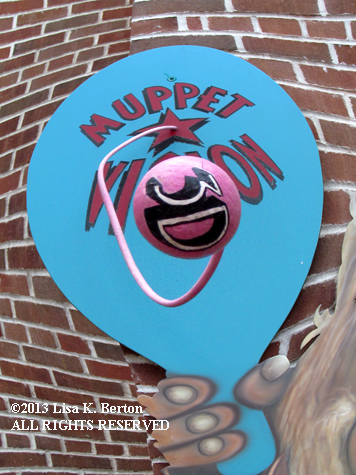 Yeah, now that's cool! Mind you, if I were taller my point of view would probably be even better.
Give it a try the next time you're at the park or try Fish-eye Effect on something at home like your kids or that nosy neighbor.
To locate Fish-eye Effect on the Canon SX30 IS, turn the dial to SCN (Scene Mode) and then press FUNC SET (Function Settings). Scroll right until you find Fish-eye Effect and then depress FUNC SET again. That's it!
Come on over and "Like" my Facebook page or follow me on Twitter, my handle is lisano1.