HAPPY 30TH BIRTHDAY EPCOT!
It seems like it was just last year when I attended the 25th Anniversary Celebration of Epcot!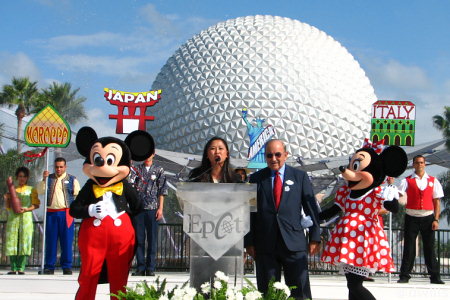 Many books have been written about Epcot Center, from Walt Disney's original concepts to what came to be.
This blog, however, is just going to highlight a few fun facts I found while pursing some of the documents in my collection. At the end of the blog are two youtube videos you'll want to watch!
3,000 designers and 4,000 construction workers were involved in building Epcot Center Phase I which took 3 years to build. The size of the new park was massive. A one-eighth inch scale model was already as big as a home!
Future World largest attraction was The Land, presented by Kraft, Inc. It covered six acres and was as big as the Magic Kingdom's Tomorrowland!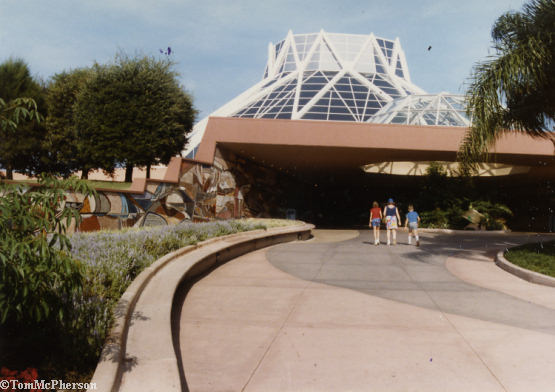 During the construction of Epcot Center, 54 million cubic feet of dirt was removed!
Over 1.5 million feet of motion picture film was shot to produce 31 Epcot Center shows – can you name them all?
The 32 foot high, 515 foot long diorama in the Universe of Energy took 3 artists, 5,700 hours to paint.
Disney landscapers planted three and a half acres of annual flowers and plants, 70 acres of sod, 12,500 specimen trees and 100,000 shrubs!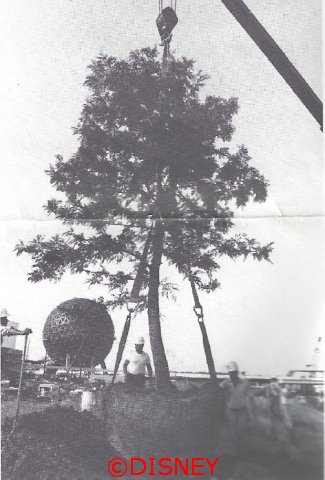 World Showcase Lagoon covered 40 acres and opened with nine countries: Canada, United Kingdom, France, Japan, The American Adventure, Germany, China, Italy and Mexico. The first photo is the American Adventure under construction.
Many VIPs visited Epcot Center during construction. Here are 3 of France's best known chefs and restaurateurs, Roger Verge, Gaston LaNotre, and Paul Bocuse at the ground breaking ceremony for the France Pavilion. The world famous chefs will collaborate on the fine French restaurant to be located in the Pavilion.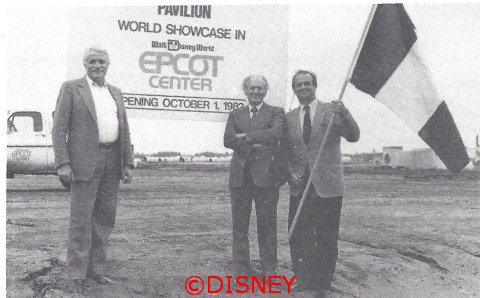 The 260 acre Epcot Center opened at more than twice the size of the Magic Kingdom!
When Epcot Center opened it was deemed "Disney's New Special Effects Capital". "The challenge of special effects is that the viewer must believe", says Bill Novey manager of the WED special effects team. "We're trying to involve guests in Epcot Center experiences, some of which are intense, and special effects can make a contribution through impressions as well as physical contacts."
Computers, laser graphics, holographic images, liquid neon and fiber optics played a big part in the special effects found throughout Epcot Center. Fiber options projections formed the starry universe planetarium in Spaceship Earth, the fireworks display in Mexico and the paint-spilling sequence in Journey to Imagination!
The piece de resistance of WED special effects is the Journey into Imagination, the attraction that comes closest to traditional Disney entertainment. Between the 80-foot upside down water fall, to the leapfrogging water streams outside, to the colorful rainbows, exploding nebula, and lightening in the jar inside the attraction to the Image Works area with magical devices gallor, Imagination was a true showcase! Altogether there are more than 200 projectors used in Journey to Imagination, more than all of the Magic Kingdom.
Disney Parks Blog published a time-lapse video of Epcot construction:
Here are a few other videos I came across on YouTube you may find interesting.
The Dream Called EPCOT – Shown at the EPCOT Preview Center on Main Street in 1980
Epcot Center 1982 Preview
This video is from the Vault Disney Collection that has the Danny Kaye opening ceremony for Epcot. It's almost 45 minutes but you'll enjoy it!
There are many more great vintage videos of Epcot on YouTube – what are some of your favorites from the 1980s?