Dolphins, dolphins and more dolphins! If you or someone in your family just cannot get enough of these adorable mammals, SeaWorld Orlando has a number of dolphin experiences to fill your entire day.
My almost-8-year-old daughter's love of dolphins prompted our family to purchase SeaWorld passes this year, and we have been exploring all the ways in which she can get close to her favorite animals. Here is a little bit of what we have learned from our visits.
Blue Horizons
Blue Horizons, the show where you see dolphins and their trainers perform amazing feats together and individually, is a fun show for all ages. The performance, which happens multiple times each day, also features tropical birds and ariel acrobats that fly toward the audience. There really are no bad seats in Whale & Dolphin Theater, but if you want a center spot, be sure to line up at least 30 minutes early, especially with the summer crowds. Also, know that employees will be walking through the stands selling snacks and drinks, so there's little need to stand in a line elsewhere — unless you want to refill your soda mug.
Finally, if your child is a little starstruck by the human performers and would like to meet them, you're in luck. They usually line both sides of the walkways leading out of the stadium and are happy to pose for photos and talk with guests.
Dolphin Cove
To meet some of the park's dolphins, guests can head to adjacent Dolphin Cove, where they can choose from three experiences. There's an underwater viewing area for this large dolphin pool, plus two interactive areas on the surface. On the far side of Dolphin Cove, guests can see the dolphins as they swim by and possibly pet them if they stop. In our experience, this doesn't happen often because these smart animals know they will be fed on the other side of the pool.
Dolphin feedings that are open to guests usually take place five times per day on the gated side of Dolphin Cove. Because of the limited space and popularity of these interactions, queues can form as much as an hour before the event, so plan accordingly. (Unfortunately, most of this line is in the sun, so at least grab a drink to keep hydrated.) Each guest entering the feeding area MUST purchase a tray of fish for $7 ($6 for annual passholders). There are no exceptions to this rule — even if you just want to take photos of your kids petting the dolphins. Our solution is to purchase four trays and give each child two so their experience lasts longer and we have more opportunities to videotape and capture images.
Even with double the fish, the feeding goes by quickly. The dolphins will swim right up to the edge of the pool and open their mouths, waiting for the fish, not unlike dogs begging for food. Guests are instructed to pet them under the chin as they drop the food in. My daughter never gets tired of doing this, even though she finds the dead fish gross. Sometimes when she's feeding I manage to sneak in a friendly pat — no fish for me, thanks!
During the dolphin feedings, SeaWorld photographers will stand on the opposite side of the pool and take photos, which you can view immediately afterward. We haven't had much luck with the professional photos but we have managed to take quite a few memorable shots on our own. When the group feeding is finished, guests are directed to the hand-washing station to clean up.
Dolphin Nursery
A short walk from Dolphin Cove, guests will find the Dolphin Nursery, an area for pregnant dolphins, mothers and babies to bond without interference from the males of their species. This is a smaller dolphin pool, but the view from the sides is quite good. SeaWorld Orlando recently announced that mom dolphin Starkey gave birth to a baby on June 30, and both can be seen in the nursery.
Dolphins Up Close Tour
If you want to interact with the moms and babies, it's time to sign up for the Dolphins Up Close Tour. This experience begins at the nursery where guests learn how SeaWorld cares for dolphins and then they participate in a scatter feed. The technique of dropping fish all over an area of the pool at the same time mimics feeding in the wild and helps teach baby dolphins to hunt for food. Trainers then guide the older dolphins through a few tricks for the viewers.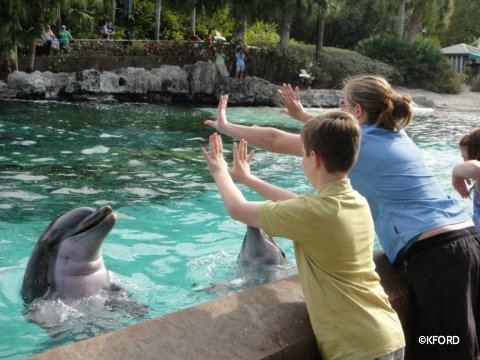 Next, the group walks to the gated area of Dolphin Cove for the most exciting part of the tour — some one-on-one time with a dolphin and a trainer who will teach participating guests basic hand signals. My kids were thrilled when our dolphin responded to their motions. They also had plenty of time to pet the dolphin and we got some great photos.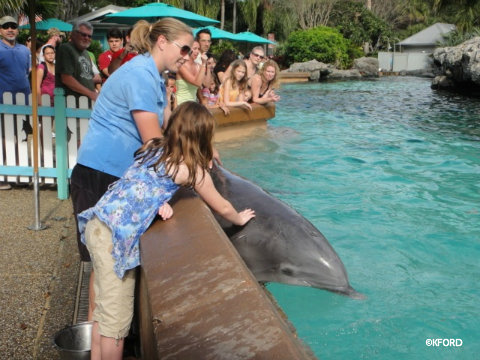 My family participated in the Dolphins Up Close Tour at the beginning of the year during the Just For Kids festival, when children were free with a paid adult. Normally tickets for the tour are $50 for an adult and $30 for a child ages 3 to 9.
Other dolphin experiences
We are planning to go to two other SeaWorld Orlando properties this year for dolphin experiences, and I'll be bringing you the details on what to expect if you are planning similar trips. We're heading to Discovery Cove, where both kids will swim with the dolphins for their birthdays, and Aquatica, where we plan to slide right by all those smiling creatures when we're playing at the water park.
If you're going to be visiting Walt Disney World, there are a couple of dolphin programs there, as well.