When it comes to dining at Downtown Disney, I have a certain group of restaurants that are my favorites which I tend to go to again and again. On a recent trip to Downtown Disney, however, I decided to try a restaurant that I have never even set foot in despite the countless times I have walked past it or seen it from across the lake. Cap'n Jack's Restaurant certainly does not have the name recognition of some of the other dining locations at Downtown Disney and curiously, amongst my friends, family, and coworkers, no one I talked to had ever dined there either; all I really knew about it was that it is primarily a seafood restaurant.
With the wide variety of dining choices at Downtown Disney, Cap'n Jack's seems to get overlooked. However, sometimes these lesser-known restaurants can surprise you and turn out to be some of the best. Given the restaurant's relative obscurity, I was very curious to finally give it a try, especially since I am the type of person always willing to try something new.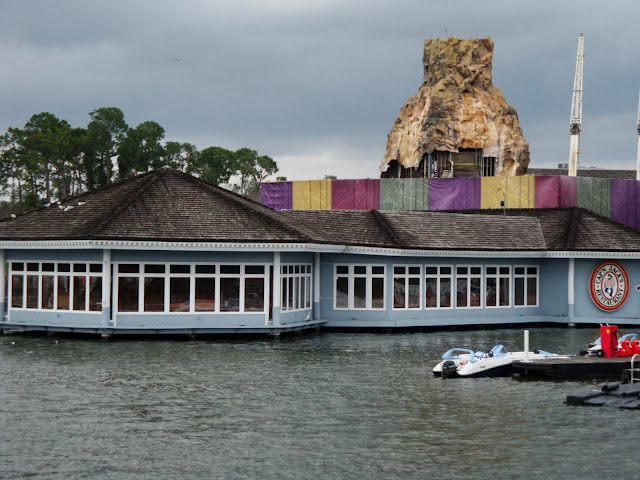 Overview:
The area that is now the Downtown Disney Marketplace actually dates all the way back to March 22, 1975 when the area first opened as the Lake Buena Vista Shopping Village. The area was first promoted as a "restful shopping atmosphere similar to a New England seaside village" and included a wine cellar, tobacco shop, pharmacy, pet store, and small kiosks to watch craftspeople make candles, pottery and candy. If you look closely at the design of the buildings in the Marketplace section of Downtown Disney, you can still see remnants of that original seaside village theme and, of course, no seaside village would be complete without a seafood restaurant.
I never realized this, but Cap'n Jack's was one of the original restaurants at the Shopping Village when it opened in 1975, making it one of the older dining locations in all of Disney World. Being a Disney history buff, this gave me much more respect for the restaurant knowing that it had been around for that long. While numerous other restaurants at Downtown Disney have come and gone, Cap'n Jack's has withstood the test of time, so clearly they have to be doing something right.
Atmosphere:
The first thing that really stands out about Cap'n Jack's is its location; the restaurant literally sits right on top of the water. Its shape and location give the restaurant an appearance similar to that of Narcoossee's at the Grand Floridian.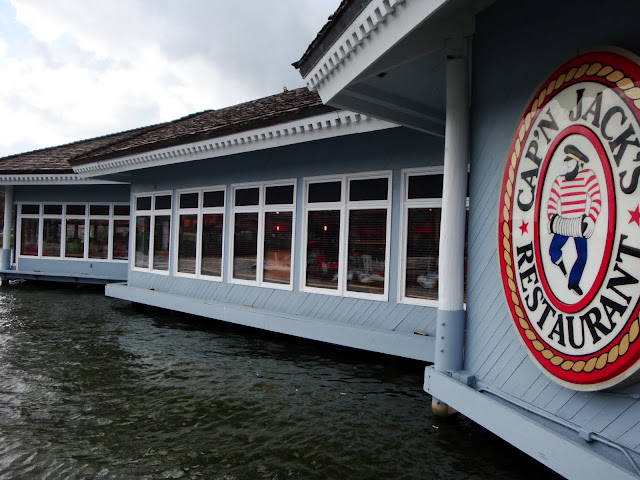 Once you have entered Cap'n Jack's the atmosphere is quintessential nautical New England. The hardwood floors and wood-paneled walls set the tone for the dining room, but the theming is taken even further with all the little details of the décor.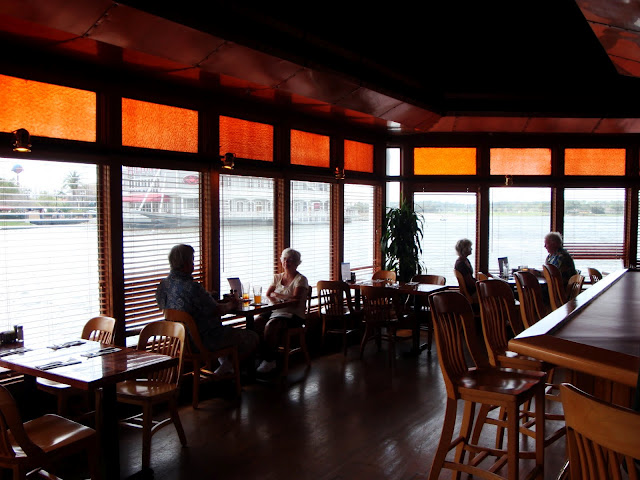 All around the restaurant you will find various bits of seafaring and nautical touches, ranging from ship's wheels, compasses, and other navigational equipment to lobster traps.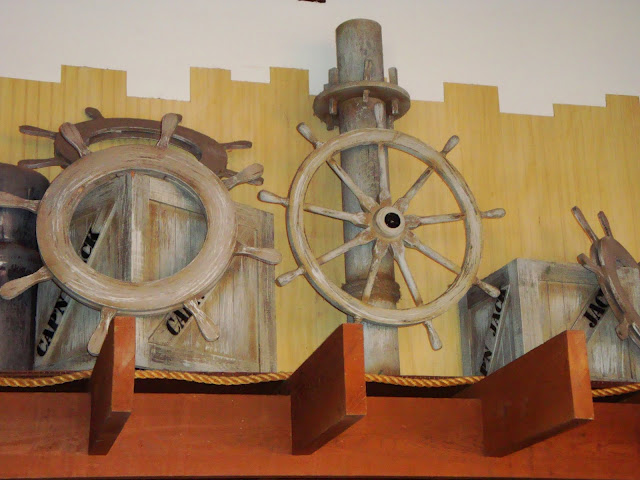 Along the walls of the dining room are numerous black and white photographs and paintings of sailing vessels, steamships, and lighthouses, all of which lend an added degree of authenticity to the dining experience. There were certainly elements of the dining room that reminded me of seafood restaurants I have been to back home in Rhode Island.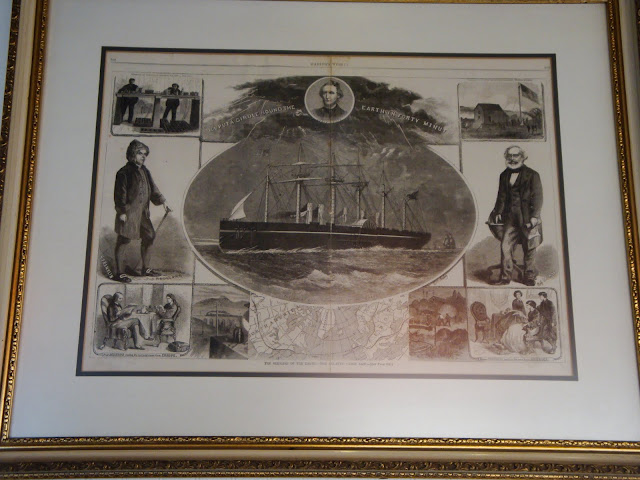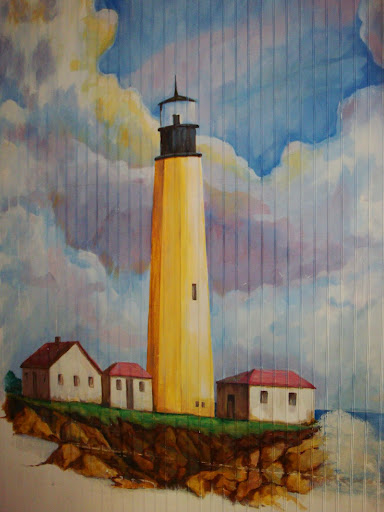 The only element that betrayed the theming of the restaurant was the music that was playing. I found it odd that despite the New England-style décor the music was predominantly tropical. I entered the restaurant hearing Jimmy Buffett singing Margaretville and throughout the course of my meal there was various calypso, reggae, and other Caribbean-sounding music. One song I heard that I found to be both a funny and ironic twist on the restaurant's theme was "Come Sail Away" by Styx.
The real allure of the restaurant, however, rests not in its nautical décor but with the tremendous views offered from its numerous windows. As noted earlier, the restaurant juts out into the lake, which means that the dining room's circular shape offers great panoramic views from all sides of Downtown Disney and Saratoga Springs. In addition, the tables are positioned in such a way that no matter where you sit you will have a good view outside.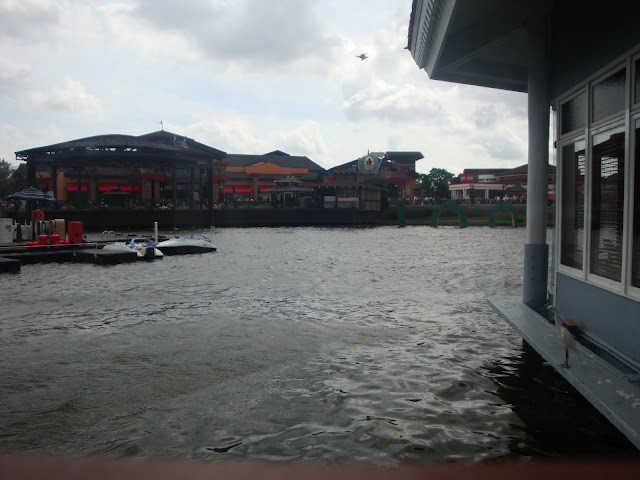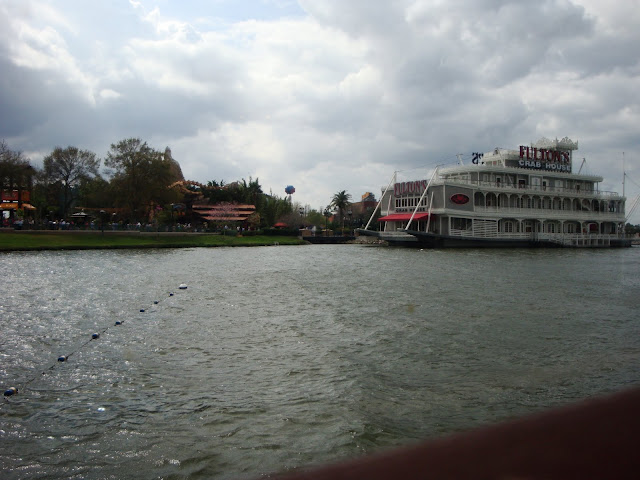 The overall feel of the restaurant is casual and laid-back. The dining room even features a large bar that makes the perfect place to come and enjoy a drink while taking in the beautiful views.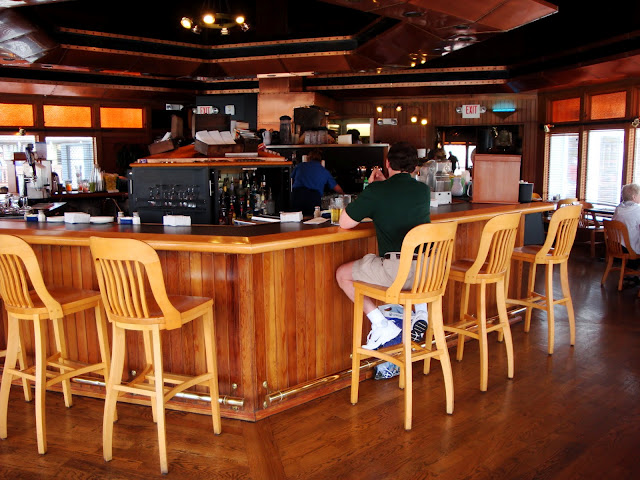 It is certainly a restaurant that can be enjoyed by families travelling with smaller children, but also by adults. In this way, Cap'n Jack's offers a nice alternative for those in the mood for seafood but looking for something a little more family-friendly and relaxing than Fulton's Crab House located just across the lake.
The Menu:
Originally being from New England I love all types of seafood, so I was excited to see what Cap'n Jack's menu had to offer. Unfortunately, I was a little disappointed with the selection. I found the menu to be pretty straight forward, featuring many standard seafood dishes with nothing too exotic or extreme.
There were not too many appetizer offerings to choose from and they included Peel N' Eat Shrimp for Two ($13.99) served with cocktail sauce, Smoked Trout Fillet with Horseradish Cream ($8.99), Spinach & Artichoke Dip ($7.49), a Mixed Greens Salad ($5.49) with a choice of ranch dressing or papaya vinaigrette, Hearty Vegetable Soup ($3.99), and New England Clam Chowder ($5.49).
Because I went during lunchtime, there are some offerings that are only available during the day. These sandwiches provide some additional choices to a menu that is not too large. The lunch options include an Open-Faced Crab Cake Melt Sandwich ($18.99) served on top of garlic focaccia bread topped with tomato, tartar sauce, and melted provolone, a Cajun Tilapia Sandwich ($12.99) on a toasted hoagie roll with a house-made tartar sauce, topped with sliced tomato and onion, an Open-Faced Chicken Parmesan Sandwich ($13.99) on top of garlic focaccia bread, a Pot Roast Sandwich ($12.99) served on a toasted garlic hoagie roll and topped with onions and melted provolone cheese, and a Tuna Nicoise Sandwich ($11.49) which includes white albacore tuna mixed with potato, green beans, eggs and a vinaigrette dressing served on a croissant with sliced tomato, onion, and lettuce.
The rest of the items on the menu are available for both lunch and dinner and consist of primarily seafood offerings. However, being originally from New England and having been exposed to so many varieties of seafood dishes while living there, I was very disappointed with the limited scope and diversity of the menu.
The entrée offerings include Jumbo Lump Crab Cakes ($24.99) with Cajun mustard aioli, green asparagus tips, and roasted garlic red skin potatoes, Roast Chicken Breast ($18.99) with sherry wine sauce, mashed potatoes and seasonal vegetables, Citrus Shrimp Salad ($15.99) that includes assorted greens, marinated shrimp, papaya, apple, and tomato with a citrus vinaigrette, a Baked Salmon Fillet ($19.99) with citrus-caper butter sauce, buttered steamed potatoes, and seasonal vegetables, a Baked Tilapia Filet ($19.99) with a cool mango salsa, rice pilaf, and seasonal vegetables, Caesar Salad with Blue Crab Meat ($15.99), with Grilled Chicken Breast ($12.99), with Salmon Fillet ($16.49), or with Shrimp ($14.49), Penne Pasta Alfredo ($13.99), with blue crab meat ($19.99), with grilled chicken breast ($19.99), or with Shrimp ($18.99), Old Fashioned Beef Pot Roast ($17.99) with onion ragout, red-skin mashed potatoes, and seasonal vegetables, and Shrimp and Penne Pasta ($19.99) in a creamy lobster sauce.
The dessert offerings are limited and fairly uninspired. Among the choices are a Double Chocolate Cake with Ice Cream ($5.99) drizzled with Caramel Sauce and Raspberry Sauce, Key Lime Pie ($5.49), White Chocolate Raspberry New York Cheesecake ($5.49), and a Fresh Fruit Salad ($4.99). I would much rather pass on dessert altogether here and head to the nearby Ghirardelli Soda Fountain for one of their delicious sundaes.
For an appetizer I decided to try the New England Clam Chowder. I am very picky when it comes to chowder and have had it in more restaurants than I can count. The chowder at Cap'n Jack's was not bad, but it was certainly not something to write home about; there was nothing really special about it that made it stand out. I prefer my chowder to be a little on the thicker side and this one was a little thin, but it still had a nice creamy flavor. While the chowder had a generous amount of clams and potatoes, they were chopped up into very small pieces. Personally, I think having larger pieces of potato and clams in chowder allows you to enjoy their flavors more because they stand out and don't get lost in the flavor of the broth.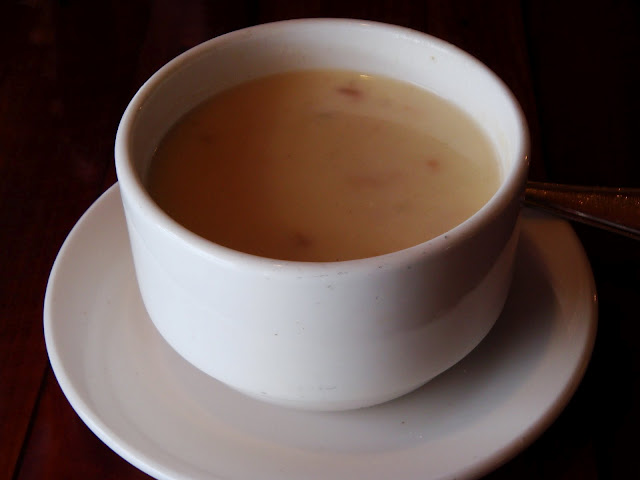 A big test for me when it comes to chowder is how much pepper I need to add. The best chowders are those that can stand alone by themselves and don't need any pepper for extra flavor. The chowder at Cap'n Jack's was just a little bland and I needed to add a bit of pepper to kick it up a notch.
For my entrée I decided on the Open-Faced Crab Cake Melt Sandwich. This dish is really a sandwich in name only as it would be difficult to eat without the assistance of a knife and fork. I was happy to find that this dish was much more flavorful than the chowder. To start, the focaccia bread was toasted to a nice golden brown so that it was crispy on top but still soft inside. The bread was flavored with herbs and garlic, but I did not find these to be too strong so as to overpower the crab cake. Instead, the focaccia paired very well with the crab cake while also providing a nice contrast in texture.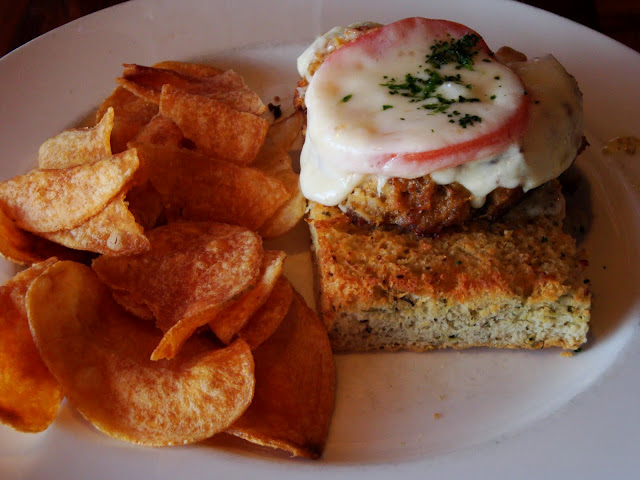 The crab cake itself was very good. I have had crab cakes elsewhere that combine so many other ingredients with the crab that they actually start to take away from the crab's flavor. This was not the case here. Not only did the crab cake have nice-sized chunks of crabmeat, but it was also extremely moist. I was not sure how the provolone cheese was going to pair with the crab cake and was scared that it might be too strong and overpower the crab. I was pleasantly surprised to find that the flavor of the cheese actually went along very well with the crab. The only part of the sandwich that I did not care for was the tomato that topped the crab cake; its flavor just stood out too much and took away from that of the crab.
Overall, I was pleased with my meal. Was it the best meal that I have ever had at Disney? No, but I would not say it was bad by any means. However, I do feel that the restaurant is missing a golden opportunity by not offering a wider array of seafood dishes. The menu is very simple and if I am really in the mood for seafood there are several other restaurants at Disney World that I would go to before coming back here because of their more diverse offerings.
Service:
The one thing that stood out most about the service at Cap'n Jack's was how slow it was. I did not have a reservation but was still seated right away, which was great especially considering that it was a Saturday afternoon. Once I was seated, however, it was a very long time before my server ever came to my table. This was a constant theme throughout the course of the meal. It took a long time for me to get my drink, my appetizer, my entrée, and my bill at the end of the meal. I really cannot understand why the service was so slow either because the restaurant was not exactly crowded. I am all for having a calm and relaxing meal when I go out to eat, but this was bordering on being unbearable. If you are in a rush and looking for a quick meal, this is definitely not the restaurant for you.
Dining on a Budget:
One positive thing about Cap'n Jack's menu is that all the dishes are fairly reasonable by Disney standards. If going for lunch the sandwiches are an especially good value. If you have your heart set on crab cakes, I would definitely recommend getting the sandwich for lunch as it is $6 cheaper than the crab cake meal and is still very filling. Even other items like the Citrus Shrimp Salad for $15.99 or the Caesar Salad with Shrimp for $14.49 are a good deal. It is prices like these that make Cap'n Jack's an alternative if you are at Downtown Disney, in the mood for seafood, but do not necessarily want to have an expensive meal at Fulton's Crab House.
Cap'n Jack's does participate in the Disney Dining Plan and is worth one table service credit for both lunch and dinner. In addition, Annual Passholders receive a 10% discount for lunch as do Disney Vacation Club members. Cap'n Jack's also participates in Tables in Wonderland, offering its members a 20% discount.
The Overall Experience:
This was my first ever experience with Cap'n Jack's and, while I am glad that I tried it at least once, I have other restaurants at Downtown Disney that I enjoy much more. However, if you have a situation where you are looking for somewhere to eat at Downtown Disney and there are long waits at all of the restaurants, Cap'n Jack's lesser-known status makes it easier to get a table. This is probably the only way that I would find myself eating at Cap'n Jack's again; this is not a restaurant that I would specifically plan a trip to Downtown Disney to go an eat at.
The restaurant has a lot of nice things about it, such as its beautiful location right out on the water and its charming New England nautical theme, but there are other aspects that leave more to be desired (such as the menu needing a complete makeover). One of the great things about Disney World is that there are so many different dining locations available, so even if you try Cap'n Jack's and find that it is not quite to your liking there are several other restaurants across property that specialize in seafood available for you to try.
See past reviews by Guest Blogger Andrew Rossi.
Check out Reader Reviews of Cap'n Jack's Restaurant and post your own too!