This was Challenge #154:

And here's the answer: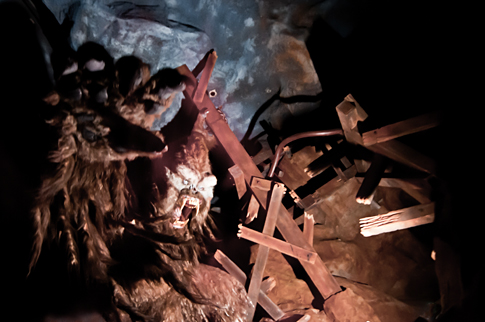 Copyright © 2010 Barrie Brewer, Nikon D300, 18-200mm VR, 1/6s shutter, f/2.8, ISO 3200
This handsome dude can be found hanging out on Expedition Everest in Disney's Animal Kingdom. He is an Audio-Animatronic Yeti but unfortunately has only been operating in "B mode" for most of his life.
Jennifer Lalli was the first to send in the correct answer for the challenge! Congratulations to Jennifer and all the other readers who got the answer right: Hillary Waldroop, Linda Scrivano, Donnie, Karen Nelson, Daniel Record, Caryn Schill, Kelli Olthoff, Emma Poprock, Jen Cerce, Kyle Buff, Sharon Pierce, Ken Maikowski, Bruce Hinterleitner, Alfred Whiting, Rich Kacprowicz, Timmy Saunders, Doug, Roxanne Kliebert, Mia W., David, Phil Vickers, Sandra Shaw, Cindy Dore', Leigh Mertz, Kris Nixon, Double Family, Sharon Lee, Mark Hoban, Bryan Timko, Paul Dickson, Derek Carty, Lee, Dillon Buff, Candace Dadswell, Mary Beth Tarbet, Dave Wang, Marcia Mardirosian, Emily Currier, The Perras Family, Amanda Campbell, Kristen Mccoy, Debra Kuklinski, Tim Johansen, Chloe, Linda Mac, Louise Barton, Tim Jeltes, Kellie Harpel, Creese Family, Jennifer Horst, Kelly Mager, Betsy Silvestri, The Kahle Family, Lauren Thomas, Nicole R., Jim Thompson, Brian Gallant, Kelly, Tom Koval, Mary Virginia Clause, Kim Meyer, Kim Steiner, Aiden And Camryn Mcmeekin, Kelsi B., Terri Uchtman, Mike Walter, Steve Pocopanni, Boris Beckert, Deb Mangini, Dale Knight, Carla C, Misty Mehelic, Christopher Tweedle, Joshua Swainston, Collette Beuther, Angie Young, Belicia Dawson, Scot Cullen, Jodi Cook, Amy Schweizer, Erika Loboda, Jackie, James Greene, Diana Fitzgerald, Joyce Tofflemire, Seth Walker, Karen Hotchkiss, Deirdre Lewis, Jillian Smith, Christopher Barnes, Jeremy Coto, Suzanne, Brenda Hawk, Les Whitten, Laura Whitten, Clarissa K, Chris Connors, Stephanie Caskey, Daniel Mills, Linda Kasych, Spencer Hart, Rob Blundin, Karen Genda, Becky Terjung, Jim Finley, Danielle Aston, Clay Anthony, Tom Hermes, Gabby Stapp, Colin Buchanan, Scott Stubbs, Brian Haas, Kevin, Mike M., Cara Richards, Maureen Hanlon, Reagan Herman, Ken Fischler, Wendy Crober, Marina Crober, Susan Doucette, Vicki Edwards, Cameron Lange, Andrea Weedmark, Gennaro Rosato, Bruce Jones, Anne Hainsworth, Kelly Kobiela, Elizabeth Scarborough, Ken Jackson, Jamie K, Evan Gentile, Jason Wright, Erin Hammer, Andrew Weed, Allison Caputa, Kristen Carde, Wendy Snelgrove, Scott Greenbaum, J Brizzle, Wade A. Williams, Valerie Rodgers, Linda College, Jenn Steele, Terr Fleming, Brian Yesutis, Blake Schmidt, Michelle Wilinski, Diane Ramos, Michelle Kanger, Sarah Holodick, Tiffany W., Matthew Jadro, Jessica Cutler, Christine And Erin Claeys, Hannah M., Mike Cerce, Russ Morgan, Elaine Tomko-deluca, Sara M., Jennifer Mers, Bob Hendrix, Beth Finn, Colin Christenson, Angela Fennell, Victoria, Tina Krueger, Patrick Culpepper, Michael Timmer, Lisa Graham, Nathalie Doironw, James Berry, Kathy Berry, Susie Howard, Chris Kelly, Steve Benson, Webber Family, Megan K, Elaine Johnson, Linda Abbate, Stephanie Canales, Drew Deapo, Carrie Kenney, Stephanie Newell, John Dupre, Carri Marotto, Jen Schultz, Jen Norris, Mike Berryhill, Tena Keys, Bruce Lawson, Dan Owens, Lisa Jones, Kimberly Moore, Jamie Poynton, Tammy Kallenbach, Shirley Garcowski, Dennis Blackburn, Lisa Laskowski, Ray Stephenson, Peggy Saeger, Laney Wood, Walter N. Clark, Brenda Strohmeyer, Greg Stevenson, Heather Pedulla, Kevin Geiger, Morgan Mccalip, Joseph M Zafia, Jackie Brown, Zac & nathan, Chris Hills, Caitlin Rush, Kim Degroat, Christopher Bourassa, Mickey Eckert, Gregg Mcglasson, Kelly Zanauskas, Roye Ann Morris, Mary Tackett, Kate Fanning, Christine Dagney, Madi M., Jean Ehlert, Ansley, Kerry, Mckenzie Donald, Sandy, Jerry Weldon, Christy Schor, Leah Nan Broussard, Liz Patterson, Chuck Sands, Melissa Demonbreun, Jason Skow, Victoria Finnegan, Michelle Bates, Tiago De Oliveira, Katerina Purdy, Paula Massarelli and Dan! Each of you will be entered in this month's winners' drawing.
_______________________________________________________________________
Challenge #155: Where in the world is this?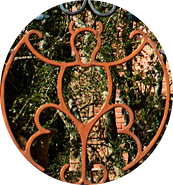 Do you know? Do you have a guess? Please send in your answer, before the end of the day on Thursday, December 9, by clicking on the blue box below. Please do not post answers using the Feedback Form link at the bottom of this post. Remember to be specific with your answer – just naming a park will not get you into the drawing.


_______________________________________________________________________
Everyone who sends in a correct answer to a Where in the World Challenge this month will be entered in a drawing at the end of the month for some special AllEars® goodies and a cool Disney book!