In Part Two of my Horizons blog I'm going to take you on a ride through this great attraction.
As many travel ads say, "Getting there is half the fun." When guests entered the Horizons building, they found themselves in FuturePort, a Transportation Terminal of the future. A large departure board listed some of the destinations we could travel to from this terminal. If you notice, HORIZONS is highlighted and leaving via SHUTTLE from gate 4A and is NOW BOARDING. Also in the terminal were large octagonal windows showing pictures of far off locales. These represented the travel posters of the future. All the while, overhead speakers announced the arrivals and departures from other far off locations.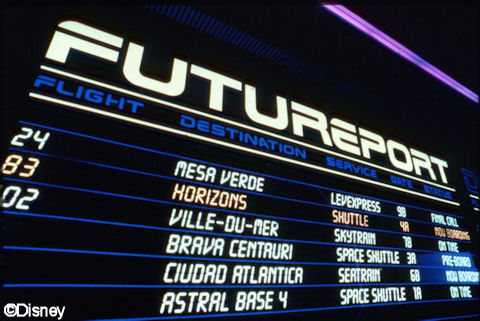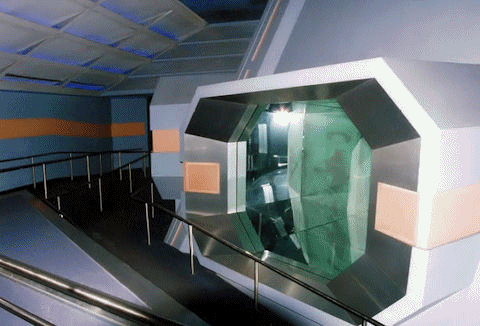 Shortly after we were seated in our car, an on-board announcement proclaimed, "Horizons One is now departing. Our final destination today – the twenty-first century." But before we visited the future, we were transported into the past to see how previous visionaries predicted life would unfold in the coming years. Our vehicle passed by drawings of the Icarus legend, early renderings of flying machines, and a man studying a cage full of birds. Eventually we came to our first Audio-Animatronics vignette. Here we saw Jules Verne and a chicken floating in a bullet-shaped spacecraft. This scene was inspired by his work "From the Earth to the Moon" in which he uses a canon to propel his spacecraft toward this celestial body.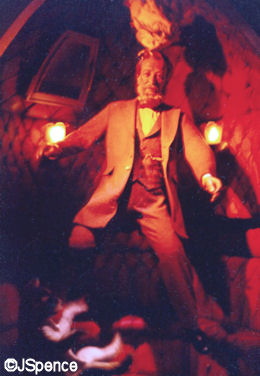 The next scene comes from French filmmaker Georges Méliès' movie "A Trip to the Moon" (Le voyage dans la Lune) made in 1902 which was based loosely on both "From the Earth to the Moon" and "The First Men in the Moon" by H. G. Wells.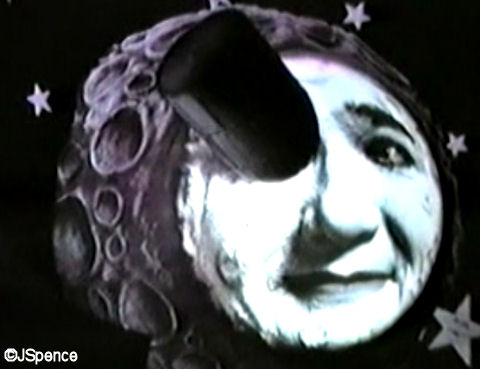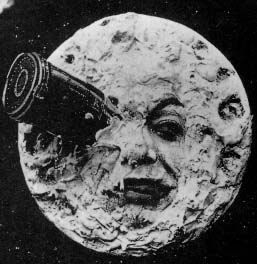 As our journey continues, we see how another Frenchman, Albert Robida, visualized the future. Robida was a prolific illustrator and during the late 19th and early 20th centuries he created hundreds of drawings depicting the future. The next scene in Horizons portrayed his conception of Paris in 1950 using stylized enlargements and animations of a number of his illustrations. Unfortunately, I don't have any pictures of this section of the attraction. So I'm posting two of Robida's renderings to help give you an idea as to what this portion of the ride was like.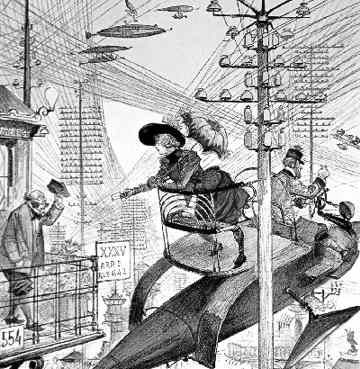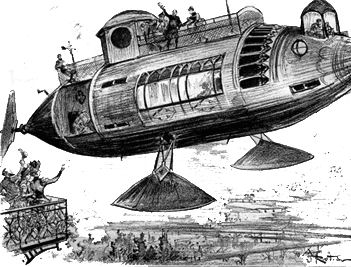 Next we jump to the 1930's and possibly the most memorable scene in the attraction. This vignette takes place in a high-rise apartment where we find a robotic butler attending to the household chores. Meanwhile, his owner contemplates the good life while staring out at a vibrant city through floor to ceiling windows.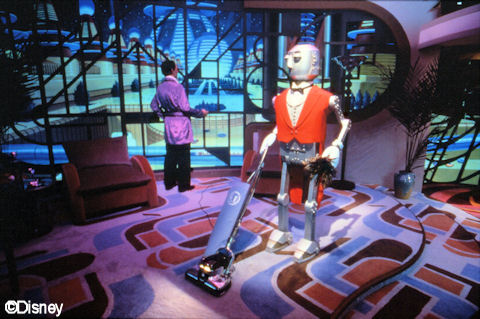 Nearby, another gentleman receives an automated haircut and shoeshine while getting a custom suntan. With just a flick of a switch he can choose rays from the Bahamas, Hawaii, or Florida.
On the second floor, a woman takes a bubble bath while watching television. The channel selected features a young man singing "There's a Great Big Beautiful Tomorrow" from the Carousel of Progress attraction. This same rendition can still be heard on this Magic Kingdom favorite.
Further on, a multi-armed robot multitasks by pouring the cat milk, washing dishes, sweeping the floor, and flipping eggs all at the same time – with dubious results.
Our next stop is Neon City. Here, brightly colored strands of light created a two-dimensional vision of our future. A keen observer could even make out the outline of Disneyland and Monsanto's House of the Future. Also presented in this section were old movie and television clips that foretold our future, including some footage from the Disneyland TV show.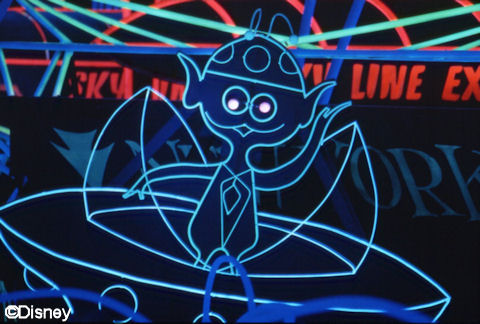 As our journey continued, we entered "present day" and were surrounded by two huge OMNIMAX screens. The ride vehicles were positioned perfectly to afford everyone the optimal view. For the next two minutes we were immersed in visions of the sun, colonies in space, microprocessors, crystals, oceans, the launching of the space shuttle, and a DNA molecule. It was an impressive sight, indeed.
As we exited the OMNIMAX room, we're told that these marvelous inventions and discoveries are the building blocks for our future. As we turn the corner, we see what lies ahead in twenty-first- century Nova City and we're introduced to the narrators whose voices we've been hearing from our vehicle's speakers. Seated in a modern living room is a couple in their mid-sixties, still active and youthful-looking due to advances in medicine. The husband is playing a Theremin-organ, an instrument that can be activated without actually touching the device. Named after its Russian inventor, this device senses hand movement. One hand controls the pitch while the other controls the volume. If you want to play with a modified version of this technology, head over to the Imagination Pavilion and check out the ImageWorks section at the end of the ride.
While hubby is busy composing music, his wife is chatting with their daughter in Mesa Verde via a three-dimensional holographic televiewer.
Looking out their windows we see fantastic Nova City. Here, mag-lev (magnetic levitation) trains were depicted. These trains, which float above the track, are not slowed by friction and thus can travel more rapidly than their predecessors. The message"¦ Far off places are closer than ever.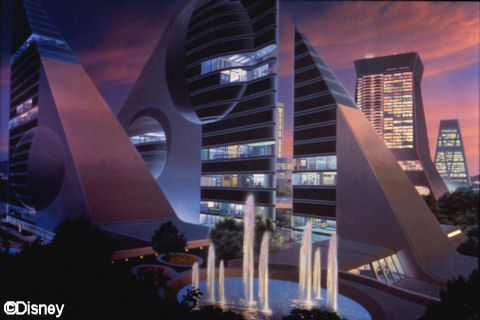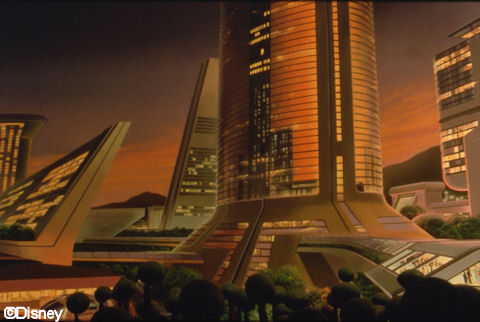 We next pass by an array of unusual fruits and vegetables. We're told that these are the products of genetic engineering. This scene provided a nice transition as we entered the far off farming community of Mesa Verde.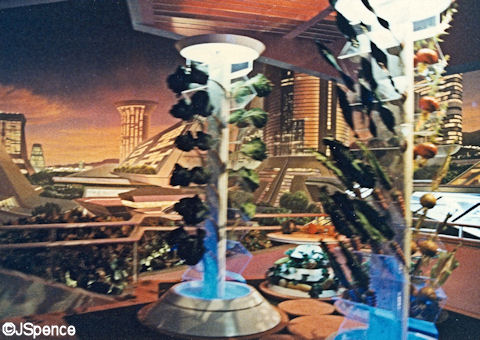 In Mesa Verde, we saw that once barren desert had been transformed into fertile land. The scent of oranges filled the room. We were also introduced to the city couple's daughter, who, after seven years of college has become a hydro-cultural engineer. Using voice activated controls, she directs automated harvesting of the crops while talking with her mother in Nova City. Notice the hover craft in the second picture. This prop can be seen today on the Tram Tour at the Walt Disney Studios Paris.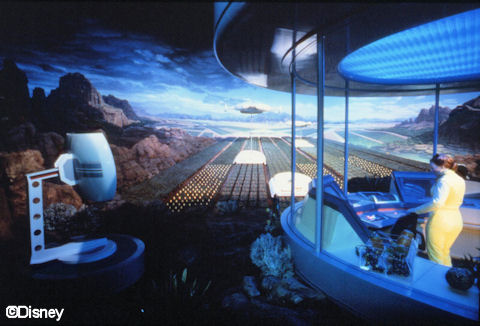 Nearby, the "farmer's" husband could be seen in their kitchen, tending to their son. He was also hard at work baking a birthday cake for an upcoming party. Notice the role reversal between husband and wife. This concept was far more dramatic in the 1980's.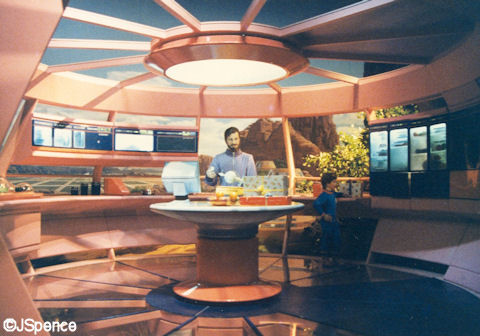 In the family room next door, we meet the farming couple's daughter. She is supposed to be doing her homework, but instead is talking to her boyfriend via a large-screen picture phone. This telephone conversation was used as a transition device to move the story from the desert to the ocean.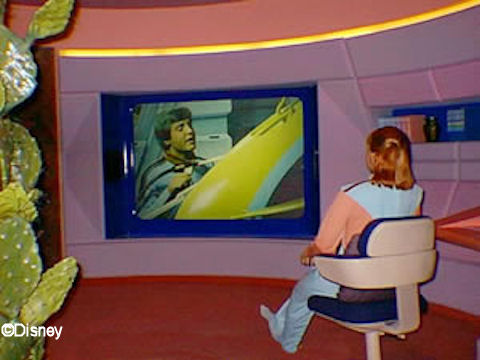 When we arrive at Sea Castle City, a new floating community, we see her boyfriend working on his one-man submarine. The boyfriend is actually played by Tom Fitzgerald, the Disney Imagineer who was the main story writer for the attraction.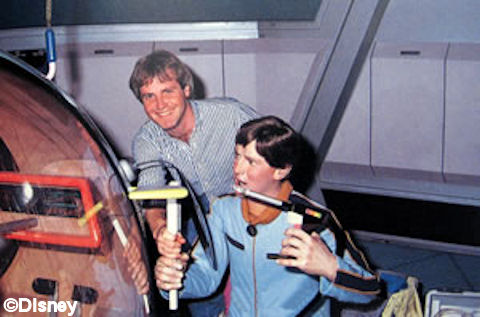 As we explore Sea Castle City further, we observe a classroom where young children are learning to scuba dive. At the underwater resort, windows look out into the ocean and we see guests peering into the deep and diners enjoying a meal at a submerged restaurant.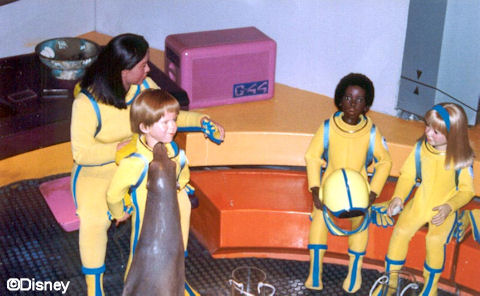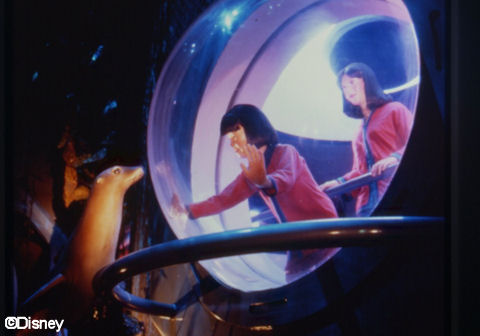 Continuing our ocean journey we see kelp farming on the water's surface which provides both food and fuel. On the sea floor, a robot harvester collects manganese-rich nodules. As we dive deeper, light grows dim and we transition to the inkiness of outer space. Floating before us are astronauts working on various pieces of equipment and a space colony rotating in the distance. We enter the space colony and see a community complete with roads, residences, lakes and even a sports stadium.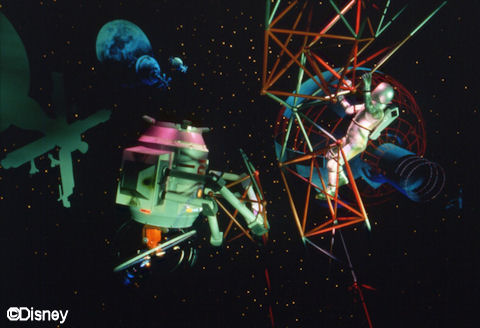 As we look closer at some of the facilities within the colony, we discover a weightless gym complete with cycling and martial arts classes. And at the docking port, we're introduced to the Nova City couple's son and family as they arrive at Brava Centauri and become accustomed to weightlessness for the first time.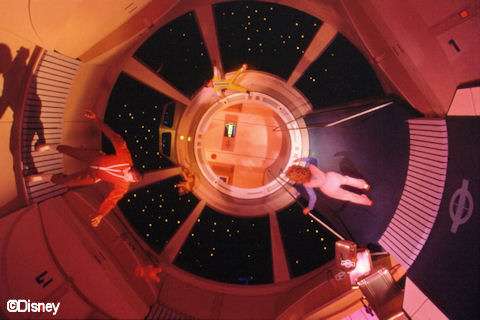 We're told one reason for colonizing space is to develop new industries and create products superior to those manufactured on earth. Crystals, which can be grown larger and purer, show promise in this endeavor.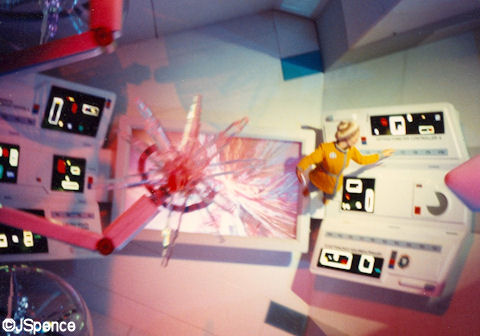 The final vignette shows the family coming together from their various locations to celebrate a birthday. With the use of three-dimensional holographic televiewers, it's almost like everyone is actually in attendance.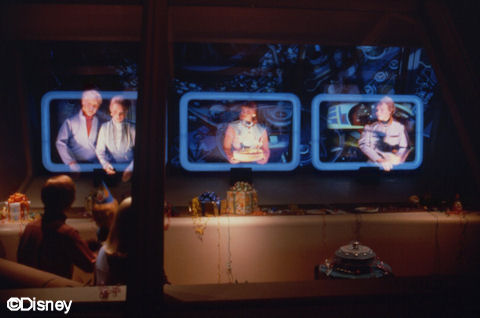 After the birthday party, the following announcement was made: "Attention Horizons passengers. You are invited to choose your own flight path back to the FuturePort. Please look down at the lighted panels in front of you. Press one of the three ride choices: Space, Desert, or Under Sea. Everyone can choose, majority rules. All passengers, make your selections now."
As you continued to move forward, privacy screens were lowered to each side of the vehicle as you moved in front of a monitor. A 31-second video then played showing the simulated adventure selected. To be honest, I was never blown away by this effect. After the elaborate nature of the rest of the attraction, this portion of the ride was somewhat anticlimactic – but it was unique and made me want to ride again just so I could experience all three endings.
I hope you've enjoyed this trip down memory lane. I know many people mourn the loss of this wonderful attraction. I know I do. It was nice to be entertained with Disney magic for almost fifteen minutes. But times have changed and the public now wants more thrills than this sedate attraction offered.
In October 1986 I visited Walt Disney World carrying one of those gigantic "portable" video cameras.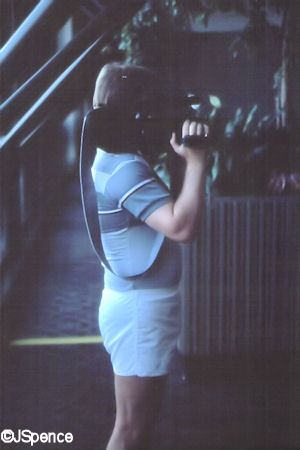 In those days, we did not have video editing equipment. What you shot was what you got. While on that trip, I filmed a reasonable portion of the Horizons attraction. I have taken that video, added a few still pictures and a new soundtrack in an effort to make a presentable presentation for you to watch. It's a long way from perfect, but I hope it brings back some pleasant memories for you. Enjoy.