One evening, I met Jim and Mark, two friends and neighbors of mine, at the California Grill Restaurant. It was their first time to dine there.
We had reservations for 9 p.m. or so, but we arrived at opening (5:30 p.m.) in hopes of getting an earlier seating. It worked! After about 40 minutes, we were seated in the table area to the right, where we had a great view of Cinderella Castle.
As you can see in the photo, Mark and Jim (with the red wine) were impressed with this fine venue.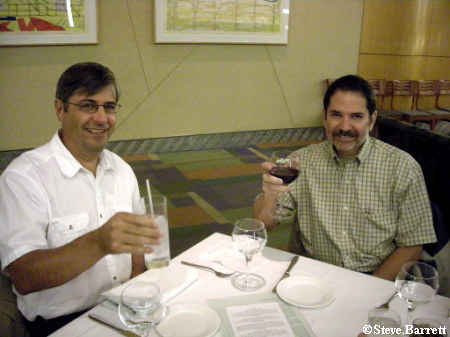 After sunset, we walked to the outside viewing area overlooking the Magic Kingdom from 15 floors up. We watched Cinderella Castle change colors.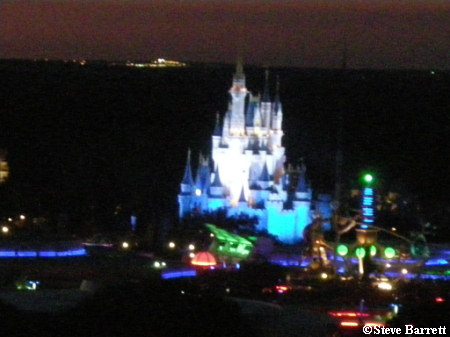 We had a panoramic view of the Wishes fireworks show.

We all had good food and a fun evening at the California Grill!
Although it was Saturday night and I knew it would be crowded, I suggested we meet up at Jellyrolls on the BoardWalk. Sure enough, it was standing room only inside the dueling pianos club. At least, Mark and Jim now know about this great night spot, and we'll return soon when it's not so crowded.
The next day, I rode Pirates of the Caribbean several times looking for Hidden Mickeys.
Several locks on the left side at the end of the boat ride are decent classic (three-circle) Mickeys and are more convincing Mickey images than the lock on the jail cell door (to the right of the boat). This lock with a key is on the left door at the entrance opening of the treasure room. (Thanks to Sharon Dale, and Kristy, Scott, Jim and Kim Todd)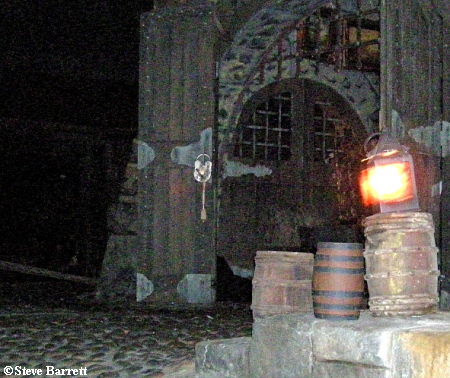 Read more about Steve's Hidden Mickey finds on AllEars.net
Steve maintains a Catalog of Hidden Mickeys on the Hidden Mickeys Guide.