When I returned to the hotel I called WDW Dining and was able to get a reservation at the Brown Derby for dinner at 6:15pm. I lucked out since there was only one show of Fantasmic so anyone on the Fantasmic Dinner Package would be finishing by that time.
As I walked toward the Hat I noticed people lining up. I knew the parade had been earlier so I inquired as to what was going on. Turns out, High School Musical was about to begin. Sure enough, the music started and a float headed down the street.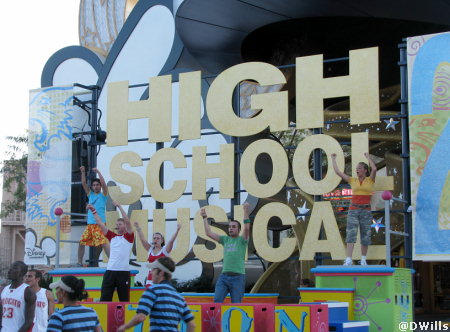 I then wandered to the Brown Derby to get a peak at the dinner menu. I noticed folks were sitting outside and thought that would be wonderful to do.
It has been a long time since I saw the Voyage of the Little Mermaid, one of my favorite attractions at the Studios. My timing was good, so I got into the inside waiting area. I hadn't had a chance to really look around in here before.. there are lots of neat objects to check out.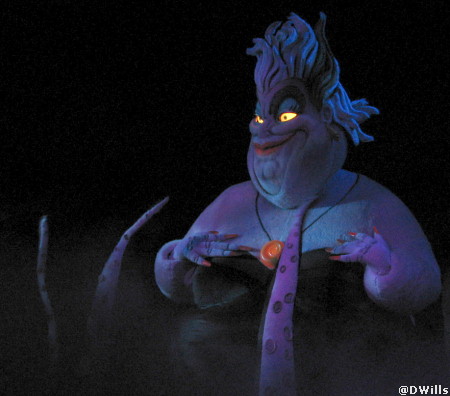 Time for dinner. I had my usual, the Cobb Salad. I really like the mixture of very cut up greens, vegis and meat. A wonderful dinner!!! I did get a table outside and enjoyed people watching as everyone headed over to Fantasmic!
Soon it was dark, dinner was over, and time to leave the Studios before Fantasmic ended!
As I walked to the boat I thought about heading into Epcot and watch IllumiNations. As the boat slowly made it's way along the canal I decided to pass on Epcot. Yet, I wasn't ready to call it a night. I got off at the Boardwalk and wandered around. It was pretty crowded.
A large group of folks were at the ESPN club watching the Super Bowl.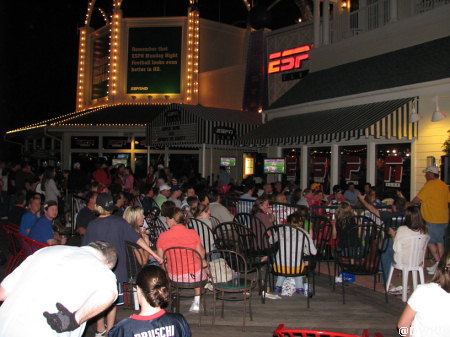 Several entertainment acts were performing. This card trick magician was quite good.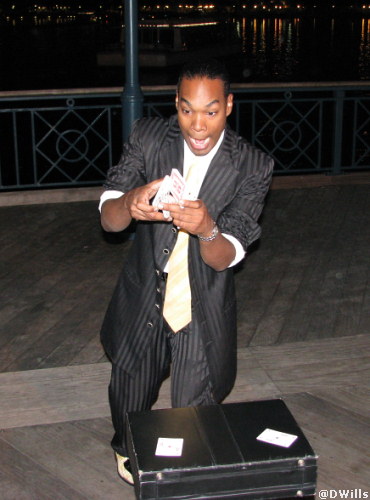 After a while it was time to head back to the Yacht Club. Here's one last shot of the Boardwalk from the Yacht Club.
Early the next morning I got up and headed to the airport. Another trip had come to an end.
Deb
All photos taken with a Canon S5 IS digital camera. Other than cropping, no alterations to the photos were done.