In the Tiki Tiki Tiki… Resort: The Polynesian
by Kristin Ford
AllEars® Staff Writer
Feature Article
This article appeared in the August 6, 2013 Issue #724 of ALL EARS® (ISSN: 1533-0753)
Editor's Note: This story/information was accurate when it was published. Please be sure to confirm all current rates, information and other details before planning your trip.
Leave it to Disney to pull off the ultimate magical trick of convincing vacationers in Florida that they really are in the South Pacific.
But, of course, Disney does, and of the three Walt Disney World resorts on the Magic Kingdom monorail loop, the Polynesian even seems to be the most family friendly. From restaurants that serve meals "family style" to the relaxed tropical-themed environment, families with children of all ages will feel right at home as they are transported to an island-like paradise a world away. My family stayed at the resort for several days in July, and we found plenty to do there without even going into the theme parks.
Disney's Polynesian resort is in the deluxe category, and that certainly is apparent in the elaborate South Pacific theming and the amenities the hotel offers. One of Walt Disney World's original resorts, the Polynesian consists of a Great Ceremonial House — where guest services, restaurants and shops are located — and 11 longhouses, the 2- and 3-story buildings where the guest rooms are situated. Guests can choose from views of Seven Seas Lagoon, unobstructed theme-park vistas or an overlook of the resort's lush landscaping. Standard rooms are quite large, compared with other deluxe resorts, and can sleep five people. In addition, there are Club-level suites. Rooms at the Polynesian are among the most expensive on Disney World property because of the views and the proximity to the Magic Kingdom. (See the rates on the AllEars.Net's Polynesian Resort Fact Sheet.)
We stayed in a standard-view room in the Niue longhouse, which was adjacent to the Great Ceremonial House. We found this location to be ideal for our purposes with young children who wanted to swim morning, noon and night! We could see the quiet pool from our room, and we could easily walk to activities in the lobby and at the main Nanea Volcano Pool. It was a trade-off, however. We first were offered a room farther away that had a balcony. Niue does not have balconies or an elevator, but for us, the central location was key. Plus, Niue already has undergone the room refurbishments that began in January, and the new decor is beautiful.
===============
SWIMMING POOLS
===============
My children spent a lot of time in the pools, and the Nanea Volcano Pool was their favorite with its tunnel slide, zero-entry approach by the beach, jetted bench and waterfall. (The Jungle Cruise is not the only place you can see the back side of water!) Also, in keeping with the South Pacific theme, tropical music is played underwater. Parents of very young children should be aware that the slide, which swimmers ride from the top of the volcano, is primarily covered and pretty dark for most of the ride. Surprisingly, there is no hot tub for adults, which seems like a pretty big oversight. The Polynesian is said to be adding one later this year, though.
The volcano pool faces the Magic Kingdom, and there are white-sand beaches where guests can recline and soak up the sun or play a game of beach volleyball. (Swimming is not permitted in this part of Seven Seas Lagoon.) My family enjoyed breaks from the pool to relax in the hammocks and enjoy the view from the bench swings. Each afternoon, the recreation team hosts games pool side, and my 8-year-old-daughter couldn't wait to participate. From hula-hooping and towel tosses to relay races, there are many kid favorites.
The Ice Cream Drop, a special activity on July Fourth, had teams of two trying to make ice cream cones in a hilarious manner. One person laid on the ground with the cone in his or her mouth (and goggles to cover the eyes) while the other slowly dropped scoops of ice cream, trying to hit the cone. After a certain amount of time, the one with the most ice cream in the cone was declared the winner.
Another sweet treat for guests of all ages is the toasting of marshmallows on the beach each night at 7:30. The supplies are complementary to resort guests. Attesting to the popularity of the traditional campfire, a new, permanent fire pit opened during our visit. Nearby, a movie under the stars is shown each night at 9 p.m. My children never tire of either of these activities.
Of course, the view of the Magic Kingdom fireworks is amazing from the beach or the volcano pool. For years, we have made a dining reservation at one of the Polynesian's restaurants on the Fourth of July and then wandered out to the beach afterward for the patriotic fireworks show. A bonus: The Electrical Water Pageant stops in front of the Polynesian during the fireworks.
===============
RECREATION
===============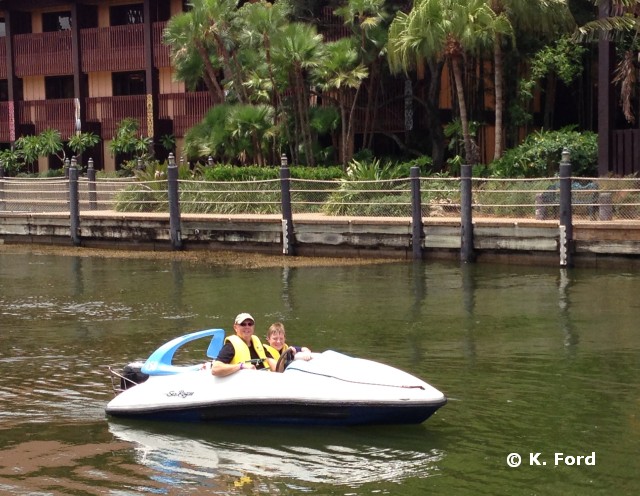 On the other side of the volcano, guests will find the Mikala Canoe Club Marina, where they can rent pontoon boats, canopy boats, sailboats, Sea Raycer boats or Surrey bikes. Guests also can sign up for guided bass fishing excursions and water skiing, tubing, wake boarding, parasailing and personal water crafts at Sammy Duval's Water Sports Centre at Disney's Contemporary Resort. My husband and 10-year-old son rented one of the two-person Sea Racyer "speed" boats and really enjoyed their hour out on Seven Seas Lagoon and Bay Lake. It's a different way to see Walt Disney World, and the prices are fairly reasonable — $45 for an hour. Before promising your youngster the wheel, though, know that you have to be at least 12 years old to drive. Also, the marina closes for inclement weather, so mornings typically are better for outings during Florida summers, when afternoon showers are the norm.
While my son was boating, my daughter chose to get a hair wrap at a booth by the pool. Hair wraps can be expensive if your child has long hair, because the wraps are priced at $2 per inch. Beads and charms are extra. However, hair wraps can stay in for months.
Perhaps the ultimate in fun for kids ages 4 to 12 — and their parents who get a night out! — is a stay at The Never Land Club, which is a supervised child care program that features full-size arcade games, computer games, dress-up, arts and crafts, and Disney movies. The facility is themed to Peter Pan and includes the Darling nursery, Skull Rock, a pirate ship and the clouds of London. From 6 until 8 p.m. a dinner buffet is served, which typically includes pizza, chicken fingers, macaroni and cheese, French fries, hot dogs, corn on the cob, fruit, and dessert. A pudding dessert is served at 8 p.m., and a juice and cookie snack at 10 p.m. Current pricing is $11.50 per hour with a two-hour minimum per child. Reservations are recommended. (Family gamers may enjoy Moana Mickey's Arcade in the Great Ceremonial House. It's open to all ages.)
While there is no spa located at the Polynesian, guests are encouraged to use the nearby Senses Spa at The Grand Floridian. The spa, which reopened in November after an extensive renovation, is located alongside the Grand Floridian Wedding Pavilion, just a short walk or monorail ride away. Lounges, whirlpools and 15 treatment rooms all provide rejuvenation through the healing nature of Florida citrus and botanicals. Some of the pampering services include water therapy, sugar exfoliation body treatment, a citrus facial, a restorative hand and foot ritual with Chinese Jasmine oils, plus a Magical Manicure or Princess Pedicure for youngsters.
===============
DINING
===============
When you stay at Disney's Polynesian Resort, there are many choices for dining. Three restaurants are located in the Great Ceremonial House, plus there are two bars, a dinner luau and room service.
The family friendly 'Ohana hosts all-you-care-to-eat daily breakfasts and dinners. The meals are served family-style, not as buffets, but the food is just as plentiful. During our stay in July, we attended the Lilo & Stitch Best Friends Breakfast, which is a character meal with the title characters and Mickey Mouse and Pluto. Both of my children raved about the food and fun. We dined on scrambled eggs, fried potatoes, biscuits, breakfast sausage, smoked bacon, and my favorite Mickey waffles. Among the choices of beverages was a blend of passion fruit, orange and guava juices that is delicious. Dinner is not a character meal, though there are some activities geared toward children during the meal. This is a popular restaurant and recommendations are strongly recommended.
Kona Cafe is perhaps best-known for its Tonga Toast, which has been on the breakfast menu since 1971. Tonga Toast basically is French toast stuffed with bananas and topped with cinnamon and sugar, and many Disney World travelers make it a point to dine at Kona Cafe each trip just for this dish. But breakfast isn't the only meal Kona Cafe does well; there also are creative, fresh dishes for lunch and dinner, plus Kona Coffee. Though we didn't dine at Kona Cafe on this trip, we have enjoyed our meals there in the past.
Captain Cook's Snack Company is a 24-hour snack bar with fast food, snacks and desserts. The grill, which closes at 11 p.m., offers different menus for breakfast and lunch or dinner. If you can't get a reservation at Kona Cafe or 'Ohana for breakfast, don't fret. Tonga Toast and Mickey waffles are available at Captain Cook's. Also, this is the only place outside the Magic Kingdom on Disney World property where the popular Dole Whips can be found. Soda machines for the refillable mugs are located here, as well.
If you want to dine in your PJs, room service is just a phone call away. Cast members even will deliver Tonga Toast!
Since it opened in 1971, Disney's Polynesian Resort has hosted a dinner show modeled after a traditional luau. The current version is the Spirit of Aloha Dinner Show, which tells the story of Auntie Wini hosting a luau to welcome home one of the local girls who has been living on the "mainland." It moves along slowly, but the last third is mesmerizing with traditional dances from Tahiti, Samoa, Tonga, New Zealand and Hawaii. The star of the show, for sure, is the Samoan fire knife performer at the end. We found the food at the luau, which is served family style, to be average. And both it and drinks can be slow to arrive to your table if your server isn't attentive, which was our experience when we dined there. The cost of this dinner show for our family of four was about $250, and we agreed afterward that money would be better spent elsewhere on Disney property.
The Polynesian also offers two bars — Tambu Lounge, which is connected to 'Ohana on the second floor of the Great Ceremonial House, and The Barefoot Pool Bar is next to the Nanea Volcano Pool. There also is a coffee bar located next to Kona Cafe.
================
CULTURAL ACTIVITIES
================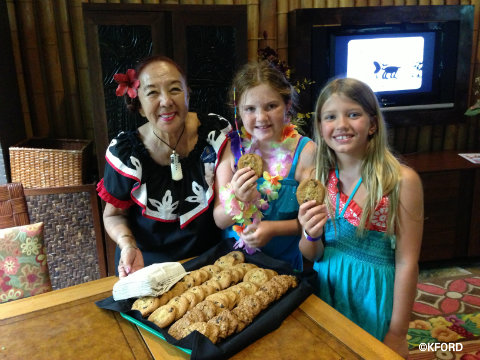 Disney's Polynesian Resort offers its guests many ways to be immersed in the South Pacific cultures it represents. For my young daughter, that meant spending time with Kau'i Brandt, better known as Auntie Kau'i, in the first-floor lobby of the Great Ceremonial House each day during our recent stay. At age 81, Auntie Kau'i is a Disney Legend, having been with the Polynesian resort almost since it opened. Guests can find Auntie Kau'i making fresh-flower leis throughout the day at her table in the corner of the children's area.
She takes a break about 3 p.m. to serve cookies and at 3:45 p.m. to teach hula lessons. Auntie Kau'i, who has been dancing since she was 6 years old, also teaches lessons for two hours on Saturday mornings at the Polynesian resort. These, too, are free, and Auntie Kau'i told me she has many local residents who come regularly.
If you happen to be at the Great Ceremonial House at 6 p.m. each day, you can see one of the fire dancers from the luau light all the tiki torches during a special ceremony. It begins with the blowing of a conch shell and includes some ceremonial moves performed with the baton capped with fire.
With such customs as these and more at Disney's Polynesian, it's easy to forget that you and your family are on a Florida vacation and are, instead, miles away in the South Pacific.
-=-=-=-=-=-=-=-=-=-=-=-=-=-
RELATED LINKS:
Child care at WDW
http://allears.net/pl/childfaq.htm
Review of Lilo & Stitch Best Friends Breakfast at 'Ohana
http://land.allears.net/blogs/kristin-ford/2013/07/_one_of_the_highlights.html
Captain Cook's Review:
http://land.allears.net/blogs/kristin-ford/2013/07/captain_cooks_at_polynesian_re.html
Luau review:
http://land.allears.net/blogs/kristin-ford/2013/07/_during_my_familys_recent.html
Auntie Kau'i:
http://land.allears.net/blogs/kristin-ford/2013/07/_disneys_polynesian_resort_off.html
Kona Cafe review from Andrew Rossi
http://land.allears.net/blogs/guestblog/2013/07/kona_cafe_more_than_just_tonga_1.html
Tonga Toast recipe:
http://allears.net/din/rec_tt.htm
Torch lighting ceremony:
http://land.allears.net/blogs/jackspence/2008/08/polynesian_resort_torch_lighti.html
-o-o-o-o-o-o-o-o-o-o-o-
Editor's Note: This story/information was accurate when it was published. Please be sure to confirm all current rates, information and other details before planning your trip.