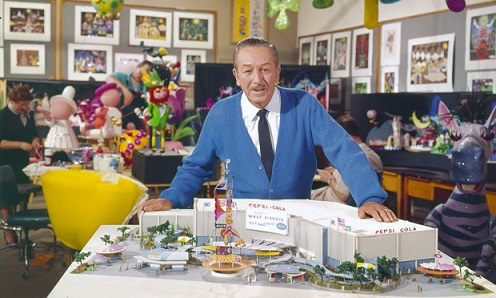 Walt Disney stands with a model of the "it's a small world" pavilion, one of the stars of the 1964-1965 New York World's Fair. [The Walt Disney Company]

Walt Disney never did anything half-way. He always seemed to take a damn-the-torpedoes, full-speed-ahead approach when his fertile imagination dreamed up a seemingly impossible project.
And so it was when he conjured the idea of building the world's first theme park, Disneyland. Even though there was stiff opposition to his idea, Walt plowed ahead anyway.
For years prior to Disneyland's opening in 1955, Walt did his homework, spending countless hours researching fairs, circuses, amusement parks and carnivals — any place where large groups of people congregated to be entertained. He'd look, listen and learn from each multi-venued entertainment enterprise he visited. Tivoli Gardens in Copenhagen, Denmark, was a favorite of his, in large part because the park was clean and well-lit.
He had a keen interest in international expositions, a.k.a. world's fairs. His father, Elias Disney, worked as a carpenter at the 1893 World's Columbian Exposition in Chicago. And as a young lad, Walt attended the 1904 World's Fair in St. Louis.
When the 1939-40 New York World's Fair was held in Queens, Walt was an established and successful movie producer. He decided to participate in that Fair, producing a five-minute Technicolor animated short called Mickey's Surprise Party, which featured the big stars of his studio: Mickey Mouse, and his dog Pluto, as well as Minnie Mouse, and her dog, Fifi.
The film was sponsored by the National Biscuit Company [Nabisco] and was shown at the World's Fair in [can you believe it?] a comfortably air-conditioned theater.
Mickey Mouse in a scene from "Mickey's Surprise Party," which played at the 1939-1940 New York World's Fair. [The Walt Disney Company]

Mickey's Surprise Party, for all intents and purposes, was a five-minute advertisement for Nabisco's products, including Milk-Bone dog biscuits. The cartoon also was notable because it featured Mickey and Minnie in their more humanized, less rodent, designs.
In the late 1950s, just a few years after Disneyland opened, plans were set in motion for a sequel to the 1939-40 New York World's Fair. The 1964-65 New York World's Fair would be held on the same site as its pre-World War II predecessor, on Flushing Meadows Corona Park in the borough of Queens.
Walt Disney was approached by several American companies to produce shows for the Fair, which he would do, but he also had more far-reaching thoughts in mind when he made the commitments. To achieve his ultimate goal, though, he needed to do more research.
"Walt was always thinking ahead of things," Disney Legend and former Imagineer Bob Gurr said. "That's why he went to the Brussels World's Fair in 1958. He sent a lot of the guys over there to sort of case the joint to see what was involved. And then he sent a bunch of us, in 1962, to the Seattle World's Fair for the same reason."
The idea, Gurr added, was for Walt to gain as much knowledge as he could in advance of the 1964-65 New York World's Fair "because that would give him a leg ahead with two years of experience [in New York] leading to the second Disneyland." Walt's idea all along was to take all that he had learned over the years and set up shop in central Florida.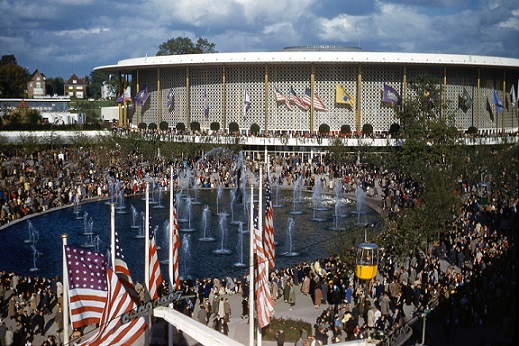 The United States pavilion at Expo 58 in Brussels, Belgium. The circular building showcased the Disney-produced Circarama film "America the Beautiful."

The Brussels World's Fair, also known as Expo 58, saw the very first Disney attraction to be shown outside of Disneyland, a Circarama film called America the Beautiful. The 16-minute film was shot with the use of 11 cameras arranged in a circle and gave Europeans a 360-degree panoramic tour of the United States. It was a big hit at the Brussels Fair.
Disney originally debuted the Circarama technique at Disneyland in 1955. Following its Brussels showing, America the Beautiful was brought back to Disneyland and opened in 1960. Then, as part of the expansion of Tomorrowland in 1967, the film was re-recorded, using the advanced Circle-Vision 360 projection process.
According to the Disney Archives, Walt Disney visited Expo 58. He traveled from Berlin to Brussels on July 2, 1958. The archives indicate that he went to Zermatt [for the filming of Third Man on the Mountain, the movie that inspired the Matterhorn Bobsleds attraction at Disneyland] on July 6, via Geneva, Lausanne and Montreux, Switzerland. So Walt likely visited the Fair between July 2 and July 6.
The Seattle World's Fair, which ran from April 21 through Oct. 21 in 1962 and also was known as the Century 21 Exposition, didn't have a Disney presence. But it did give us the Space Needle and also featured a very Disney-style attraction: A monorail.
Seattle's monorail, like Disneyland's, was built in conjunction with the German company Alweg. The original Disneyland-Alweg monorail, which opened on June 14, 1959, gave guests a scenic tour of Tomorrowland. In 1961, the line was expanded and connected to the Disneyland Hotel, which made it the first monorail in the United States to cross over a public street [what is now Disneyland Drive].
The Century 21 Exposition in Seattle featured a monorail system that was very similar to the Disneyland-Alweg monorail in Disneyland.

The Seattle-Alweg monorail system fit perfectly into the Fair's mission of celebrating the burgeoning space age. Indeed, the Century 21 Exposition was dubbed "a giant science fair" because of all its scientific exhibits.
The Seattle monorail looked very much like Disneyland's version, right down to the beams, support columns and sleek monorail design, which was first conceptualized by Bob Gurr. Needless to say, when Gurr visited the Seattle fair, he made a beeline to the monorail.
While Seattle enjoyed a successful run in 1962, the Walt Disney Company was working diligently in advance of the 1964-65 New York World's Fair, which featured four Disney-created attractions. When the New York World's Fair closed in October 1965, all of the attractions were trucked back to Disneyland, where they took up residence as "new" shows in the park.
But Disney wasn't done with its participation in worldwide expositions.
At the Montreal International and Universal Exposition in 1967 [known as Expo 67], the Walt Disney Company produced a travelogue-type film titled Canada 67.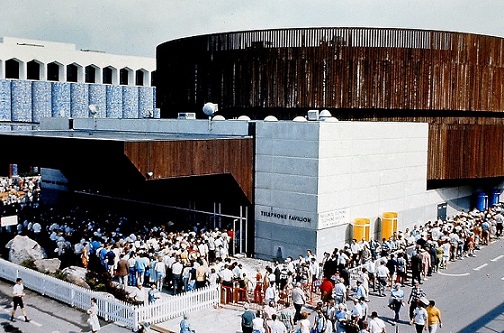 The Telephone Pavilion at Expo 67 featured the CircleVision 360 film "Canada 67," a Walt Disney production. The interior of the venue was designed by former WED Enterprises cast member Tania Norris.

The 22-minute film was presented in the circular Telephone Pavilion. Although the film was screened every half hour and the theater held up to 1,200 guests, there was usually an hours-long wait outside to see it.
Canada 67, which was directed by Robert Barclay, took nine months to film, using Disney's innovative CircleVision 360 filming technique. During filming, nine synchronized 35mm cameras were arranged in a circle and mounted at the nose of an airplane. In the theater, the film was projected onto nine large screens for a 360° surround effect.
According to the Expo 67 Information Manual: "A 15-speaker stereophonic sound system and nine projectors, each covering a 40° arc of the circular screen, are used for the presentation of Circle-Vision 360. The screen itself is 23 feet high and 273 feet in circumference. With the bottom edge of the screen only seven feet from the floor, the audience has the thrilling experience of being caught in the action."
Tania Norris, a former member of WED Enterprises who helped design many of the interior settings in Disneyland's New Orleans Square, was a key interior designer for the Telephone Pavilion at Expo 67.
"Even though I was hired to work on New Orleans Square, if anything else came up, I'd work on that, too," Ms. Norris said. "My title was interior designer, so that involved all the Disney projects apart from the films. I worked on the Expo in Montreal. I worked on some of the original concepts in Florida." Her work in Montreal centered around the interior design of the building.
Once guests had viewed the Canada 67 film, they entered the pavilion's exhibition hall, where the history of Canadian telecommunications was on display. Included in the display was a demonstration of future telephone technology, things like call-waiting, a videophone and banking by telephone. Guests could also pick up a phone and listen as Disney characters "talked" to them.
A scene from Expo 67 in Montreal, which includes a monorail that looked more like a PeopleMover and a geodesic dome similar in appearance to Spaceship Earth at Epcot.

The success of Canada 67 served as the impetus for the O Canada! CircleVision 360 film, which debuted in the Canada pavilion at Epcot in 1982.
Expo 67 had a number of familiar attractions: There was a monorail system, although it looked more like Disney's PeopleMover than one of its more familiar monorail trains, and there was a geodesic dome, which from a distance looked very much like Epcot's Spaceship Earth.
Both dome designs, in fact, were inspired by Buckminster Fuller, the noted 20th century architect, designer and inventor.
When Epcot opened in 1982, many pundits compared the World Showcase section of the park to a permanent world's fair, which Walt Disney, considering his years-long association with fairs, might have considered a compliment.