If you haven't made it out to SeaWorld Orlando yet this month, you might not want to let this weekend pass without a visit. That's because it's the last of the new "Inside Look" weekends, which invite guests learn more about the animals at SeaWorld and meet the team who cares for them.
On Saturday and Sunday, guests can learn more about the inspiring day-to-day care SeaWorld's animal experts provide, as well as the life-saving operations of the SeaWorld Rescue Team. Visitors will have the opportunity to meet and ask questions of SeaWorld veterinarians, rescuers and animal experts while encountering animals.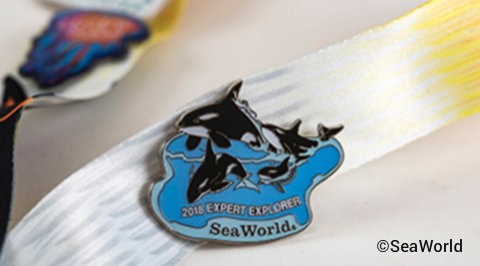 Guests can find eleven "Inside Look" locations throughout the park by picking up an Explorer's Guide at the SeaWorld Rescue store. Parkgoers who collect at least six stamps in their Explorer's Guide will earn a SeaWorld Expert Explorer's pin, while supplies last, at the SeaWorld Rescue store. The times and locations are as follows:
** Dolphin Care and Behavior (at Dolphin Nursery): 12:45 and 2:30 p.m.
** Penguin Care and Conservation (at Antarctica Underwater Viewing): 12:30 and 2 p.m.
** SeaWorld Rescue Center (at North Support): 10:30 a.m. to 4 p.m.
** Manatee Rescue and Rehabilitation (at Manatee Pool at Turtle Trek): noon and 3 p.m.
** SeaTurtle Rescue and Rehabilitation (at Turtle Trek above-water viewing): 10 a.m.
** Pelican Rescue and Rehabilitation (at Pelican Point): 1 p.m.
** Bird Rescue and Rehabilitation (at Bird Aviary by Shark Encounter): 3:30 p.m.
** Shark Myths and Misconceptions (at Shark Shallows at Sharks Underwater Grill & Bar): 1:30 p.m.
** Pilot Whales Rescue and Care (at Dine With Shamu venue): 3 p.m.
** Killer Whale Care and Research (at Shamu Stadium): 4 p.m.
** Walrus Care and Conservation (at Walrus Attraction inside Wild Arctic): 2:30 p.m.
The SeaWorld Rescue Center is the only "Inside Look" location that takes guests behind the scenes. The other ten locations are in public areas throughout the park.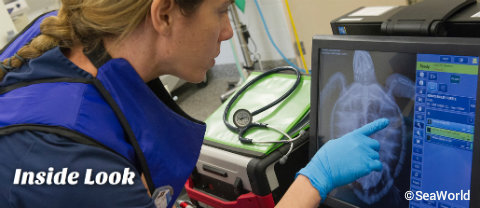 As an in-park exclusive, SeaWorld also is offering 20 percent off purchases at the SeaWorld Rescue store and a buy one, get one free offer on animal tours and interactions at the park on event days. Choose from these experiences (as described by SeaWorld):
** Dolphin Encounter: See how we care for our dolphins, participate in a training session, then touch and feed a dolphin on this approximately 15-minute program.
** Animal Ambassador Tour: Visit with our Animal Ambassador team and the exotic and rescued animals they care for, plus hear some of the incredible stories of rescue and conservation that these animals represent every day!
** Behind-the-Scenes Tour: Touch a shark, interact with a penguin, and explore how our park works on this Behind-the-Scenes Up-Close Tour!
** Beluga and Walrus Up-Close Tour: Ever dream of interacting with a walrus or beluga whale? Discover what makes animals from the coldest areas of the planet amazing on this unique interactive behind-the-scenes tour.
** Dolphins Up-Close Tour: Have you ever dreamed of meeting the ocean's most playful ambassador? Find yourself face-to-face with bottlenose dolphins during this incredible hands-on tour.
** Killer Whale Up-Close Tour: Are you left speechless after one of our killer whale shows? Then go beyond what you see and get up-close to our most amazing ocean ambassador!
** Penguins Up-Close Tour: Don't miss your chance to chill out with the coolest birds at SeaWorld. During your adventure at Antarctica: Empire of the Penguin®, you will meet one of our incredible birds and learn all about their care from our animal experts.
** Private VIP Tour: Enjoy a seven-hour guided, private group tour including a meal at Sharks Underwater Grill®, front-of-line access to rides, VIP seating at our signature shows, animal interactions and more!
** Sea Lions Up-Close Tour: Find yourself face-to-face with our personable pinnipeds for a special photo opportunity followed by an exciting feeding session at Pacific Point Preserve.
** Sharks Up-Close Tour: Separate fact from fiction as you explore the incredible diversity and design of sharks. Dare to peer down into our 700,000-gallon aquarium to discover how we care for these perfect predators. Then, touch a small shark and find out why these ancient species need our help now more than ever.
To take advantage of the BOGO offer on animal encounters and tours, they must be booked inside the park at the SeaWorld Rescue Store, the Information and Reservation Counter, or Guest Services. The other event activities take place during normal park operating hours on May 19 and 20 and are included with park admission.
Also this weekend, SeaWorld will begin giving away free beer to each parkgoer age 21 and older. Through Sept. 2 from 10:30 a.m. to one hour before park close, complimentary domestic and seasonal beers will be available at Mama's Pretzel Kitchen Patio. Each adult guest can receive two 7-ounce beers per visit. The park will rotate beer offerings throughout the summer, starting off with SeaWorld's own Mako Red Ale. Bud Light, Coors Light, Miller Light, Yuengling and more will also be featured throughout the summer.
Park guests also are invited to enjoy Happy Hour daily at SeaWorld starting at 4 p.m. Happy Hour will feature buy one, get one free offers on all drink and food items at Flamecraft Bar and Sharks Underwater Grill Bar. Both locations feature a variety of domestic and craft beer, mixed drinks and sharable appetizers. Additionally, guests purchasing any pin from a SeaWorld Pin Trading location during Happy Hour will receive a free lanyard with their purchase.