"Oh! We're using our made-up names!"
–Spider-Man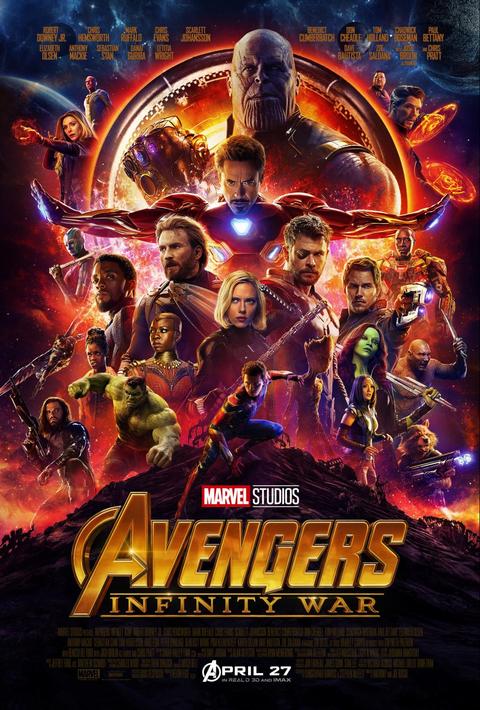 On April 27th, the culmination of the last ten years and 18 Marvel Cinematic Universe films comes together with the opening of "Avengers: Infinity War."
At a recent press junket, the bulk of the MCU pantheon (minus Chris Evans, currently appearing in "Lobby Hero" on Broadway,) assembled to answer one question each, moderated by Grandmaster Jeff Goldblum.
…That it still took almost an hour lets you know how many stars were there.

Full video of the press conference–some dicey language is used.
Some words from each of the celebrities: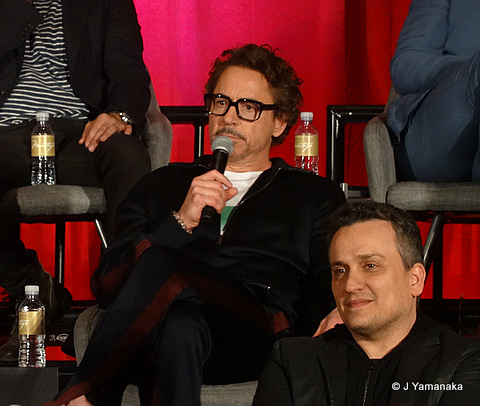 Robert Downey Jr. on appearing in Avengers 4: "Yes, we already filmed it…I gotta see the screening tomorrow. If I die tomorrow, I'm gonna be, I'm gonna be confused. We'll see."
Letitia Wright on inspiring teens in math and science: "I'm really happy that this film and this character, Shuri, has allowed young kids to feel, like, learning is cool and that they can contribute to the world with science and math and technology and engineering and also young women as well getting pulled into that whole movement. I feel like it's not just a thing for the guys…it's also for young women to young men (young women, old women…you know)…anyone to just get into and contribute positively."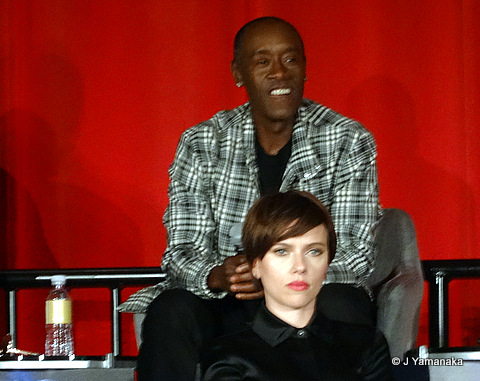 Don Cheadle on continuing Colonel James Rhodes/War Machine's problems from "Avengers: Civil War:" "Where it comes to Rhodes, and I'm glad this is something that's carried through and wasn't just dropped, it's a line that…actually goes through both of the films and comes into play in a very important way (I won't give it away,) but it's something that factors in all the way through. So it's nice to have something that's cohesive, that continues and keeps me grounded and keeps the character grounded."
Chris Hemsworth on which scene he found challenging: "Thor meeting the Guardians. It felt like the first day at school for me because they all knew each other and I didn't, so I was the new kid and they all look at you…and it's a weird sort of nervous butterflies fluttering around my body…but I squeezed them out. Chris Pratt gave me a big hug and all the butterflies flew out of my ears…I've been in the hospital. I'm still trippin'."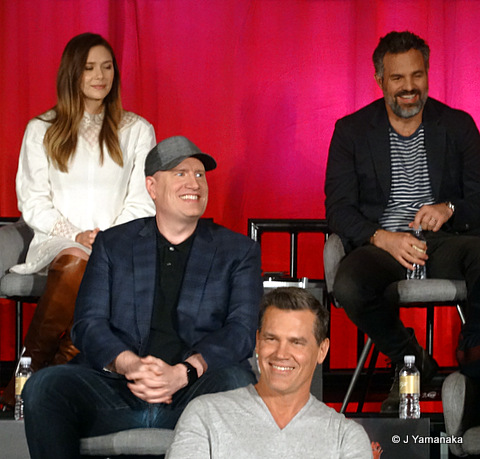 Kevin Feige on what he uses to pull all the themes/characters/stories together: "You won't be surprised to hear, it's the comics. It's the comics that we look at when there's just a notion of let's do an Iron Man movie or let's have the audacity to do a version of the Infinity Gauntlet–it starts with those comics and us getting to rip pages out (or rip copies of pages out,) put them on the walls, and start to be inspired. And in every single movie we've made, up to and especially 'Infinity War,' there are direct images, storylines, rarely but sometimes actual lines of dialogue, that come from those pages that we put up around our development room for inspiration."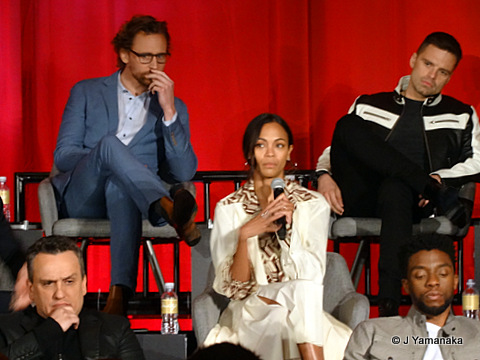 Zoe Saldana on Gamora's arc: "I will speak on behalf of also Karen Gillan's character Nebula–we had so much fun with the arc that the Russo Brothers and obviously Kevin Feige spearheading us, with the relationship that these daughters have with their father, because they finally get an opportunity to sort of address what it was like to have a dad that's so complicated…so it was fabulous. It was great."
Scarlett Johansson on fashion elements of the movie: "I got the fashion question?! I honestly really don't know how to answer that question. I wear a leather unitard for most of this film, and I have been for the last ten years, so if you think of any fashion elements that you would like to include, please let us know. I have a new vest for once, so that was pretty exciting. And I have a new hairstyle as well, if you haven't noticed already–it's a little bit polarizing, I can see. It's fine. It was a choice I made and I'm sticking by it. So there you go."

Anthony Mackie on fighting for screen time: "A wise man once said, 'some men need an hour to make their presence felt, some men need 30 seconds.'" [mic drop]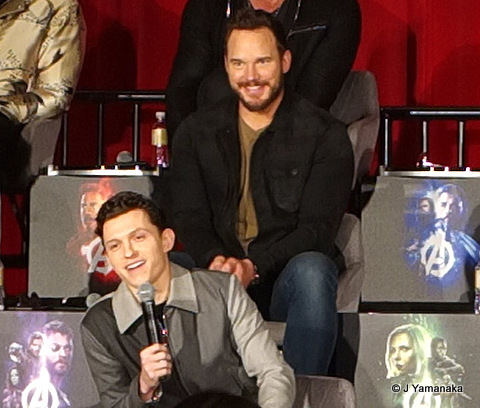 Tom Holland on his new Spider Suit: "I didn't actually get to wear the Iron Spider suit because it's too amazing to exist in real life, so I…stood amongst these gods wearing pajamas. Wasn't quite as heroic as I'd liked, and I haven't seen the film yet so I can't tell you what it does in real life, but I can tell you it would be amazing, and we'll have to see."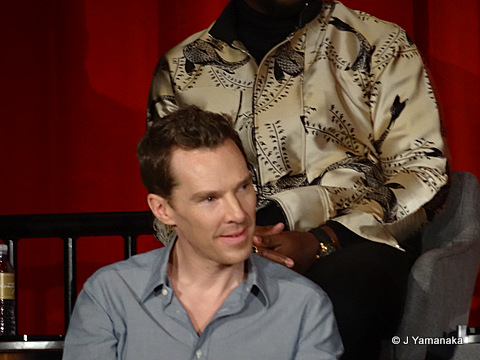 Benedict Cumberbatch on whether he's read the top-secret final movie script: "I read a script…whether I read the script is for them (the Russo Brothers) to know. And me to find out when I see the movie tomorrow."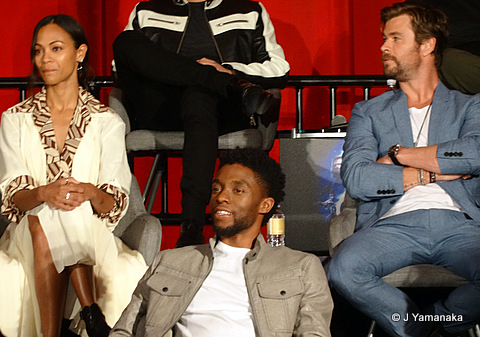 Chadwick Boseman on whether "Infinity Wars" is "Black Panther 1.5:" "'Avengers: Infinity War' is 'Avengers: Infinity War.' It's not Black Panther 1.5 or Black Panther 2 or anything like that. I think we have a strong presence within the movie and it was great to have some of these (not going to say who, exactly,) in Wakanda, but it is its own movie. It's great to go from what we did in 'Black Panther' and bring some of that into Avengers–it was a relief, actually. It's its own thing."
Pom Klementieff on whether Mantis sees any growth in the new film: "Maybe a little bit, but she still has this kind of child-like way of thinking, and she asks a lot of questions. I think it brings up comedy and sometimes these movies need some…innocence. I think she's going to evolve a little bit more in the next one, but this one I think she's still kind of the same."
Josh Brolin on which characters most impressed Thanos: "I looked, in the trailer, like I was impressed with other people? Then obviously I didn't do my job correctly. Being a person of the color purple and being naked on the set the whole time I was doing this in order to create a vibe of fear, I really thought I scared everybody, but apparently not.
"Was there someone I was impressed by? Oh, Anthony Mackie. Strangely enough, it only took 25 seconds for me to be impressed by him. Everybody has their weakness, and Anthony Mackie is Thanos' weakness. Who was also naked on set, by the way."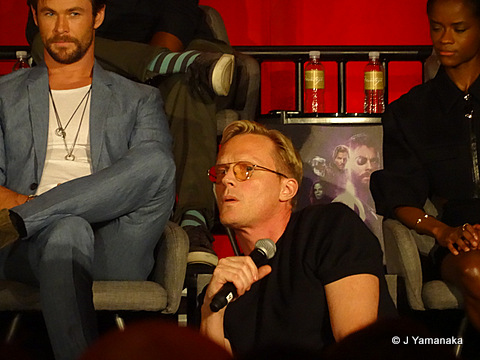 Paul Bettany on any on-set anecdotes: "Well snitches end up in ditches and all the best anecdotes end up unsayable."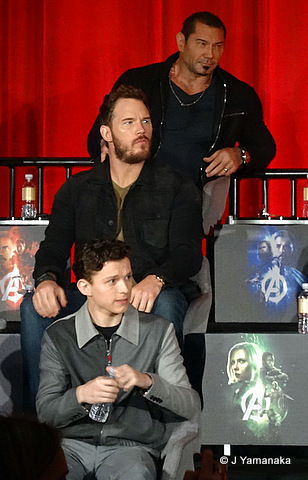 Chris Pratt on how Star-Lord feels to see humans again after 30 years: "That's a good question. You know, it borders on…you know, it might be best for you to see it, so I'm going to talk about bass fishing. April, as you know, is a big month for open-mouth bass…"


Dave Bautista on Drax meeting Thanos and working with Brolin: "Let me kill time while I think of a way to answer this without giving anything away. Man…ask me about my fashion sense…Back to your question, I can't answer it, obviously. I haven't seen the movie, don't know anything about the movie, don't know anything about the storyline, haven't read the script, haven't read one of the fake scripts…Back to my fashion sense…"

Anthony Russo


Joe Russo
Anthony Russo on whether Agent Coulson will make a comeback: "All these unanswerable questions. What can I say, other than talk about bass fishing some more?"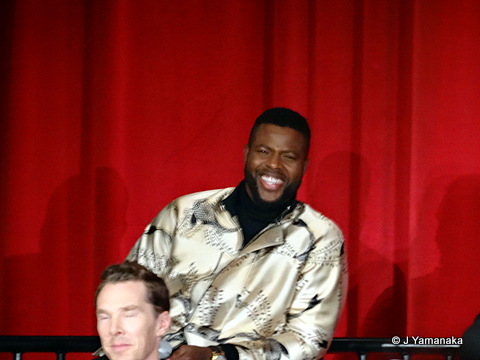 Winston Duke on whether Wakanda gets destroyed: "As you know, I can't say anything…It's going to be a fun adventure. You're going to enjoy it. That's all I can tell you."
Johansson: "But tell us who made that fabulous jacket?"
Duke: "Armani. Giorgio Armani."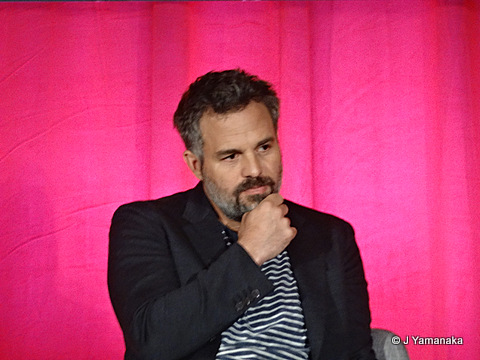 Mark Ruffalo on Environmentalism: "I try not to be that one person who's always going on about an issue, but I can't help myself. I think, more than anything, I try to use my time outside of the movies to make my friends know that it's safe to speak out about the things they care about, and that it's important for them and that it's actually enriching as artists…No matter what that thing is, whether it's environmental issues or social justice issues or equality issues or education or all the really wonderful things there are to do today in front of us. And in that way, I feel like I can be the most impactful with this gift that I've been given, of sitting up here with these tremendously talented people."
Elizabeth Olsen on Scarlet Witch getting a solo film: "Paul (Bettany) and I joke a lot about how much we would love to do like a 'House of M' spin-off, a really domesticated indie version of it. And I think that would be a lot of fun–that part of her story is why I love this character so much."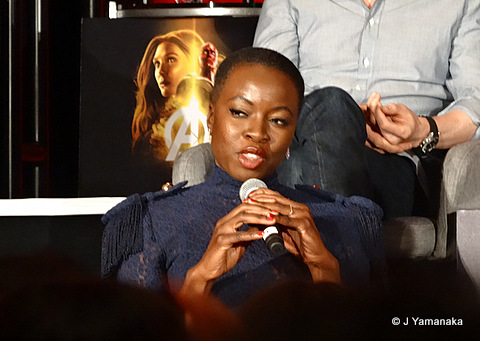 Danai Gurira on the rumor of an all-female Marvel movie pitch: "I know no details on that…But the awesome thing that I think is happening, that we see happening across many dimensions in the entertainment industry is we see more women take the helm in various realms, and is…not only about time, but it will make the world a better place. I think so, I look forward to the future."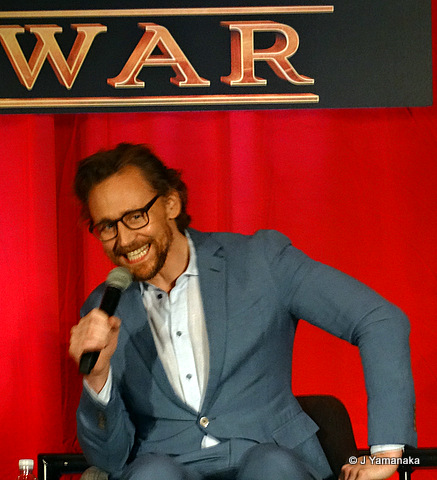 Tom Hiddleston on who his favorite MCU character is: "I'm not going to pick anyone, actually. [gestures to Helmsworth] My brother from a different mother. I'm astonished that I'm still here, as you may be. And Loki has fallen through a wormhole and faked his own death and I never honestly expected to be playing this part for so long…the great privilege that I've had is working with every single person on this stage…Because Kevin and everyone that works at Marvel…the writing has been so great…they create these characters with such precision that what happens in the space between those characters is always unique. And you're guaranteed to see that tomorrow night."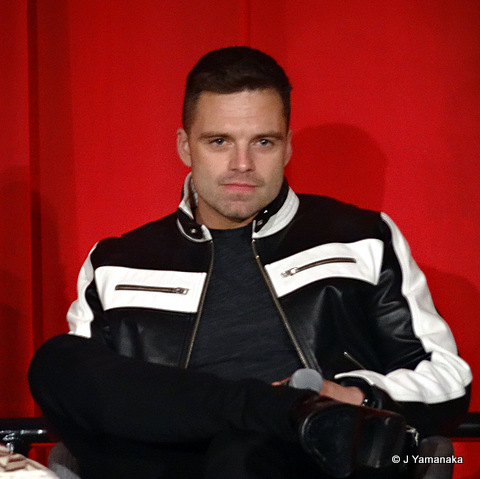 Sebastian Stan on whether Bucky is accepted/back to baseline: "I think you definitely see shades of the 'old,' so to speak, Bucky…I guess the guy smiles finally. As far as accepted, I wouldn't necessarily go so far as saying that. He's just kind of seeing where his allies are, he's been enjoying coconut water in Wakanda, and everything else is peachy."
"Avengers: Infinity War," rated PG-13, will be released in theaters April 27, 2018.